WE'RE OPEN! Munjo awaits your love & adoration
Last Days to Join Sticker Club for July drop!
This email was sent
tl;dr
WE ARE OPEN!
Masks are required
NEW SHOP HOURS
Saturday 12-5pm
Sunday 12-5pm
Weekdays by appointment
VISIT US IN RALEIGH
MUNJO MISSES YOU.
Please stop by even if it's just to see him!
STICKER CLUB
Sign up
HERE
by Tuesday, June 30, to get the July sticker release!
SUPPORT LOCAL!
We've watched as many local businesses have closed recently, while many more are struggling to keep going during this time. Everyone can support local, even if it's as simple as recommending local places to friends, family, & neighbors. 
(Support doesn't always mean spending money.)
Check out the local hardware store, plant shop, farmer's market, coffee shop, & other places before heading off to the big box stores for your needs!
You might be surprised at what you find locally!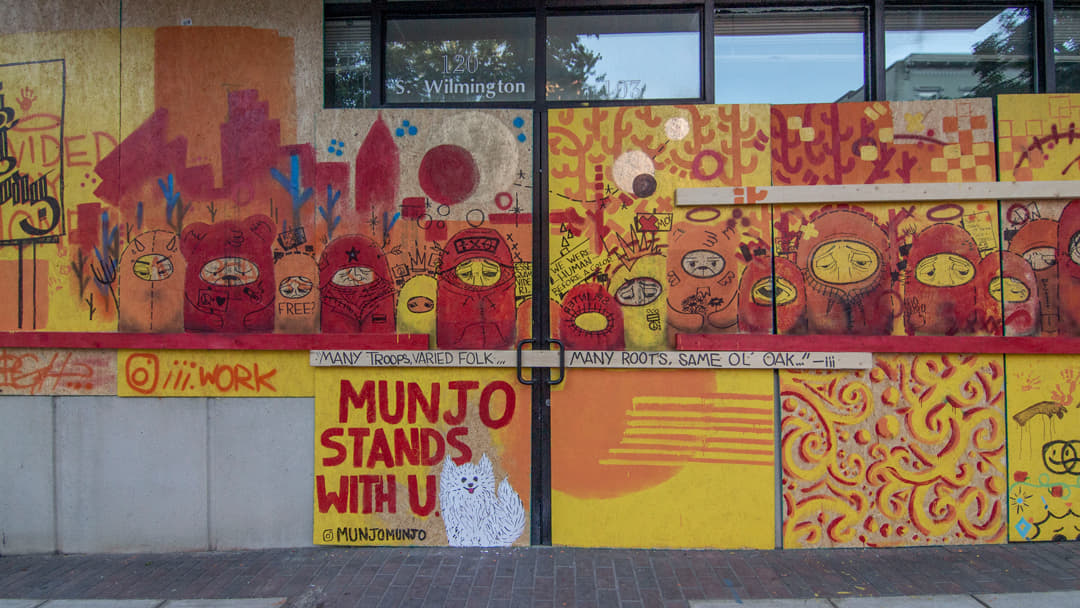 Some changes since last month

...

Just as we started to reopen at the end of May, protests against police brutality and racial inequality occupied cities across the country, including here in Raleigh on May 30 & 31. The police here responded by decking out in full riot gear, firing rubber bullets, and tear gassing the peaceful protestors without warnings. Those actions caused mayhem in downtown and created a setting for opportunistic troublemakers to begin breaking glass, and looting downtown shops. Our shop was amongst them, but we have since cleaned up, taken stock of what we have left, and are happy to announce that we are reopening once again! Plywood still covers many buildings in downtown, but restaurants, coffee shops, & more are reopening with limited hours as well. Please keep supporting local during this time!

Regular hours for now will be Saturday & Sundays, 12-5pm! 
You may spot us open at other times during the week while we work on new projects. Feel free to stop in anytime the doors are open! But, please be aware:
Masks are required for visiting us in-store at this time. 
The online store inventory is all up to date and available for shopping 24-7. Choose "pick-up in-store" at checkout & we'll arrange a convenient pick-up time for you!
STICKER CLUB!
In May, we started our new monthly sticker club. The bad news is you missed the first 2 drops. The good news is you can still sign up over at our
Patreon
page! Make small monthly contributions to our work, in exchange for stuff like unreleased stickers, access to secret merch (like one-of-a-kind variants), behind the scenes looks into our processes, and even custom art from us!
That's all for now, thanks for opening our email! Don't hesitate to hit us up to say hello, ask about projects, or suggest something you'd really like to see us release. Add Munjo Munjo on
Instagram
for the latest and greatest of updates!