FYTI - The Manual: Bullets, Boxes and Dingbats
Typographic road signs should draw attention to the text they're meant to emphasize – not to themselves.
This email was sent
Bullets, Boxes and Dingbats
Sometimes letters are not enough. Perhaps you've tried changing "not-to-be-missed" text to bold or italic type, or even to a different face altogether, but it still doesn't have the exact amount of emphasis you're looking for. One simple solution to this typographic problem is to use a bullet, box, or dingbat.

Different Caliber of Typographic Bullets
Bullets are simply round dots. They can be solid or just an outline, and come in two standard sizes: em bullets (which are almost as big as capital letters) and en bullets (which are about half the size of em bullets). When typeset, both varieties are centered vertically on the height of the capital letters. Bullets function as typographic stop signs. When placed before copy, they say 'stop and read this!' They're also used after copy to indicate the end of an article, story or chapter. While they can be found just about anywhere, a bullet's natural habitat is in directories, catalogs and lists.

Box It
Boxes serve two purposes: to put things in, and to replace bullets. Like bullets, boxes come in two varieties. Open boxes are the kind found on reply cards, forms, and voting ballots; they're designed to hold a check mark. Closed boxes can be found anywhere bullets are found, serving the same purposes – with just a bit more emphasis.

Dingbats
Then there are dingbats. What are dingbats? They're typographic ornaments. Pointing hands (called 'pointers' by the old-timers), stars, arrows, flowers, check marks, and the huge variety of ornaments which defy simple identification are generally lumped into the category of dingbats. As in most other aspects of typography, taste in the use of dingbats has changed over time. Today, whether, or how much they're used, varies dramatically from designer to designer. So can their effect. Depending on how they're set, dingbats can appear quite modern or very old-fashioned.

Straight Shooting With Bullets, Boxes and Dingbats
Below are some rules of thumb on how to use bullets, boxes and dingbats. Just remember, these typographic road signs should draw attention to the text they're meant to emphasize – not to themselves.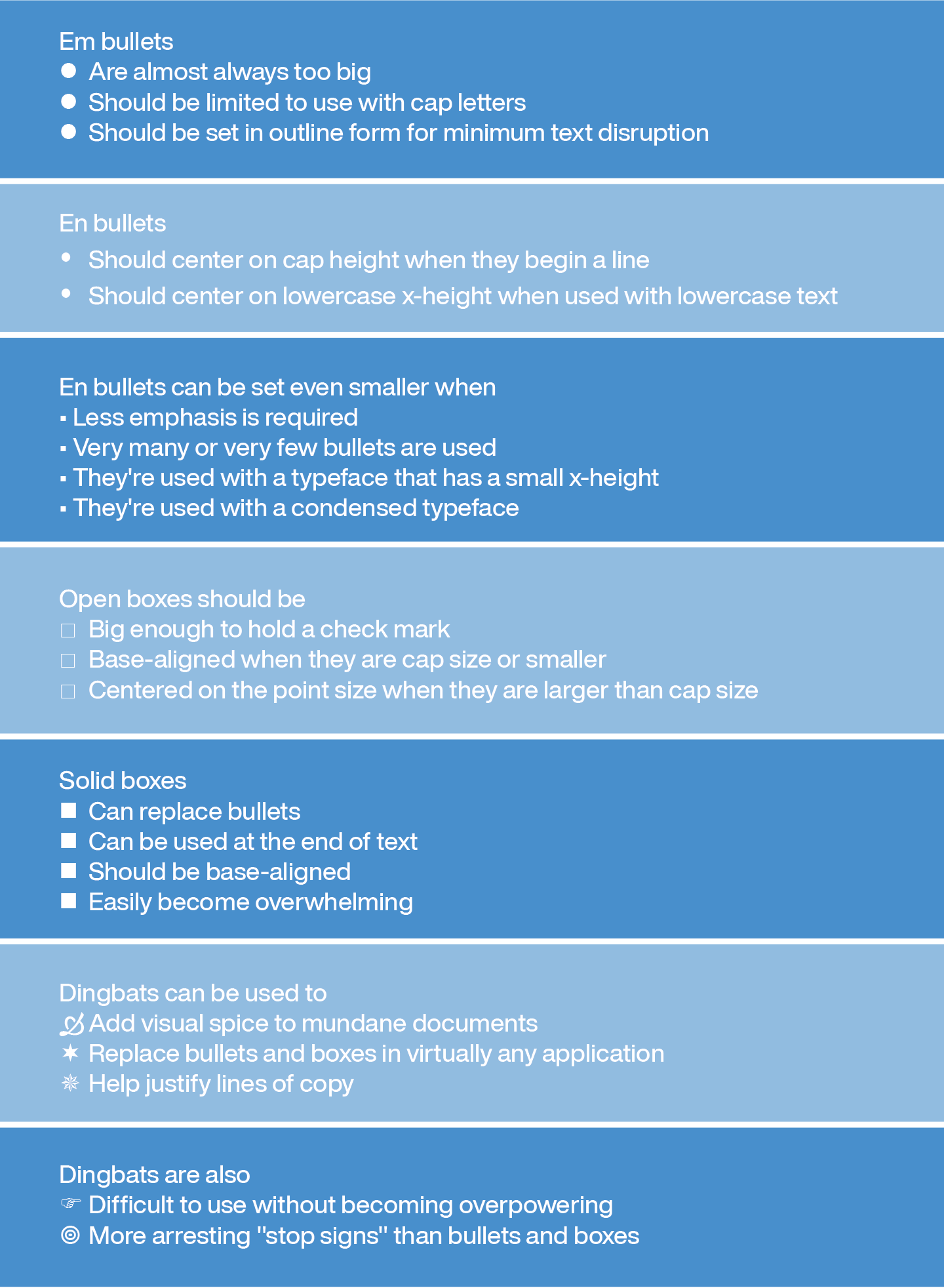 Monotype Imaging Inc.
600 Unicorn Park Drive
Woburn, MA 01801 USA

New York, US | Chicago, US | San Francisco, US | Los Angeles, US |
Cordoba, AR | London, UK | Berlin, DE | Noida, IN | Seoul, KR |
Tokyo, JP | Shanghai, CN | Hong Kong, CN

The promotions featured in this email newsletter are only valid for purchases made online at MyFonts.com. MyFonts and MyFonts.com are trademarks of MyFonts Inc. registered in the U.S. Patent and Trademark Office and may be registered in certain other jurisdictions. Other technologies, font names, and brand names are used for information only and remain trademarks or registered trademarks of their respective companies.

'Wingdings' is a trademark of Microsoft Corporation registered in the U.S. Patent & Trademark Office and may be registered in other jurisdictions.
Helvetica Now is a trademark of Monotype Imaging Inc. registered in the U.S. Patent and Trademark Office and may be registered in certain other jurisdictions.

Prices are shown in our standard currency (USD), may differ in other currencies, and may also be subject to change due to exchange rate fluctuations.

©2021 Monotype. All rights reserved.

The text in this email is set in Rooney Sans.

Unsubscribe | Preferences | Privacy Policy | View in Browser