SAVE 50% on the NEW May Exclusives!
Email sent: May 8, 2021 12:00pm
It's that time of the month... time for new Exclusive releases!
It is time for our May Exclusive Collections!  The kits this month are jam-packed with love and I am excited to share them with you!  This month's collections really highlight the love and admiration that we have for the wonderful women in our lives with several Mother's Day collections.  We also have kits that are perfect to help us be mindful of the beauty that is around us, even if it is in our own backyard.  We also have a beautiful collection for those horse lovers.  Addicted to coffee?  We have you covered for all those cups of happiness!  There is also a collection that adds a touch of whimsy to spring.  We also have a collection perfect for those beach adventures whether you swim or collect shells.  At the end of the day of scrapping unwind and finish off with a zensational collection to help you get back to center!
Below you will find a sample layout, a little write-up from the designer about their creation, and kit previews.  Hopefully as you take a look around you will be struck with inspiration to chronicle your own journey!
"A Mother's Love collection has everything you need to scrap those beautiful moments with Mother and to make the most beautiful cards with.  I used a floral color palette."
-Songbird Scraps Designs
"Abiding Love is a digital scrapbooking collection by ADB Designs inspired by the 1950s.  The colors are warm peach, pink, blue, aqua, yellow, and white.  This collection, perfect for Mother's Day or any layout where you need a feminine touch, includes frames, buttons, bling, flowers, foliage, lace and ribbons for you to embellish your layouts with the love we feel for our women friends and family."
-ADB Designs
"This collection is great for documenting your periods of relaxation, tranquil environments such as Zen gardens, meditation and so much more!  It's full of wonderful and unique elements and papers for a vast number of pages."
-Kristmess Designs
"Saddle up, cowboys and cowgirls, let's get ready to ride!  This collection is perfect for horse lovers of all ages!"
-Connie Prince
"Amazing Mom celebrates everything we love about mom and all the love moms have for us.  You'll have everything you need to create amazing layouts in honor of the mothers we adore."
-Cutie Pie Scraps
"There's nothing like the unconditional love of a grandmother.  The bond between grandma and grandchild is a unique and important relationship which can truly define the lives of many children.  Their knowledge teaches us, their wisdom guides us and their love nurtures us.  This kit is perfect for capturing all those precious moments with your grandma."
-Shmooangel Designs
"We love mom!  And each of us has the Best Mom!  Moms do so much for their families that I could be making lists for hours.  Best Mom honors our mothers in a bold, bright & unconventional color palette.  A full sized kit and lots of extras will help you create several pages of your mom."
-FranB Designs
"Assurance by Over the Fence Designs is Diane & Patty's homage to their mothers.  The collection reflects the warmth of a mother's love.  You will love the feminine accents and the soft and beautiful color palette.  Scrap all your springtime photos as well as family and friends...and especially mother.."
-Over the Fence Designs
"Momentum celebrates a mother's wishes for her child.  It's colors remind me so much of my mother who was my biggest cheerleader in life.  This is my homage to her."
-Aimee Harrison
"With all that is going on in the world, the travel restrictions and lockdowns, it's time to enjoy your own backyard oasis.  Your backyard should a be a space that makes you feel relaxed.  It should be cozy and inviting.  Enjoy the birds, listen to a fountain, smell the flowers!  It's your space where you can sit back and read a book, or entertain your friends and family.  Whatever your idea of an oasis is, it's time to sit back and enjoy the view."
-LLL Creations
I owe my love of coffee to my Mom.  And just like she did, one of the first things I do in the morning is make coffee.  It gets me going and gets my brain working better.  A cupful of motivation!  Cupful Collection by PattyB Scraps is perfect for scrapping the early morning happenings, those bright and early moments."
-PattyB Scraps
"Beautiful colours, beautiful textures, this beach-themed but versatile kit is perfect to create stunning pages for your albums."
-Meryl Bartho
"Soft colors of spring and bit of whimsy come to life in this new collection.  From nature to kids to anything outdoors, Colors of Spring has just the right papers, elements, and extra packs for scrapping your favorite photos."
-Kathryn Estry
Copyright © 2021 My Memories Suite, All rights reserved.
You are receiving this email because of your interest in scrapbook design and the My Memories Suite digital scrapbook software and the online design download shop and community.

Our mailing address is:


Want to change how you receive these emails?
You can update your preferences or unsubscribe from this list.



Other emails from My Memories Suite
Jun 14, 2021

Savor the yumminess with Lip Smackin' Good 2, FREE w/every purchase over $20!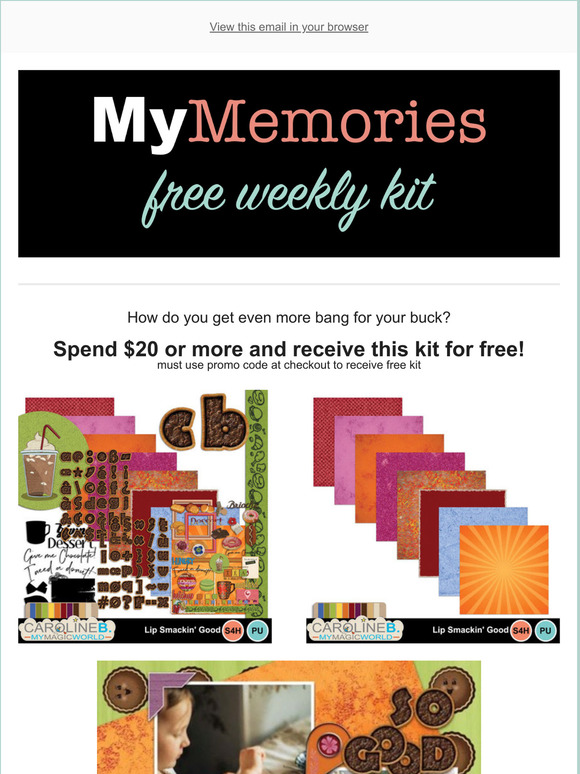 Shop without the noise.
Get our free newsletter of hand-picked sales you need to hear about from the web's best brands.