PLANET POSSIBLE: Can more nuclear energy create a greener future?
Email sent: May 4, 2021 2:53pm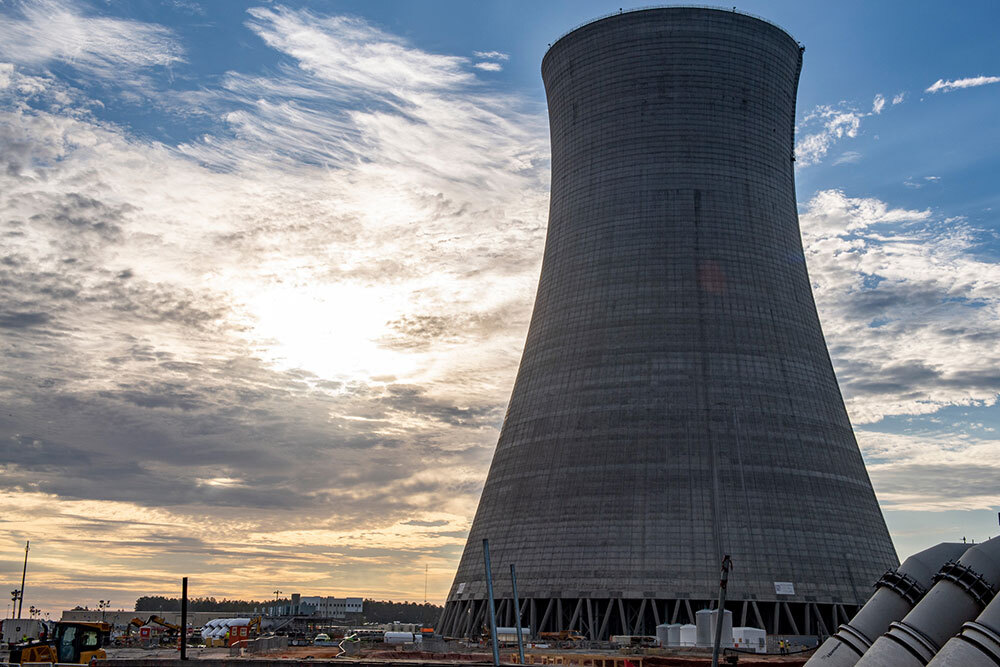 PHOTOGRAPH BY GEORGIA POWER COMPANY
By Robert Kunzig, ENVIRONMENT Executive Editor

When I was in college one of the great issues on our campus was the plan to build a nuclear power plant at nearby Seabrook, New Hampshire. A good friend of mine, after reading Thoreau's thoughts on civil disobedience, was inspired to occupy the construction site and get himself arrested, along with 1,400 other people—that mass arrest on May 1, 1977, was one of the largest in U.S. history. The power plant got built anyway, but it took 14 years, and it was only half the originally planned size, and it was one of the last to be built in the country for a long while. In 1979 the accident at Three Mile Island stopped the U.S. nuclear industry cold.

In some ways, not much has changed. The Seabrook demonstrators were worried about nuclear meltdown, nuclear waste, nuclear proliferation, nuclear terrorism. Those concerns are still with us. But for many environmentalists, they now take a back seat to the biggest worry: climate change.

Nuclear power has a tiny carbon footprint, like wind or solar power. Its footprint on the landscape is far smaller. But as Lois Parshley writes for us this week, as a way of meeting President Biden's goal of decarbonizing the nation's electric grid by 2035, nuclear has an Achilles' heel: It's expensive and takes a long time to build. The only two U.S. reactors now under construction, at Plant Vogtle in Georgia (pictured above), are billions over budget and years behind schedule.

Help is on the way, in the form of new, smaller, safer reactor designs—but again, many years away. Meanwhile, the existing reactor fleet is aging and having trouble competing. Last Friday saw the final shutdown of the Indian Point power plant, on the Hudson River, which just a few years ago, was providing a quarter of New York City's electricity. A lot of that will probably now come from gas—at least until the offshore wind boom kicks in.

If you just look at the numbers, nuclear is pretty safe: Far, far fewer people have died from it than from the air pollution produced by burning fossil fuels. But these choices are never just about numbers.

It's not irrational for some people to prefer energy sources that don't carry with them the tiny but ever-present risk of catastrophe, or the need to bury long-lasting toxins in a deep hole for our descendants to discover. Just as it's not irrational for other people to prefer not to see a wind farm on the ridgeline outside their back window. Many roads lead to freedom from carbon pollution. All of humanity doesn't have to choose the same one. We just all need to get there somehow.
If you want to get this email each week,
join us here
and invite a friend.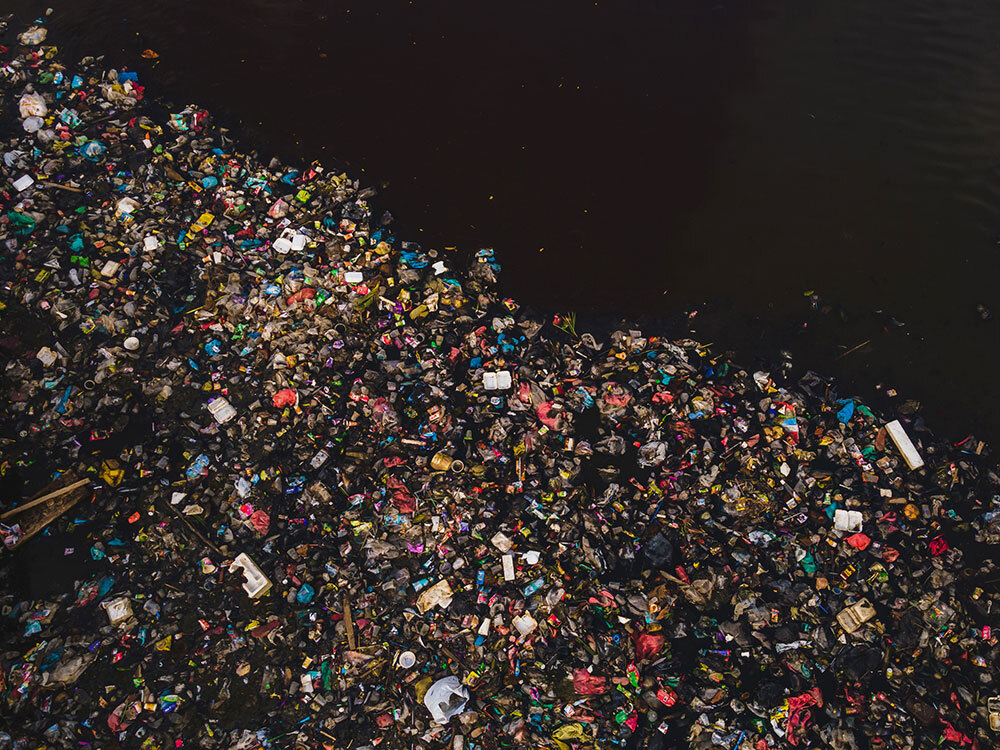 PHOTOGRAPH BY AFRIANTO SILALAHI, BARCROFT STUDIOS/FUTURE PUBLISHING/GETTY IMAGES
Getting serious about cleaning rivers: Scientists used to think three giant rivers carried most plastic waste to the sea. Then it was 10. Or 20. The latest study concludes that 80 percent of plastic waste is distributed by more than 1,000 rivers—and some of the bigger polluters are smaller rivers, Nat Geo's Laura Parker reports. The results show the pervasive spread of plastic—and is focusing on people who want to stop the flow of ocean-bound plastic. (Above, an aerial photo shows plastic and styrofoam polluting a river in the Indonesian city of Pekanbaru.)
FOCUSING ON A FIX: Researchers note 44 of the 50 most plastic-filled rivers are in Asia, partly because of population density. They say the study underlines the bigger budget and more sophisticated logistics needed to combat the problem. The biggest takeaway: The world must contain plastic waste on land, where it originates, to protect freshwater systems and oceans.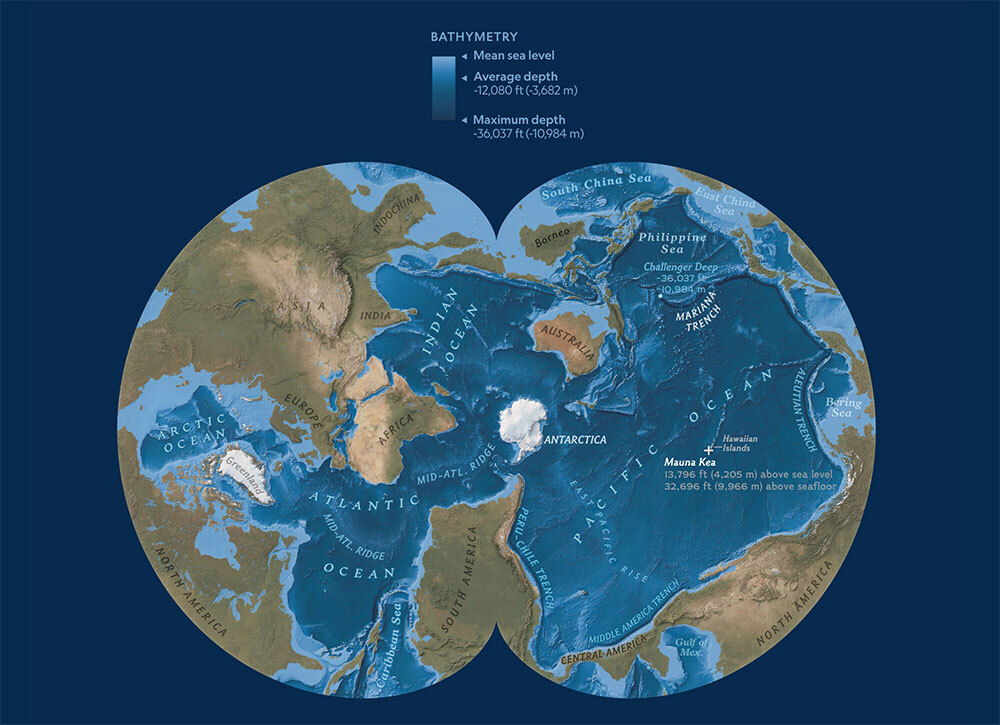 PHOTOGRAPH BY DAVID DOUBILET AND JENNIFER HAYES
Waves of change: The maps in this month's issue of National Geographic show what climate change, commercial fishing, pollution, and shipping are doing to the world's seas. Nearly 60 percent of the ocean is under cumulative stress, at an accelerating pace, from human activities, this illustrated story shows. Easing these pressures is crucial to the ocean's survival. (Above, one Earth illustration, which uses a projection that distorts landmasses to keep oceans as unified as possible.)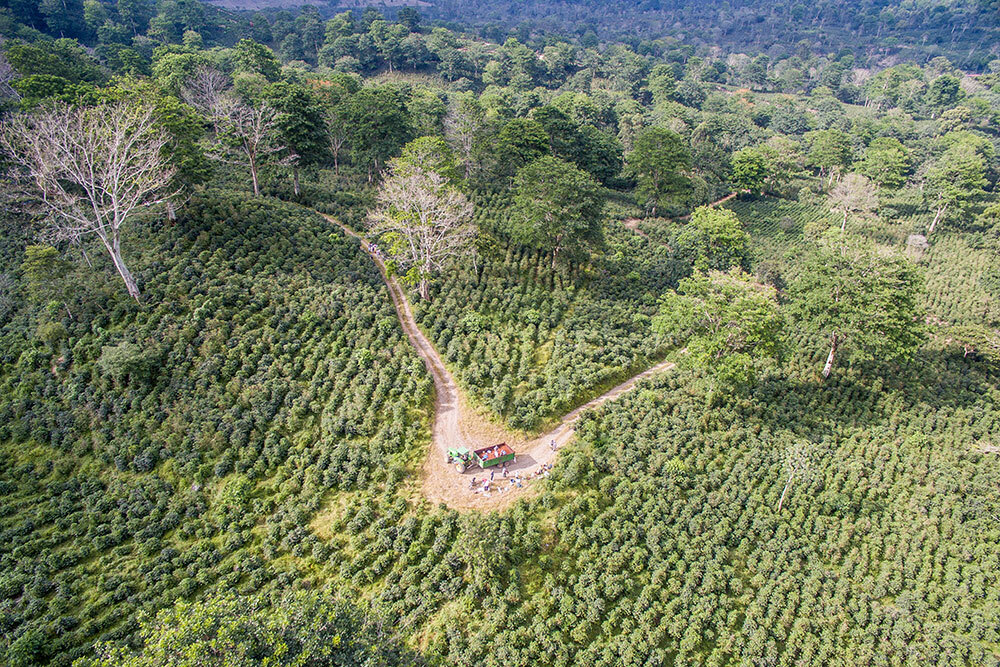 PHOTOGRAPH BY FRANCESCO LASTRUCCI
Does your forest need an espresso? OK, make jokes, but forests run better on caffeine, a study shows. To be specific, coffee pulp, a leftover of the coffee growing process, accelerates growth dramatically, Nat Geo's Sarah Gibbens reports. And it's cheap, too. Typically coffee producers just leave the waste to decompose. Researchers working in Costa Rica's rainforest paid only to shuttle the compost to their woods. They're trying new agricultural byproducts now. (Above, an aerial view of a coffee farm in Aquires, Costa Rica.)
WHAT YOU CAN DO: You can adapt these findings to improve your own garden—and cut waste at the same time. Some coffee shops, like Starbucks, give away their grounds to savvy backyard gardeners looking for a boost for their plants. The grounds "provide generous amounts of phosphorus, potassium, magnesium, and copper," Sunset magazine wrote. "They also release nitrogen into the soil as they degrade." Here's how to compost and use your own used coffee grounds.

This was edited and curated by Monica Williams and David Beard, and photographs were selected by Heather Kim. Have any suggestions or links to planet-helping stories? Let us know at
[email protected]
.
Clicking on the Facebook, Twitter, Instagram, and National Geographic Channel links will take you away from our National Geographic Partners site where different terms of use and privacy policy apply.

This email was sent to: -. Please do not reply to this email as this address is not monitored.

This email contains an advertisement from:
National Geographic | 1145 17th Street, N.W. | Washington, D.C. 20036

Stop all types of future commercial email from National Geographic regarding its products, services, or experiences.

© 2021 National Geographic Partners, LLC, All rights reserved.
Other emails from NationalGeographic online store
May 14, 2021

CORONAVIRUS UPDATE: When to worry about vaccine side effects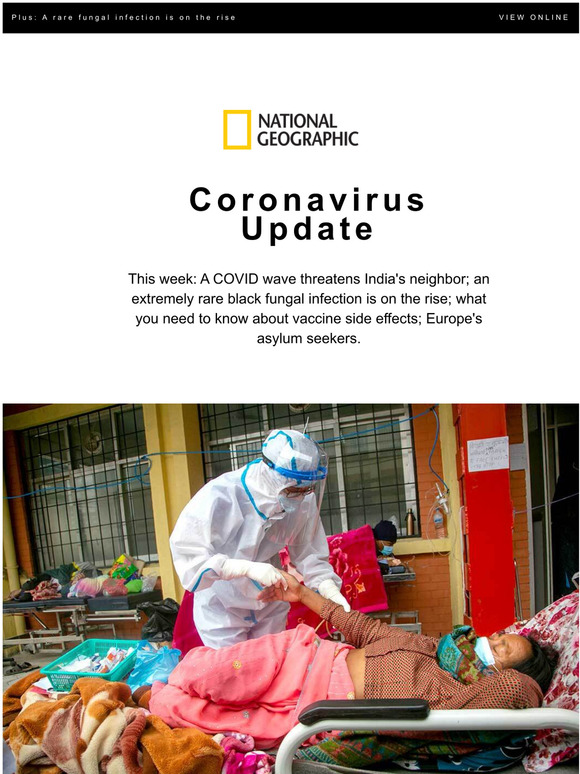 May 14, 2021

TRAVEL: Tulip business blooms anew after pandemics wilt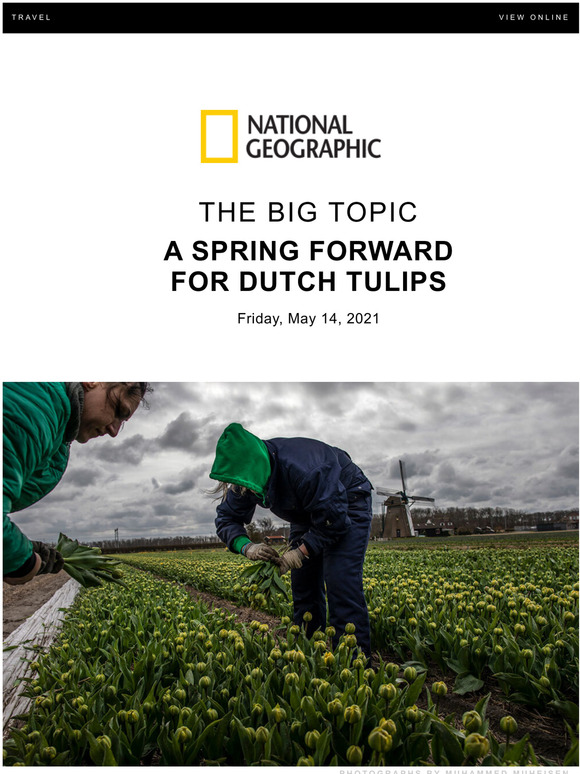 May 12, 2021

YOUR WEEKLY ESCAPE: The machine that could remake the world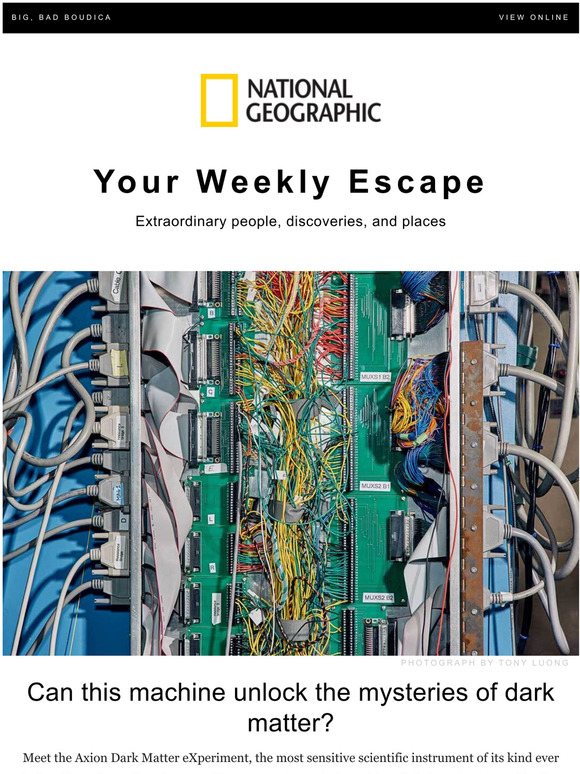 Shop without the noise.
Get our free newsletter of hand-picked sales you need to hear about from the web's best brands.