These discoveries connect us with the pastand each other
Email sent: Oct 25, 2021 2:39pm
| | |
| --- | --- |
| | Monday, October 25, 2021 |
In today's newsletter, when "werewolves" shook France; what to know about Day of the Dead; women fighting the California wildfires … and the Vikings' 1,000-year-old foothold in America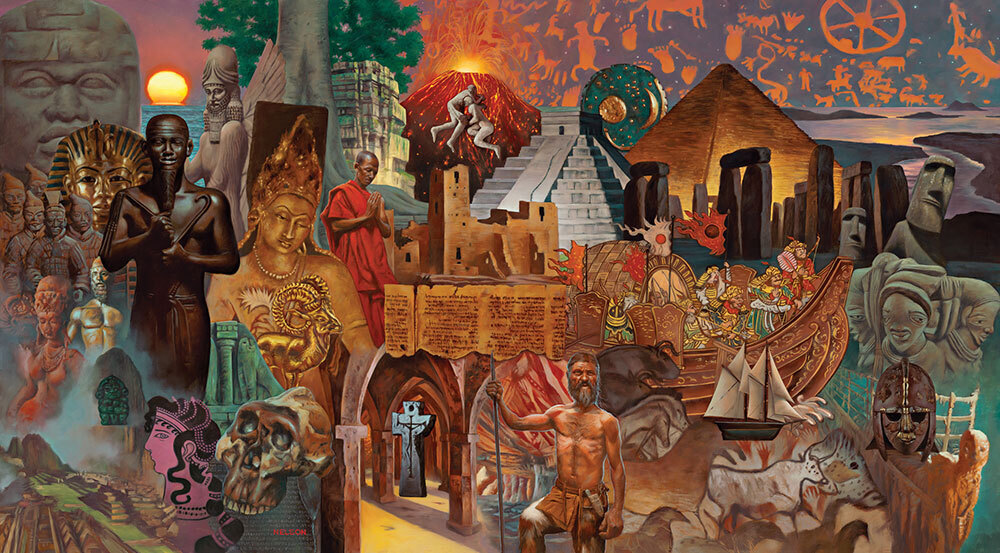 PAINTING BY KADIR NELSON
By Debra Adams Simmons, Executive Editor, HISTORY

Much attention has been focused this year on unearthing the past as archaeologists excavate in Tulsa, Oklahoma, in search of mass graves from a 100-year-old race massacre. So too, discovered graves of Indigenous children reveal further evidence of the horror they endured. Later this week, descendants of the enslaved people aboard Clotilda, the last transatlantic slave ship into the United States, will get an intimate look at the artifacts excavated from the submerged ship since it was discovered in 2019 in Alabama's Mobile Bay.

Archaeology gives us a window into the past. Without it, we would know little about the world's civilizations. Our understanding of human history has increased dramatically—aided by breakthroughs in technology—unlocking the mostly submerged stories of our ancestors.

The November issue of National Geographic explores 100 archaeological discoveries that have expanded our understanding of human history (Pictured above, the painting used as its cover.)

"Through recovered sites and objects, our distant ancestors can tell their stories," Andrew Lawler writes for the magazine.

"Without the systematic study of sites and artifacts, history would be held hostage by those few texts and monumental buildings that survived the vagaries of time," adds Lawler, a Nat Geo Explorer.

From the 1911 discovery of Machu Picchu, an intact Inca ghost town in the Andes hidden from the outside world for nearly 400 years to the 1922 discovery of King Tut's treasure-filled tomb, his funerary mask is one of the most famous artifacts ever found, to the scripts on the Rosetta Stone that led to the deciphering of ancient hieroglyphs, archeology has enlightened us about people and places around the globe. (Pictured in a series, below: the terra-cotta warriors of Xian, China; the 2,000-year-old tombs of Nubian kings and queens that once ruled ancient Egypt; using technology to learn more from the preserved 5,300-year-old mummy of Ötzi the Iceman.)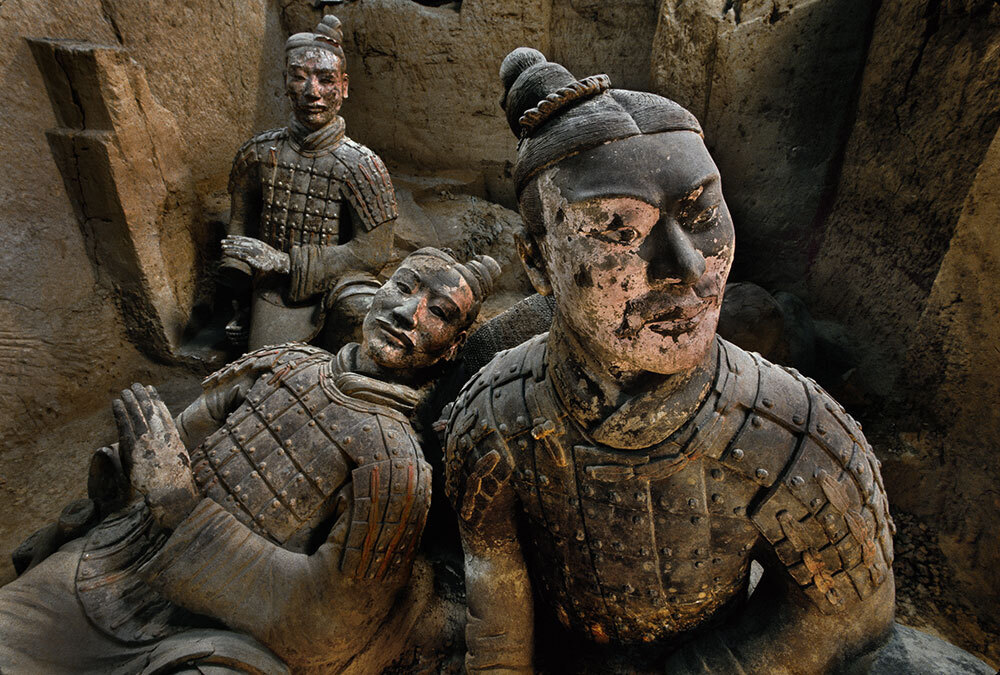 PHOTOGRAPH BY O. LOUIS MAZZATENTA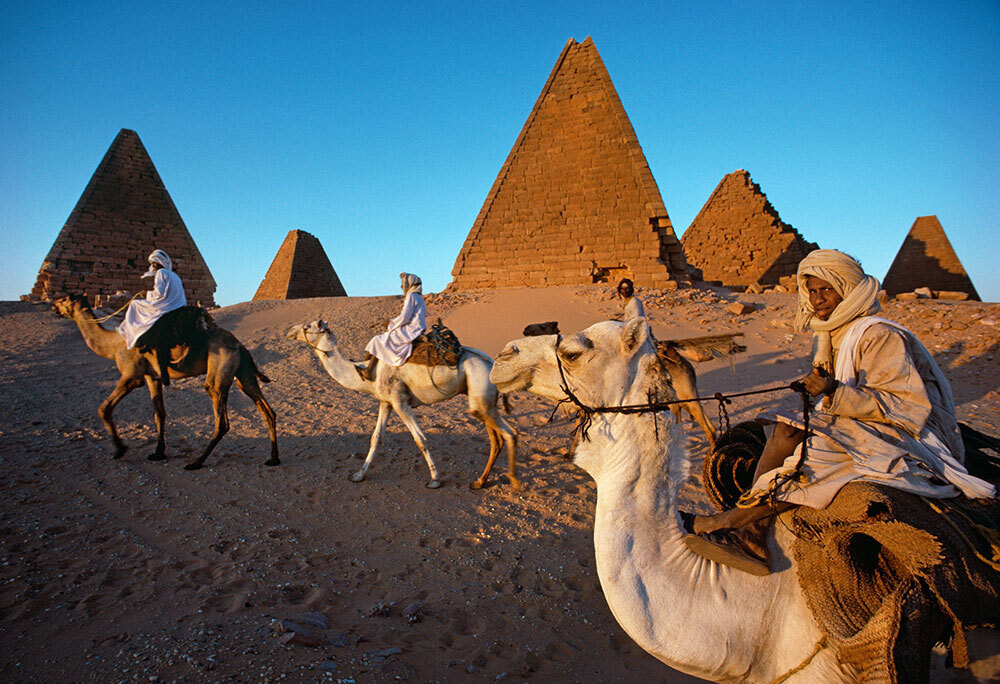 PHOTOGRAPH BY ENRICO FERORELLI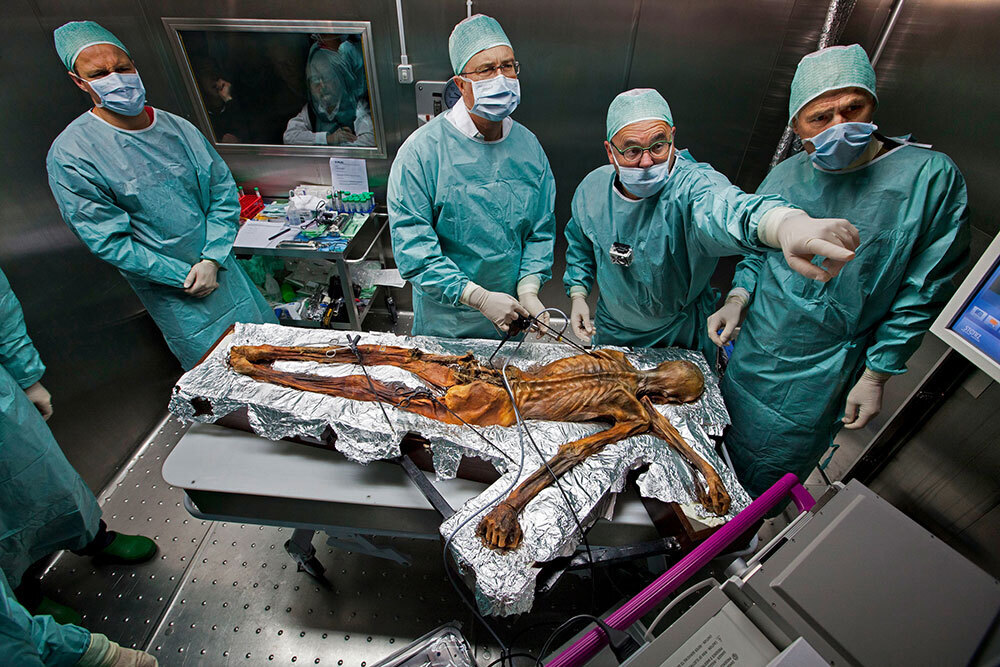 PHOTOGRAPH BY ROBERT CLARK
What was Nat Geo thinking in trying to illustrate such a sweeping story for the cover? In Ancient Wonders of the World, artist Kadir Nelson creates a cohesive painting that weaves together roughly two centuries of excavations from six continents. In his words, it reflects an eclectic and rich history, and tells "the greater human story."

"I'm very much interested in the human story and the journey of the hero, and much of what we see in ancient Egypt, through temples and the architecture and the story on the walls, is very much about the journey of the hero," Nelson says.

Archaeology increasingly is a catalyst for reckoning with the past or challenging present choices. More than 100,000 intact artifacts of the Yupik people at Nunalleq on the southwest coast of Alaska, frozen in the ground since 1660, have emerged as temperatures rise. (In the image below, photographer and Nat Geo Explorer Erika Larsen captures an archaeologist in Nunalleq protecting a 400-year-old wooden bow, one of the treasures now threatened by climate change.)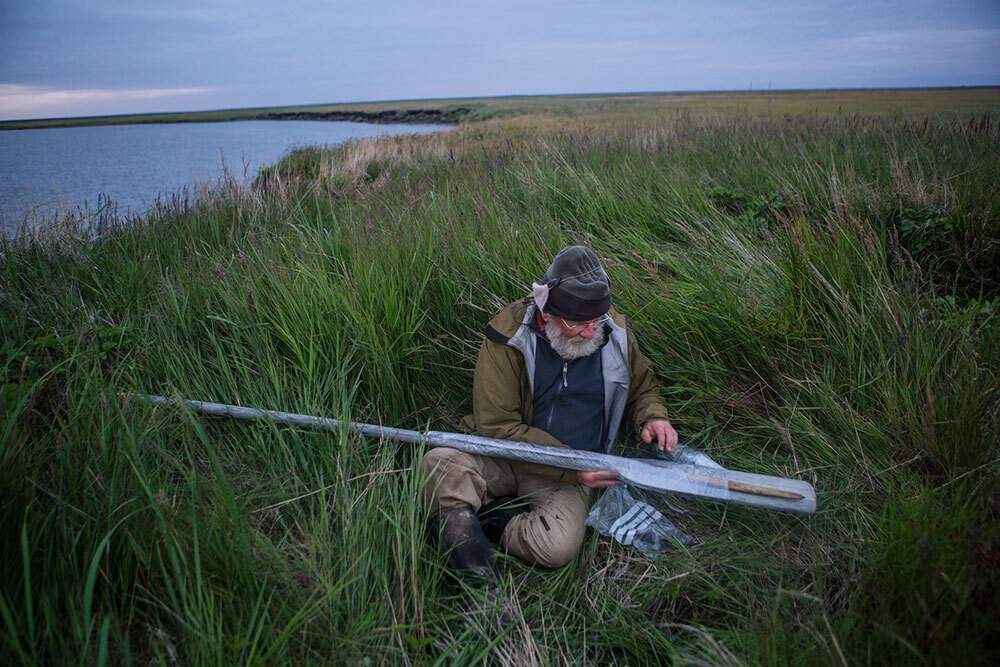 PHOTOGRAPH BY ERIKA LARSEN
At its best, archaeology's real power is its capacity to use the melting of ice and digging in the dirt to connect us to those who came before us—and each other.

Do you get this newsletter daily? If not, sign up here or forward this to a friend.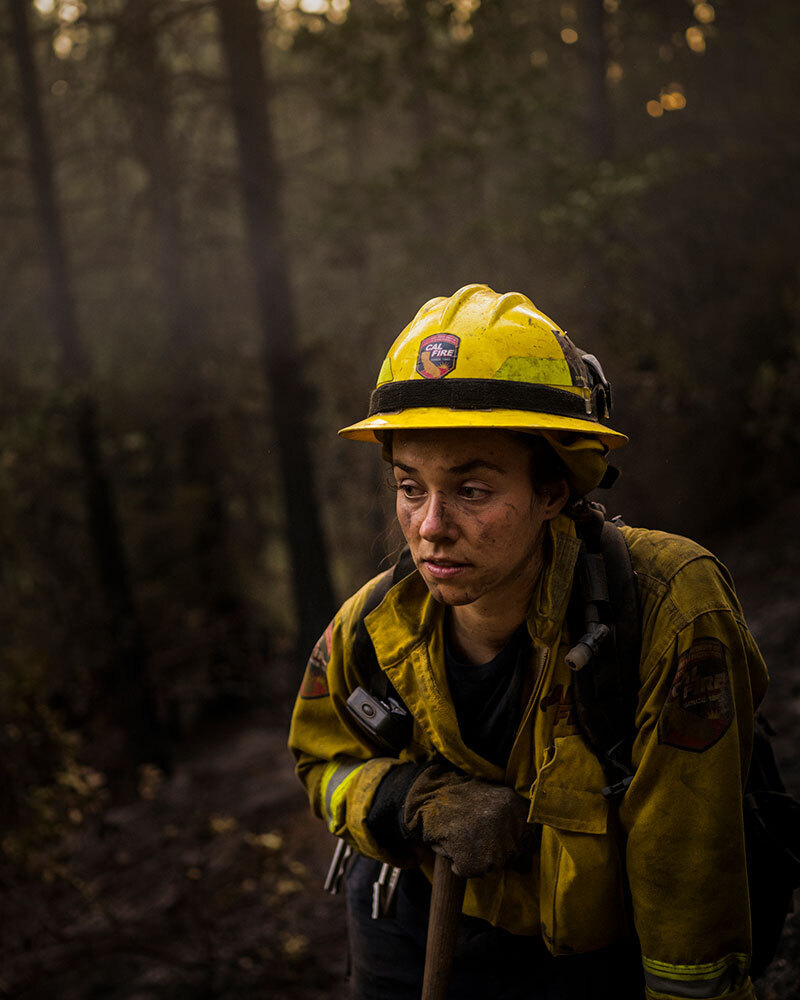 PHOTOGRAPH BY LYNSEY ADDARIO


The women fighting California's wildfires: Photographer and Nat Geo Explorer Lynsey Addario profiled several of the firefighters trying to protect California's land and buildings from wildfires, including former professional soccer player Madalyn Schiffel (pictured above, taking a break after a night of work near West Point Station.) "Women in the fire service are few and far between, Schiffel tells Addario, "but the women I have met have been really successful and groovy."

Amherst College cancels legacy admissions: The Massachusetts college said it's eliminating the preference it's given for nearly a century to applicants whose parents attended the school. The college, which had an acceptance rate of 8.5 percent this year, is also boosting financial aid, Inside Higher Ed reports. Currently, 11 percent of students are legacy.

Another pandemic: Eric's life wasn't easy. He'd had a 30-year narcotics addiction, experienced prison and homelessness, and was diagnosed with mental illness. He also was gun-fatality victim No. 79 in Cleveland, a city on pace for its most homicides in 30 years. And as ESPN's Dwayne Bray writes for The Undefeated, Eric was his childhood friend.

The fight against extinction: Experts estimate the number of people fluent in Hawaii Sign Language is down to single digits. Linda Yuen Lambrecht isn't just teaching it. She's battling erasure, globalization, and a ticking clock to keep an endangered sign language and generations of history alive, CNN reports.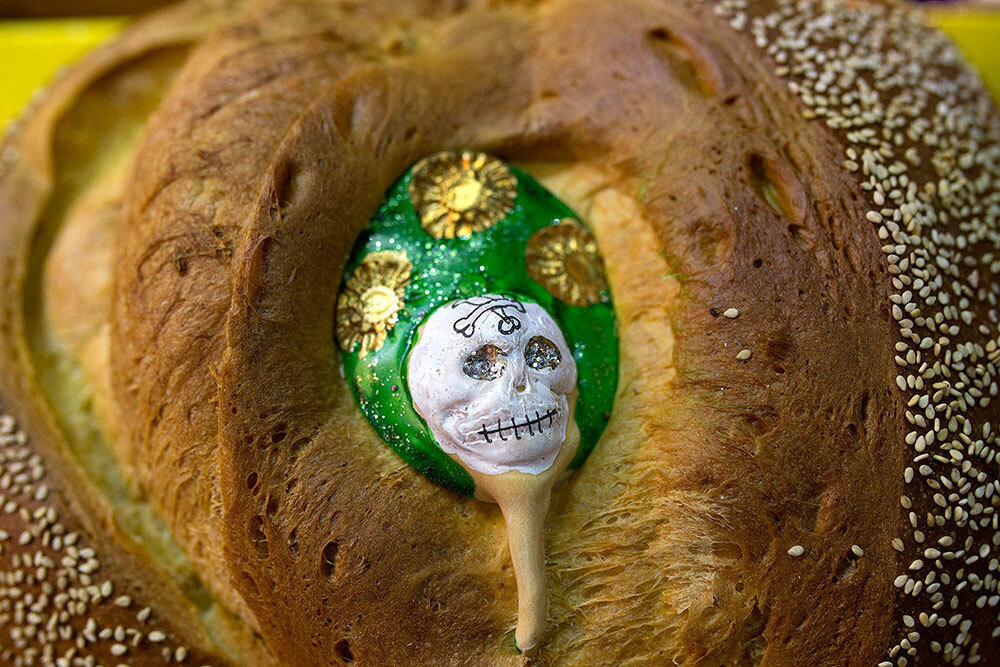 PHOTOGRAPH BY STEPHANIE FODEN
Honoring departed loved ones: The Day of the Dead festivities are so enveloping in parts of the world that it even extends to bread, with caritas, or little faces, molded with dough and colored with vegetable-based paint (pictured above, in Oaxaca, Mexico). Celebrated over a two-day period beginning next Monday, the Latin American Día de los Muertos, honors and reveres what's behind the veil of life.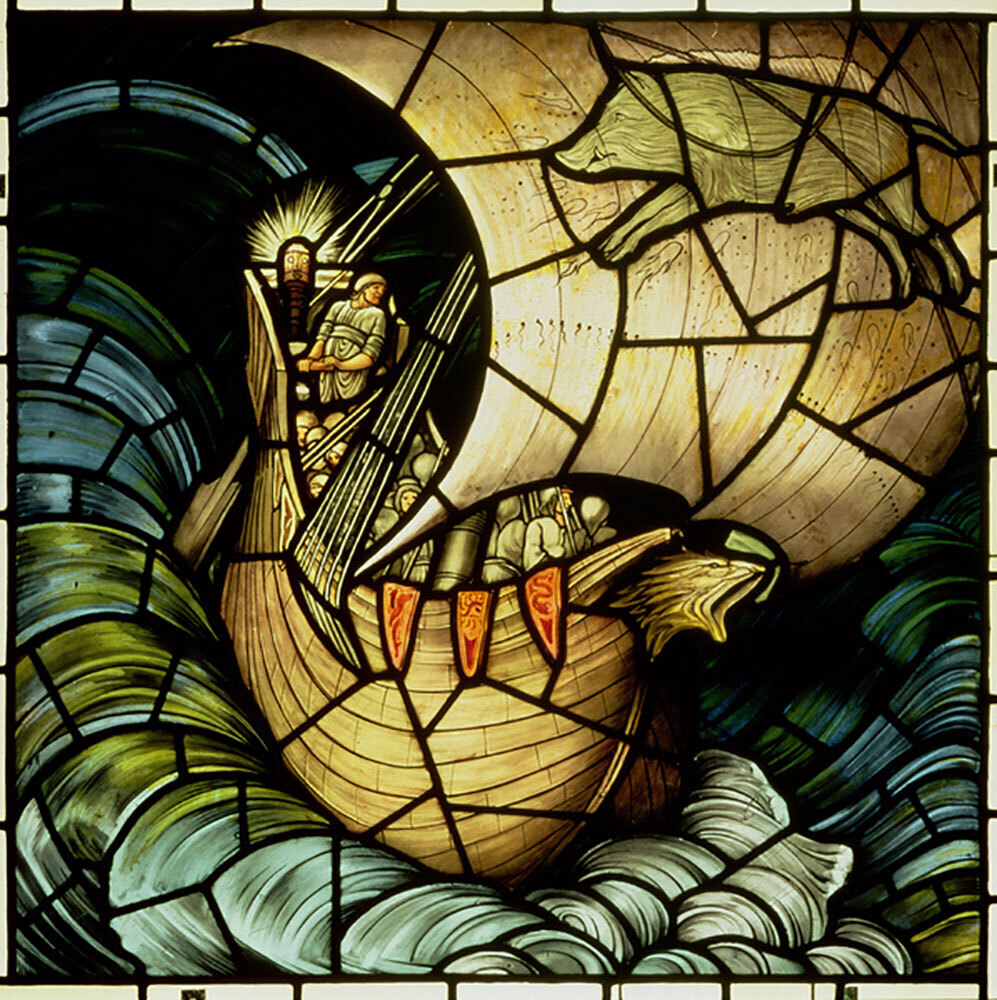 STAINED GLASS BY EDWARD COLEY BURNE-JONES VIA DELAWARE ART MUSEUM/
BRIDGEMAN IMAGES
Vinland, 1021: How do researchers know when Vikings made a foothold in the Americas? An ancient solar storm—and an analysis of wood—have helped researchers pinpoint a short-lived Viking settlement in present-day Newfoundland. The evidence shows the Vikings were felling trees in a north Atlantic community exactly 1,000 years ago, Andrew Curry reports for Nat Geo.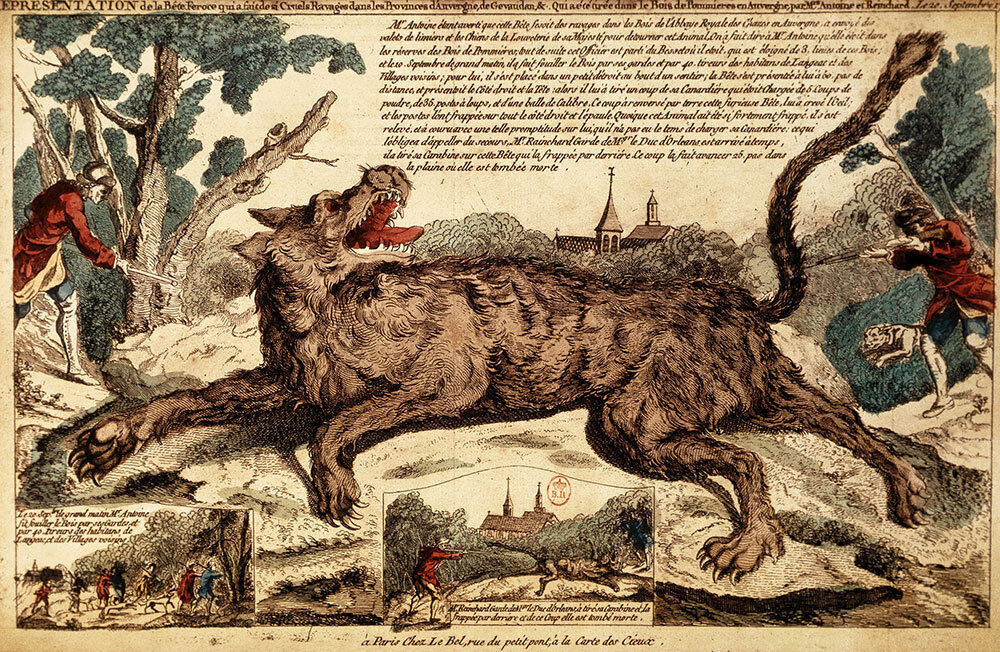 AKG/ALBUM
Did a 'werewolf' really terrorize France in the 1760s? There was some kind of deadly beast responsible for fatal attacks on humans in the Gévaudan region, but a sensationalist journalist was responsible for spreading the exaggerated exploits of the creature across the nation. Hunters and even the king's bodyguard let missions to kill the beast—and did kill a particularly large wolf. But two months later, the attacks continued, Nat Geo's History magazine reports. (Above, an 18th-century engraving of the killing of one large wolf.)


PREVIOUSLY ON NAT GEO DAILY ...
| | |
| --- | --- |
| | SHARE YOUR THOUGHTS |
| | |
| --- | --- |
| | We'd like to hear from you! Tell us what you think of our emails by sharing your feedback in this short survey. |
Clicking on the Facebook, Twitter, Instagram, and National Geographic Channel links will take you away from our National Geographic Partners site where different terms of use and privacy policy apply.

This email was sent to: -. Please do not reply to this email as this address is not monitored.

This email contains an advertisement from:
National Geographic | 1145 17th Street, N.W. | Washington, D.C. 20036

Stop all types of future commercial email from National Geographic regarding its products, services, or experiences.

© 2021 National Geographic Partners, LLC, All rights reserved.
Other emails from National Geographic
Nov 28, 2021

Gift them curiosity! Nat Geo Little Kids or Nat Geo Kids Magazines start at just $30/yr.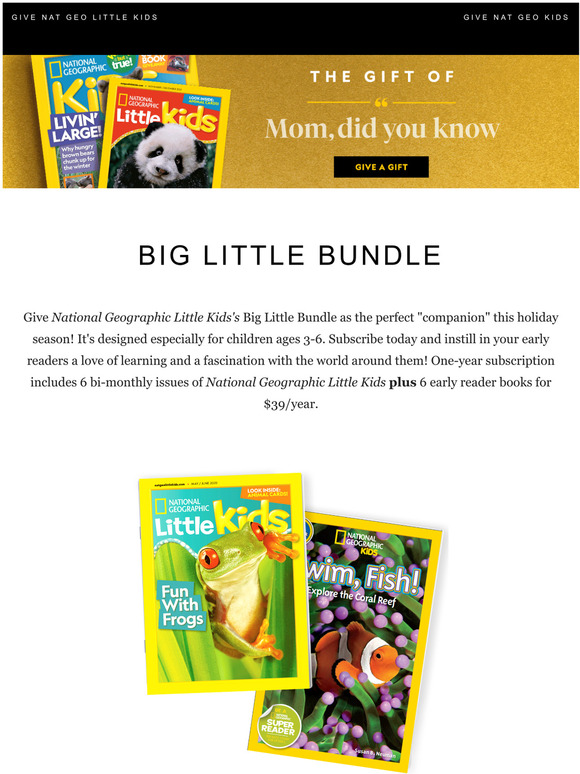 Shop without the noise.
Get our free newsletter of hand-picked sales you need to hear about from the web's best brands.