Follow Baikal seals under the ice of the world's largest freshwater lake
What matters in science |
This email was sent
Hello Nature readers,
Today we hear that the James Webb Space Telescope has been dinged by a tiny micrometeoroid (but it's OK). Plus, we dice with pretend ethical dilemmas and go under the ice of the world's largest freshwater lake with the Baikal seal.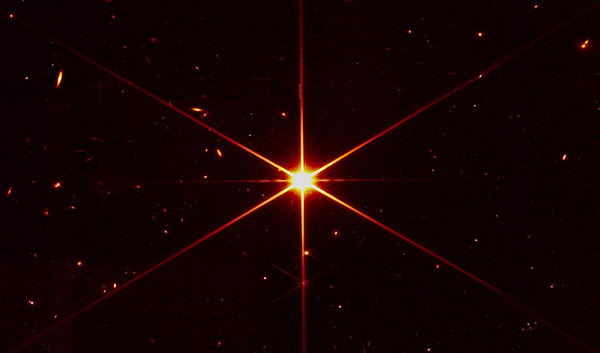 A crystal-clear image of a distant star was captured as part of a test shot to calibrate Webb's 18 hexagonal mirrors.
(NASA/STScI)
The James Webb Space Telescope has been hit by a micrometeoroid, a small piece of space debris. NASA says the strike to one of the telescope's primary mirror segments won't affect its performance. The pioneering space telescope was engineered to withstand micrometeoroid impacts, although the strike was larger than scientists had modelled. Still, the agency says the telescope is performing as it should. Webb's first full-colour images are scheduled to be released next month.
The Washington Post | 6 min read
An app that turns research ethics into a thought-provoking game aims to get scientists talking about issues they might previously have had to grapple with alone. The Dilemma Game presents a thorny scenario and asks players to choose from four solutions, with new questions added each month. "There isn't a right answer," says Nick den Hollander, a senior policy officer at Erasmus University Rotterdam in the Netherlands, where the game was developed. Instead, you get an expert review written by Erasmus University's dean of philosophy, and pointers as to which answer would hew closest to Dutch research-integrity guidance. "The aim is to try to make you think about why you chose a particular answer."
Nature | 4 min read
The German constitution grants the prestigious Max Planck Society (MPS) the freedom to organize its own structures and procedures, without political interference. That autonomy has been called into question by seven former and current directors of MPS research institutes who have been demoted or threatened with demotion after investigations into allegations of non-scientific misconduct. They say the society's procedures suffer from bias and a lack of transparency. The statements build on criticisms raised by high-profile scientists about how the MPS treats female leaders and how it handled the case of a former MPI director, archaeologist Nicole Boivin. The MPS says it stands by its decisions.
Nature | 6 min read
The Swiss National Science Foundation is set to roll out a 'narrative' CV format for grant applications this year, as part of a move to showcase achievements beyond publication lists. The standardized structure includes a section that invites applicants to present four narratives describing their most important contributions to science. Another feature is 'academic age': researchers can remove interruptions and periods of non-academic work from their CV. Parents, for example, can deduct time spent on child-rearing.
Nature | 6 min read
In this week's Science in Africa podcast, mathematician Angela Tabiri and public-health physician Adidja Amani explore how to stem the loss of talented female scientists because of the barriers they face in society. "This is a very tough question, particularly in Africa, where roles are usually defined by gender. Where even when you are in a high-level meeting people think that it's the woman who should bring coffee," says Amani. Support for mothers is a key factor, they tell Akin Jimoh, chief editor of Nature Africa.
Nature Careers Podcast | 33 min listen
Subscribe to the Nature Podcast on Apple Podcasts, Google Podcasts or Spotify.

A wonderfully illustrated feature takes us into space to grapple with the full scale and intensity of space debris in low Earth orbit. The story steps through the incidents that spewed the worst of the space pollution — both accidental and intentional — and what can be done about it. It also visualizes the real orbit paths of tracked debris. It's not time to panic, say space-junk specialists, but a stitch in time saves nine. "It is simultaneously not a disaster, but also the most important time to act," says Laurence Blacketer, a space situational-awareness scientist.
The Financial Times | 13 min read
Baikal seals are found only in the world's largest freshwater lake. Pusa sibirica — known to locals as nerpas — inhabit the crystal-clear waters of Lake Baikal in Siberia. Photographer Dmitry Kokh shares stunning images, including plenty of fluffy, big-eyed pups, taken on and under the ice sheet that covers the lake in spring.
The Guardian
| 5 min read
| Join our community | | |
| --- | --- | --- |
You received this newsletter because you subscribed with the email address: -
Please add [email protected] to your address book.
Enjoying this newsletter? You can use this form to recommend it to a friend or colleague — thank you!
Want to switch to the weekly edition or change your email address? Update your preferences.
Had enough? Unsubscribe from the Nature Briefing.
Fancy a bit of a read? View our privacy policy.
Forwarded by a friend? Get the Briefing straight to your inbox: subscribe for free.
Want to master time management, protect your mental health and brush up on your skills? Sign up for our free short e-mail series for working scientists, Back to the lab.
Get more from Nature: Register for free on nature.com to sign up for other newsletters specific to your field and email alerts from Nature Research journals.
Would you like to read the Briefing in other languages?
Sign up for the weekly round-up e-mail in Arabic, curated and translated by the editors of Nature Arabic Edition.
هل تود أن تقرأ هذا الموجز باللغة العربية؟ سَجِّل الآن لتصلك نشرة العلوم الموجزة أسبوعيًّا، التي يختار محتواها ويترجمه فريق محرري "نيتشر الطبعة العربية".
Follow Nature Portfolio on WeChat for a weekly round-up post in Chinese, curated and translated by our team in China.
关注Nature Portfolio官方微信订阅号,每周二为您推送Nature Briefing精选中文内容——自然每周简报。

Nature | The Springer Nature Campus, 4 Crinan Street, London, N1 9XW, United Kingdom
Nature Research, part of Springer Nature.
© 2022 Springer Nature Limited. All rights reserved.

Recent emails from Nature Journal

See more