Your Monday Briefing
Jerusalem, ZTE, Iraq View in Browser | Add [email protected] to your address book. Monday, May 14, 2018 NYTimes.com » Your Monday Briefing By CHRIS STANFORD The U.S. will formally move its embassy in Israel to Jerusalem from Tel Aviv today. Ivanka Trump, President Trump's daughter, and Jared Kushner, his son-in-law, are among the high-ranking American representatives who will attend the opening ceremony. Thomas Coex/Agence France-Presse — Getty Images Good morning. Here's what you need to know: Do as I say ... • Even as the U.S. demands disarmament from Iran and North Korea, it's planning to spend billions of dollars to update and expand its own nuclear arsenal. The buildup could just be part of a negotiating strategy. But it's not the first time the U.S. has sought to expand its nuclear abilities while trying to persuade other countries to give up theirs. Our reporters explain. • With the demise of the 2015 Iran nuclear agreement, the U.S., Israel and the Gulf countries are more committed than ever to challenging Tehran's reach. U.S. Embassy moves to Jerusalem • The American mission will hold its opening ceremony in the holy city today, formally relocating from Tel Aviv on the 70th anniversary of Israel's declaration of independence. Although Israel has arguably never been more powerful — militarily, economically or culturally — it remains estranged from its Arab neighbors, and recent bloodshed has drawn new attention to the Israeli-Palestinian conflict. Our correspondent looks at the continuing tensions. • The Trump administration's recognition of Jerusalem as the capital of Israel upends decades of U.S. foreign policy. Here are nine things to know about the contested city. "Too many jobs in China lost" • President Trump appears to be rethinking the penalties Washington recently imposed on the Chinese electronics manufacturer ZTE, saying on Sunday that he would work to prevent the collapse of the company. The comments could reduce pressure as the U.S. and China go toe-to-toe on trade, and before Mr. Trump's negotiations next month with the North Korean leader, Kim Jong-un. Pardoning a company that failed to punish employees who violated American trade controls against Iran and North Korea could set a difficult precedent, however. • Separately, U.S. companies that import metal are scrambling to win exemptions to the Trump administration's steel and aluminum tariffs. The Commerce Department has been deluged by 8,200 exemption requests. The racial gap in pot arrests • The surest way to be charged with marijuana possession in New York City is to be black or Hispanic, an analysis by The Times has found. Across the city, black people were arrested on low-level marijuana charges at eight times the rate of white, non-Hispanic people over the past three years. Hispanics were arrested at five times the rate of white people. In Manhattan, the gap is even starker. • The Police Department says more residents of predominantly black and Hispanic neighborhoods call to complain about use of the drug. But that doesn't fully explain the racial disparity, the Times analysis found. "The Daily": The prospect of peace • Does President Trump deserve credit for the diplomatic breakthrough on the Korean Peninsula? Listen on a computer, an iOS device or an Android device. Business • Closing the gender pay gap: British companies that are now required to publish salary differences between men and women are trying a variety of programs to close the divide. • Xerox called off its merger with Fujifilm of Japan after it reached an agreement with the shareholder activist Carl Icahn and another major investor who sharply opposed the deal. • Seattle is to vote on a tax on large employers that would help finance affordable housing and services for the homeless. It's one of the headlines to watch this week. • U.S. stocks were mixed on Friday. Here's a snapshot of global markets today. Smarter Living Tips, both new and old, for a more fulfilling life. • Does everyone seem angry with you? They probably aren't. • Stressless cooking is a state of mind, Yotam Ottolenghi writes. • Recipe of the day: Take a break from meat with a spicy, vegetarian version of mapo tofu. Over the Weekend • The police in Indonesia said a couple led their four children on a series of suicide attacks at churches in Surabaya, the country's second-largest city. The family and at least seven other people were killed. • A man armed with a knife attacked five people in central Paris, killing one and wounding four. The assailant, who was killed by the police, had been on a list of possible extremists. • Iraq held its first election since the defeat of the Islamic State. We spoke to some voters, who considered issues like corruption and unemployment, rather than security, as their chief concerns. • The Israeli singer Netta Barzilai won the Eurovision Song Contest with "Toy," a pop anthem about female independence. (It was accompanied by a chicken dance.) • "Avengers: Infinity War" was No. 1 at the North American box office for the third straight week. It has earned $1.6 billion globally. Noteworthy • The deadly convenience of keyless cars Weaned from keys, drivers have left vehicles running in garages, spewing exhaust into homes. Despite years of deaths, regulatory action has lagged. • Old ice is disappearing This winter, the Arctic Ocean hit a record low for ice older than five years. Scientists say that summers in the Arctic may be ice-free in the future. • In memoriam Chuck Knox, a three-time N.F.L. coach of the year, loved the running game. But he persuaded the New York Jets to draft the quarterback Joe Namath. He was 86. • Copy edit this Because nothing says Monday morning like a grammar quiz. • Quotation of the day "No one wants to see iPhones getting smashed in the streets of major Chinese cities." — Paul Triolo, a technology analyst, on signs that the Trump administration was working to save the Chinese telecommunications company ZTE. • The Times, in other words Here's an image of today's front page, and links to our Opinion content and crossword puzzles. • What we're reading Maud Bodoukian Meyrant, a photo editor, recommends this piece from The New Yorker: "Renting a wife after yours died, and the house feels too empty at dinner time. Renting a boyfriend to introduce to your parents, when they are pressuring you to get married. Renting a father for your child before a school interview, to avoid the stigma of being a single mother. It sounds surreal, but in Japan, it's a reality. This fascinating story explores the questions of family ties, intimacy, paid relationships and the ache of loneliness." Back Story It's one of the most enduring symbols in rock 'n' roll: the "Hot Lips" logo of the Rolling Stones. The red lips and protruding tongue debuted on the 1971 album "Sticky Fingers" and have appeared somewhere on every album since. John Pasche, who designed the "Hot Lips" logo for the Rolling Stones. Sipa, via Associated Press The logo's designer, John Pasche, said his favorite work by the band was the album, "Exile on Main St.," released this month in 1972, because of "its gritty, raw quality." Mick Jagger commissioned the logo when Mr. Pasche was a student at the Royal College of Art in London. Mr. Jagger was inspired by Kali, a Hindu goddess with multiple arms and a pointed tongue, but Mr. Pasche was also impressed by the lead singer's mouth. Mr. Pasche said he worked on the logo nonstop for two weeks, for which he was paid 50 pounds, then about $120. (A modified version appeared in the United States.) "It was just a lucky break," said Mr. Pasche, who also designed posters for the band. "Right place, right time." Since then, his simple, anti-authoritarian logo has appeared in some odd places. It has been replicated as mouth-shaped urinals and, Mr. Pasche said, "a fan once sent me a photo of the logo tattooed on his girlfriend's back side." Robb Todd wrote today's Back Story. _____ Your Morning Briefing is published weekdays and updated all morning. Browse past briefings here. Sign up here to get it by email in the Australian, Asian, European or American morning. To receive an Evening Briefing on U.S. weeknights, sign up here. Check out our full range of free newsletters here. What would you like to see here? Contact us at [email protected] ADVERTISEMENT LIKE THIS EMAIL? Forward it to your friends, and let them know they can sign up here. Sponsor a Subscription Inspire a future generation of readers by contributing to The New York Times sponsor-a-subscription program. For every subscription granted through contributions to this program, The Times will provide a digital subscription to one additional student. FOLLOW NYTimes FACEBOOK @nytimes Get more NYTimes.com newsletters » | Sign Up for the Evening Briefing newsletter » ABOUT THIS EMAIL You received this message because you signed up for NYTimes.com's Morning Briefing newsletter. Unsubscribe | Manage Subscriptions | Change Your Email | Privacy Policy | Contact | Advertise Copyright 2018 The New York Times Company 620 Eighth Avenue New York, NY 10018
This email was sent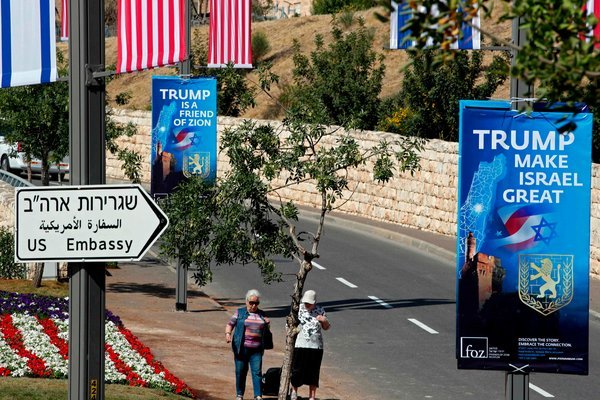 The U.S. will formally move its embassy in Israel to Jerusalem from Tel Aviv today. Ivanka Trump, President Trump's daughter, and Jared Kushner, his son-in-law, are among the high-ranking American representatives who will attend the opening ceremony. Thomas Coex/Agence France-Presse — Getty Images
Good morning.
Here's what you need to know:
Do as I say ...
• Even as the U.S. demands disarmament from Iran and North Korea, it's planning to spend billions of dollars to update and expand its own nuclear arsenal.
The buildup could just be part of a negotiating strategy. But it's not the first time the U.S. has sought to expand its nuclear abilities while trying to persuade other countries to give up theirs. Our reporters explain.
• With the demise of the 2015 Iran nuclear agreement, the U.S., Israel and the Gulf countries are more committed than ever to challenging Tehran's reach.
U.S. Embassy moves to Jerusalem
• The American mission will hold its opening ceremony in the holy city today, formally relocating from Tel Aviv on the 70th anniversary of Israel's declaration of independence.
Although Israel has arguably never been more powerful — militarily, economically or culturally — it remains estranged from its Arab neighbors, and recent bloodshed has drawn new attention to the Israeli-Palestinian conflict. Our correspondent looks at the continuing tensions.
• The Trump administration's recognition of Jerusalem as the capital of Israel upends decades of U.S. foreign policy. Here are nine things to know about the contested city.
"Too many jobs in China lost"
• President Trump appears to be rethinking the penalties Washington recently imposed on the Chinese electronics manufacturer ZTE, saying on Sunday that he would work to prevent the collapse of the company.
The comments could reduce pressure as the U.S. and China go toe-to-toe on trade, and before Mr. Trump's negotiations next month with the North Korean leader, Kim Jong-un.
Pardoning a company that failed to punish employees who violated American trade controls against Iran and North Korea could set a difficult precedent, however.
• Separately, U.S. companies that import metal are scrambling to win exemptions to the Trump administration's steel and aluminum tariffs. The Commerce Department has been deluged by 8,200 exemption requests.
The racial gap in pot arrests
• The surest way to be charged with marijuana possession in New York City is to be black or Hispanic, an analysis by The Times has found.
Across the city, black people were arrested on low-level marijuana charges at eight times the rate of white, non-Hispanic people over the past three years. Hispanics were arrested at five times the rate of white people. In Manhattan, the gap is even starker.
• The Police Department says more residents of predominantly black and Hispanic neighborhoods call to complain about use of the drug. But that doesn't fully explain the racial disparity, the Times analysis found.
"The Daily": The prospect of peace
• Does President Trump deserve credit for the diplomatic breakthrough on the Korean Peninsula?
Listen on a computer, an iOS device or an Android device.
Business
• Closing the gender pay gap: British companies that are now required to publish salary differences between men and women are trying a variety of programs to close the divide.
• Xerox called off its merger with Fujifilm of Japan after it reached an agreement with the shareholder activist Carl Icahn and another major investor who sharply opposed the deal.
• Seattle is to vote on a tax on large employers that would help finance affordable housing and services for the homeless. It's one of the headlines to watch this week.
• U.S. stocks were mixed on Friday. Here's a snapshot of global markets today.
Smarter Living
Tips, both new and old, for a more fulfilling life.
• Does everyone seem angry with you? They probably aren't.
• Stressless cooking is a state of mind, Yotam Ottolenghi writes.
• Recipe of the day: Take a break from meat with a spicy, vegetarian version of mapo tofu.
Over the Weekend
• The police in Indonesia said a couple led their four children on a series of suicide attacks at churches in Surabaya, the country's second-largest city. The family and at least seven other people were killed.
• A man armed with a knife attacked five people in central Paris, killing one and wounding four. The assailant, who was killed by the police, had been on a list of possible extremists.
• Iraq held its first election since the defeat of the Islamic State. We spoke to some voters, who considered issues like corruption and unemployment, rather than security, as their chief concerns.
• The Israeli singer Netta Barzilai won the Eurovision Song Contest with "Toy," a pop anthem about female independence. (It was accompanied by a chicken dance.)
• "Avengers: Infinity War" was No. 1 at the North American box office for the third straight week. It has earned $1.6 billion globally.
Noteworthy
• The deadly convenience of keyless cars
Weaned from keys, drivers have left vehicles running in garages, spewing exhaust into homes. Despite years of deaths, regulatory action has lagged.
• Old ice is disappearing
This winter, the Arctic Ocean hit a record low for ice older than five years. Scientists say that summers in the Arctic may be ice-free in the future.
• In memoriam
Chuck Knox, a three-time N.F.L. coach of the year, loved the running game. But he persuaded the New York Jets to draft the quarterback Joe Namath. He was 86.
• Copy edit this
Because nothing says Monday morning like a grammar quiz.
• Quotation of the day
"No one wants to see iPhones getting smashed in the streets of major Chinese cities."
— Paul Triolo, a technology analyst, on signs that the Trump administration was working to save the Chinese telecommunications company ZTE.
• The Times, in other words
Here's an image of today's front page, and links to our Opinion content and crossword puzzles.
• What we're reading
Maud Bodoukian Meyrant, a photo editor, recommends this piece from The New Yorker: "Renting a wife after yours died, and the house feels too empty at dinner time. Renting a boyfriend to introduce to your parents, when they are pressuring you to get married. Renting a father for your child before a school interview, to avoid the stigma of being a single mother. It sounds surreal, but in Japan, it's a reality. This fascinating story explores the questions of family ties, intimacy, paid relationships and the ache of loneliness."
Back Story
It's one of the most enduring symbols in rock 'n' roll: the "Hot Lips" logo of the Rolling Stones.
The red lips and protruding tongue debuted on the 1971 album "Sticky Fingers" and have appeared somewhere on every album since.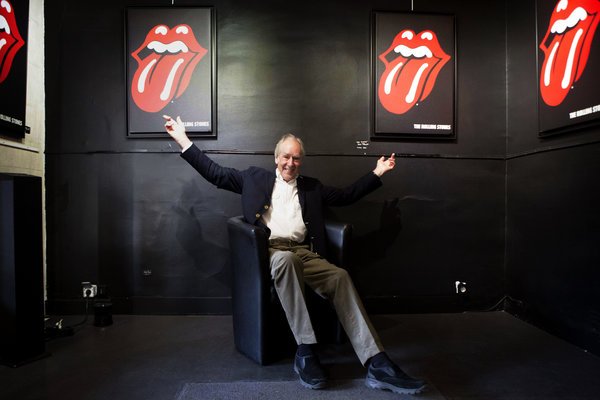 John Pasche, who designed the "Hot Lips" logo for the Rolling Stones.
Sipa, via Associated Press
The logo's designer, John Pasche, said his favorite work by the band was the album, "Exile on Main St.," released this month in 1972, because of "its gritty, raw quality."
Mick Jagger commissioned the logo when Mr. Pasche was a student at the Royal College of Art in London. Mr. Jagger was inspired by Kali, a Hindu goddess with multiple arms and a pointed tongue, but Mr. Pasche was also impressed by the lead singer's mouth.
Mr. Pasche said he worked on the logo nonstop for two weeks, for which he was paid 50 pounds, then about $120. (A modified version appeared in the United States.)
"It was just a lucky break," said Mr. Pasche, who also designed posters for the band. "Right place, right time."
Since then, his simple, anti-authoritarian logo has appeared in some odd places. It has been replicated as mouth-shaped urinals and, Mr. Pasche said, "a fan once sent me a photo of the logo tattooed on his girlfriend's back side."
Robb Todd wrote today's Back Story.
_____
Your Morning Briefing is published weekdays and updated all morning. Browse past briefings here.
Sign up here to get it by email in the Australian, Asian, European or American morning. To receive an Evening Briefing on U.S. weeknights, sign up here.
Check out our full range of free newsletters here.
What would you like to see here? Contact us at
[email protected]
.
LIKE THIS EMAIL?
Forward it to your friends, and let them know they can sign up here.
Inspire a future generation of readers by contributing to The New York Times sponsor-a-subscription program. For every subscription granted through contributions to this program, The Times will provide a digital subscription to one additional student.
ABOUT THIS EMAIL
You received this message because you signed up for NYTimes.com's Morning Briefing newsletter.
Copyright 2018 The New York Times Company


620 Eighth Avenue New York, NY 10018
Recent emails from The New York Times

See more