Special Savings on CORSAIR CV650 650W Power Supply!
Email sent: Aug 17, 2020 5:01am

Discover other great new deals on PCs, components, electronics and more  ‌   ‌   ‌   ‌   ‌   ‌   ‌   ‌   ‌   ‌   ‌   ‌   ‌   ‌   ‌   ‌   ‌   ‌   ‌   ‌   ‌   ‌   ‌   ‌   ‌   ‌   ‌   ‌   ‌   ‌   ‌   ‌   ‌   ‌   ‌   ‌   ‌   ‌   ‌   ‌   ‌   ‌   ‌   ‌   ‌   ‌   ‌   ‌   ‌   ‌   ‌   ‌   ‌   ‌   ‌   ‌   ‌   ‌   ‌   ‌   ‌   ‌   ‌   ‌   ‌   ‌   ‌   ‌   ‌   ‌   ‌   ‌   ‌   ‌   ‌   ‌   ‌   ‌   ‌   ‌   ‌   ‌   ‌   ‌   ‌   ‌   ‌   ‌   ‌   ‌   ‌   ‌   ‌   ‌   ‌   ‌   ‌   ‌   ‌   ‌   ‌   ‌   ‌   ‌   ‌   ‌   ‌   ‌   ‌   ‌   ‌   ‌   ‌   ‌   ‌   ‌   ‌   ‌   ‌   ‌   ‌   ‌   ‌   ‌   ‌   ‌   ‌   ‌   ‌   ‌   ‌   ‌   ‌   ‌   ‌   ‌   ‌   ‌   ‌   ‌   ‌   ‌   ‌   ‌   ‌   ‌   ‌   ‌   ‌   ‌   ‌   ‌   ‌   ‌   ‌   ‌   ‌   ‌   ‌   ‌   ‌   ‌   ‌   ‌   ‌   ‌   ‌   ‌   ‌   ‌   ‌   ‌   ‌   ‌   ‌   ‌   ‌   ‌   ‌   ‌   ‌   ‌   ‌   ‌   ‌   ‌   ‌   ‌   ‌   ‌   ‌   ‌   ‌   ‌   ‌   ‌   ‌   ‌   ‌   ‌   ‌   ‌   ‌   ‌   ‌   ‌   ‌   ‌   ‌   ‌   ‌   ‌   ‌   ‌   ‌   ‌   ‌   ‌   ‌   ‌   ‌   ‌   ‌   ‌   ‌   ‌   ‌   ‌
To receive exclusive promotions and be the first to know about new product releases, Sign up >
Email valid till 2020-08-23 in Canada only. Please see individual product page for prices and/or promo codes. Prices subject to change without notice. All prices shown in Canadian dollars unless otherwise specified. Standard terms and conditions resume upon expiration. Valid only on current stock. Promo codes may not be combined with other promo codes on a single item and can only be used once per registered account. Please see product page for individual item purchase limit. Only one promo code will be applied per item per order, even if the item is eligible for other promo codes entered at time of purchase. For details of our terms and conditions (including payment methods, shipping methods, returns, price adjustments), refer to our Policy and Agreement. Newegg.ca's information sharing practices, and your options, are explained in our Privacy Policy. Please send feedback to

[email protected]

. Newegg.ca is not responsible for any typographical errors in this newsletter.

You are receiving this e-mail because - is subscribed to Newegg Exclusive Deals. If you no longer wish to receive e-mails of this kind, please unsubscribe.
Newegg.ca   |  Privacy Policy  |   © 2000-2020 Newegg Inc. All rights reserved.
Newegg Canada Inc 55 East Beaver Creek Rd, Unit E Richmond Hill, ON, L4B 1E8 Canada
Other emails from Newegg Canada
Oct 22, 2021

PROMO CODE ALERT! Corsair iCUE 220T RGB Airflow ATX Mid Tower Computer Case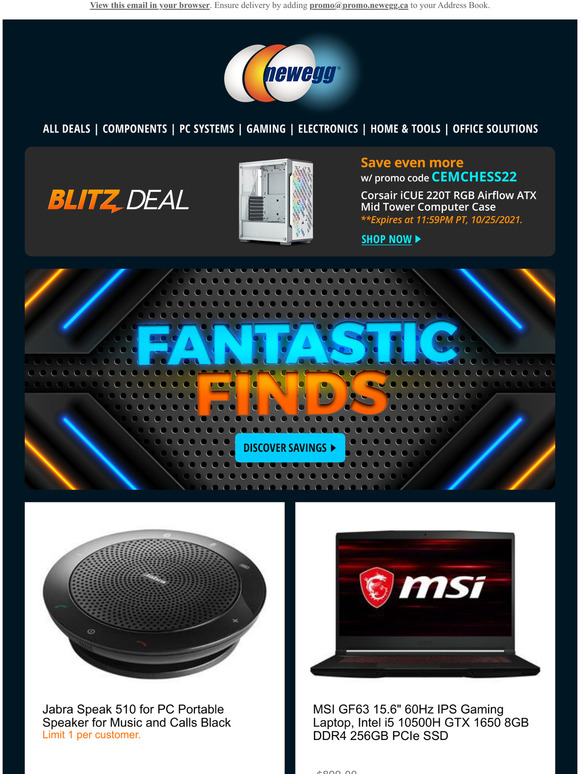 Shop without the noise.
Get our free newsletter of hand-picked sales you need to hear about from the web's best brands.