Our world jewelry tour touches down in West Africa!
Email sent: Jul 22, 2021 10:57am
Our Jewelry Sale Lands in Ghana!
West African jewelry traces its roots deep into the past. Exquisite beadwork harkens back to an ancient form of currency. Cowrie shells carry with them symbolic value. Religious, spiritual, and nature-inspired motifs still find expression in the handwork of West African jewelry artisans, who now infuse new techniques and materials into their creations.

Whether you're looking for a modern earring fashioned of recycled material or a traditional necklace crafted from glass beads, you're sure to find it in West Africa.
The Real Deal
Ila Suleyman challenges the influx of imitation jewelry with his authentically crafted pieces.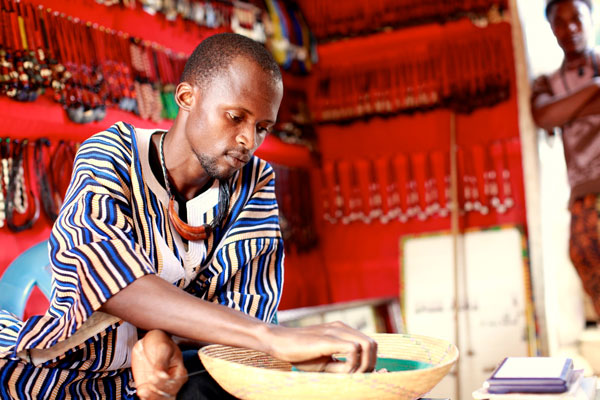 It all started with a cow. Well, a herd of them.

"My forefathers were predominantly millet and cattle farmers," Ila Suleyman says. "They would use the leather of the animals they reared for clothing and accessories such as talismans, bangles and necklaces." One day, Ila's great-grandfather took a look around and realized that these farmers had more than cattle and millet to offer the world. They had developed skill and talent and a keen eye for beautiful jewelry.

Thus was born a family enterprise in jewelry making that welcomed Ila into the fold when he was very young. He would follow his grandfather around the workshop, where he learned to  prepare natural leather and create beautiful objects from it.

The traditions of old gained new life under Ila's touch. "I designed a more youthful and modern collection which was incorporated into the traditional styles that we were accustomed to creating. These sold very well."

Now, alongside his leatherwork, Ila incorporates wood and recycled materials. When asked about the biggest threats to his trade, Ila is crystal clear: "industrially manufactured copies of our authentic hand-crafted artistry that flood the market and threaten local artisans."   

Ila himself clearly feels up to the task of taking back authenticity. "I rise above this by producing wonderful and more interesting handmade designs. I also work with other artisans who create handmade jewelry in order to highlight the positive impact it has in our lives when people support artisans."

What better sentiment to celebrate the gorgeous world of West African jewelry!
In addition to West African jewelry, our entire global jewelry collection is also on sale this week, with up to 15% off!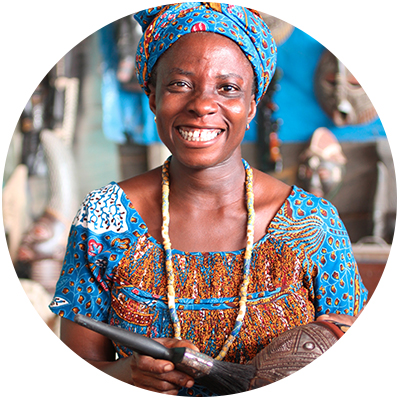 Spread happiness when you shop
Our customers have helped us to send over $100 million to artisans around the world. Impact the artisan causes closest to your heart with every purchase you make.

We're curating our Instagram feed to reflect the vibrancy of the cultures and places we love. Discover what we mean when we say NOVICA is color!
You received this message because you are signed up to receive NOVICA News updates to this email address: -
©NOVICA 2716 Ocean Park Blvd, Ste 10‌30, Santa Monica, CA 9‌0405
To enjoy the full discount described in the promotion above, please be sure to click on the buttons or links within this email to activate the promotion. The promotion is up to 15% off our handmade jewelry category and ends at 11:59 PM (Pacific Time) on July 25, 2021. Exclusions may apply and promotions are subject to change. Offers cannot be combined with other promotions, cannot be applied to prior orders, cannot be applied to wholesale orders, and only apply to items sold on the NOVICA website.
At NOVICA, happiness is our mission, and love is at the core.
Here are the ten choices and one core value that we live by.



Shop without the noise.
Get our free newsletter of hand-picked sales you need to hear about from the web's best brands.