48 Hour Clearance Sale | Up to 65% Off
Email sent: Jun 11, 2021 9:33am
Up to 65% Off Ends Tomorrow

 ‌ ‌ ‌ ‌ ‌ ‌ ‌ ‌ ‌ ‌ ‌ ‌ ‌ ‌ ‌ ‌ ‌ ‌ ‌ ‌ ‌ ‌ ‌ ‌ ‌ ‌ ‌ ‌ ‌ ‌ ‌ ‌ ‌ ‌ ‌ ‌ ‌ ‌ ‌ ‌ ‌ ‌ ‌ ‌ ‌ ‌  ‌ ‌ ‌ ‌ ‌ ‌ ‌ ‌ ‌ ‌ ‌ ‌ ‌ ‌ ‌ ‌ ‌ ‌ ‌ ‌ ‌ ‌ ‌ ‌ ‌ ‌ ‌ ‌ ‌ ‌ ‌ ‌ ‌ ‌ ‌ ‌ ‌ ‌ ‌ ‌ ‌ ‌ ‌ ‌ ‌ ‌ ‌ ‌ ‌ ‌ ‌ ‌ ‌ ‌ ‌ ‌ ‌ ‌  ‌ ‌ ‌ ‌ ‌ ‌ ‌ ‌ ‌ ‌ ‌ ‌ ‌ ‌ ‌ ‌ ‌ ‌ ‌ ‌ ‌ ‌ ‌ ‌ ‌ ‌ ‌ ‌ ‌ ‌ ‌ ‌ ‌ ‌ ‌ ‌ ‌ ‌ ‌ ‌ ‌ ‌ ‌ ‌ ‌ ‌ ‌ ‌ ‌ ‌ ‌ ‌ ‌ ‌ ‌ ‌ ‌ ‌  ‌ ‌ ‌ ‌ ‌ ‌ ‌ ‌ ‌ ‌ ‌ ‌ ‌ ‌ ‌ ‌ ‌ ‌ ‌ ‌ ‌ ‌ ‌ ‌ ‌ ‌ ‌ ‌ ‌ ‌ ‌ ‌ ‌ ‌ ‌ ‌ ‌ ‌ ‌ ‌ ‌ ‌ ‌ ‌ ‌ ‌ ‌ ‌ ‌ ‌ ‌ ‌ ‌ ‌ ‌ ‌ ‌ ‌  ‌ ‌ ‌ ‌ ‌ ‌ ‌ ‌ ‌ ‌ ‌ ‌ ‌ ‌ ‌ ‌ ‌ ‌ ‌ ‌

View In Browser
Sale prices shown are valid for 6/11/2021 only. Pricing may vary by sizing & colors.
Exclusions apply.
DISCLAIMER - Limited time offer. Exclusions, terms and conditions apply. Click
here
for details. Offer may be modified or terminated at any time without notice.
*Personalized Picks are personal to you & may not be included in the offer/discount.
Please be sure to add
[email protected]
to ensure our messages are delivered to your inbox.
This email is being sent to - from Oklahoma Sooners Official Store. We respect your privacy. We do not sell, rent or abuse our customer email list. We strive to send valuable, timely emails to our subscribers. If you no longer wish to receive our emails, please unsubscribe below. Thanks.
MANAGE PREFERENCES
Copyright 2021 Fanatics Retail Group, Inc. 8100 Nations Way, Jacksonville, FL 32256
If you experience problems with the above link, reply to this email with "unsubscribe" in the body to be automatically removed.
General replies to this email reach an inbox that is not monitored by a Customer Service agent. Please visit the Customer Service page to ensure your message reaches us.

Other emails from Oklahoma Sooners Fan Shop by Fanatics
Jun 16, 2021

Summer Savings| 20% Off Vineyard Vines Collection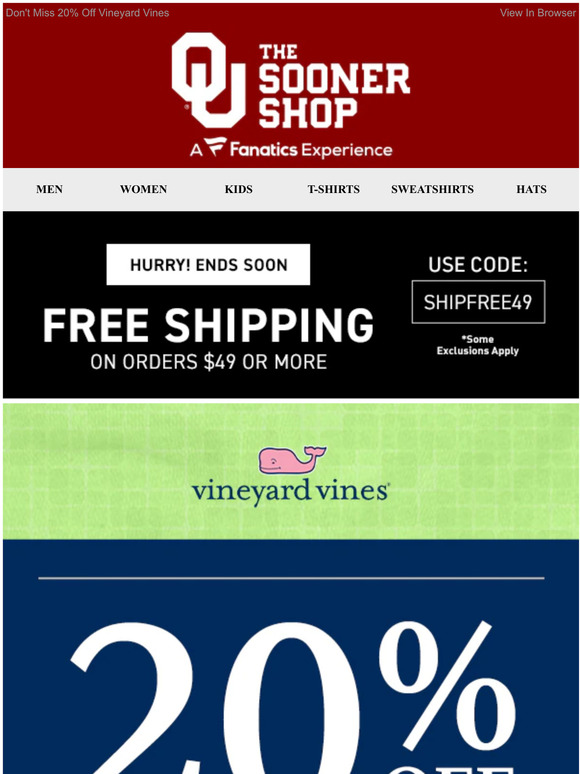 Jun 15, 2021

Rep Your Sooners AND Country w/ the Americana Collection!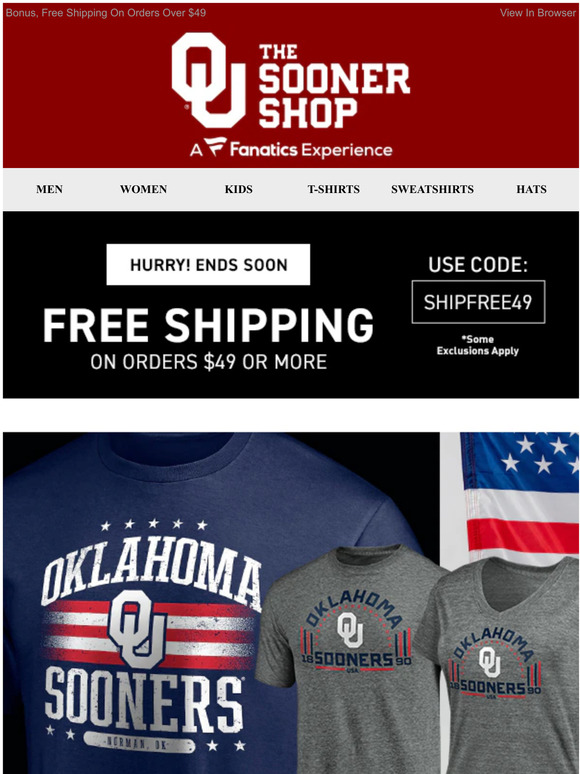 Shop without the noise.
Get our free newsletter of hand-picked sales you need to hear about from the web's best brands.