Mother's Day is this Sunday!
Email sent: May 4, 2021 12:54pm
Hello !
It is no surprise that Mother's Day is celebrated in spring...a season of newness and growth. Mothers nurture our growth and guide us through each new step. We are so grateful for our moms and the many mother figures in our lives that have taught us over the years.
One of the things our moms taught us is to look for the good and share it with our friends. We do both in this edition of Outdoor Views & News by sharing our good news and good news from a few of our favorite businesses. Enjoy!
Magpies
Does a multitool carabiner belong in an art boutique & studio? Heck yeah, especially one as unique as the Firebiner or Fire Escape! Here is a fun story to prove it.
Magpies is a "heart studio" in beautiful Fort Collins, CO where you get a chance to say hello to your inner artist and create with your heART! It is owned and run by Amy Goodhart Koepsell.
Late September 2020, Amy discovered our Firebiner on The Grommet and we shipped her our Colorado custom-etched version. She loved it but could not predict what would happen next in her store.
By mid-November, Amy sent us an urgent message requesting our PDQ display with more Firebiners before Thanksgiving. Two weeks later, she sent a frantic message for 48 more to fill her empty display, even offering to drive down to pick them up. The next day, Dec 11, as UPS was dropping off the parcel, she sold a couple of Firebiners even before the driver left the store. With 2 more orders over the next couple of weeks, Amy ended up selling over 130 units in about a month.
You may not normally think of a multitool carabiner as being a hot seller in an art and craft store, but we are very grateful that Amy gave the Firebiner a chance and it outperformed her wildest expectations.
Happy Mother's Day, Amy & many thanks for your support!
Gratefully,
Mike and Joe
The biggest year for camping is just getting started!

Outdoor Element

has partnered with

The Dyrt

to make it easy to get outside and camp.

The Dyrt specializes in helping you plan the ideal camping experience. With the expected surge in camping this year, The Dyrt has updated its app with new navigation, new ways to save, and a brand new look. Learn more about The Dyrt.

 

 

The Dyrt PRO, with over 1 million campsites and reviews, gives you campground discounts, helps you find free camping, and more! Try it today at thedyrt.com/promo/ELE3M or click the button below.

 

 
Donate to a great cause as you shop
 

Want to help make a difference while you shop in the Amazon app, at no extra cost to you?

 

Simply follow the instructions below to select "Wander Project" as your charity and activate AmazonSmile in the app.

 

They'll donate a portion of your eligible mobile app purchases to Wander Project.

How it works:
1. Open the Amazon app on your phone
2. Select the main menu (=) & tap on "AmazonSmile" within Programs & Features
3. Select "Wander Project" as your charity
4. Follow the on-screen instructions to activate AmazonSmile in the mobile app

 
Speaking of Amazon...
Our Phoenix Knives & Handled Pot Gripper are now in  Amazon Prime in Australia!
Great news! Our Phoenix Knives and 

Handled Pot Gripper

 are now available in Australia on Amazon Prime. The Firebiner and Fire Escape are on their way to Australia now and will be made available on Prime within the next few weeks.
For those of you in Australia, you can now shop Amazon Prime for:
Or you can always buy OE products directly from us at outdoorelement.com. Happy shopping!
This email was sent to -
You received this email because you are registered for the Outdoor Element Newsletter.

Other emails from Outdoor Element, LLC
Apr 20, 2021

It's 4-20. Is your pot Handled? Enter the Earth Day Giveaway to win $350 in outdoor gear to help!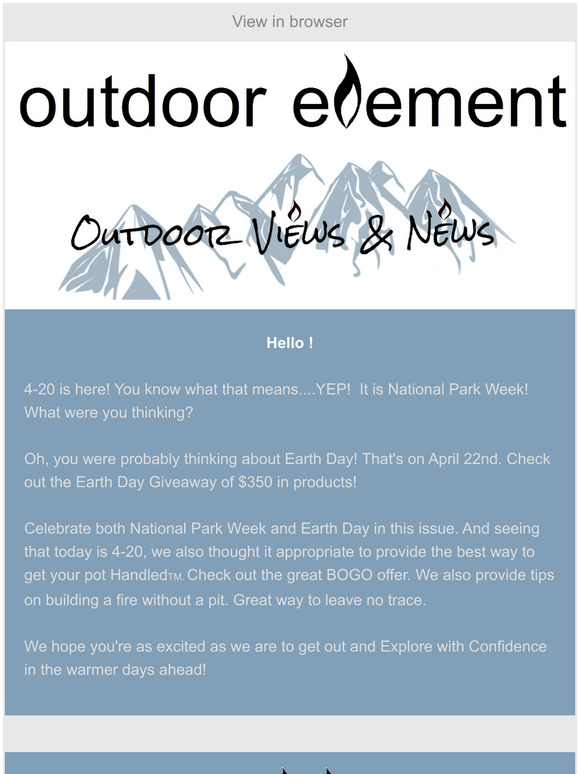 Shop without the noise.
Get our free newsletter of hand-picked sales you need to hear about from the web's best brands.