Kobe Bryant & your immune system
Email sent: Nov 24, 2020 8:00pm


Back in 2013, the late Kobe Bryant's career was not looking hopeful when the Los Angeles Lakers star ruptured his Achilles tendon.
Then, on top of that, he fractured a knee... all during an eight-month stretch.
And yet after only a few months and at the age of 36, Bryant not only returned, he dominated.
Kobe averaged 22.3 points per game (ninth best in the NBA) on a pair of legs that had logged more than 46,000 minutes on NBA hardwood.
What was his secret?
He and his coaches credited much of his quick recovery — to chicken and vegetable soup.
Not just any soup, but a broth made from BONES.
Now, as a regular newsletter reader, you know that we LOVE bone broth around these parts.
And you also probably know that it is an amazing superfood -- it's been shown to:
* Reduce inflammation
* Improve your digestion, adrenals, bones & teeth
* Promote healthy joints, tendons, and ligaments
* Improve the function of your immune system
* Reduce wrinkles, banish cellulite, and improve the quality of your skin
And of course, a lot more!
Bone broth is filled with an abundance of healthy minerals, amino acids, protein, collagen, and gelatin -- all combining to give you immense nutritional benefits.
Now, one of the challenges with bone broth is that it doesn't always exactly taste great when you make it.
And I don't care how motivated you are -- even though you know how good bone broth is for you, if you don't LOVE the taste of what you're eating -- you're not going to eat it as much!
Which means you'll end up missing out in the amazing benefits mentioned above.
Good news. Our friends at Paleohacks have solved that challenge for you.
Paleohacks has released a must-have BRAND NEW Bone Broth cookbook-- written by Casey Thaler - with OVER 80 tantalizing bone broth recipes, absolutely loaded with nutrients.
Inside, you'll find recipes like:
* The Ultimate Wellness Bone Broth (by Katie The Wellness Mama)
* Fire Chili Bone Broth
* Ham & Chili Broth Stir Fry
* Ocean Stew
* Ultimate Veggie Soup
* Anti-Inflammatory Broth
And a ton more. Grab your copy now!
>> Get your copy of the BRAND NEW Paleohacks Bone Broth Cookbook here
In health,
Chef Pete
This email was sent to - by [email protected]

3781 Presidential Parkway FP310 Atlanta, GA 30340


Other emails from Pete's Paleo Affiliate Program
Jan 11, 2021

Do This 60 Seconds Dental Trick Before Going to Bed Tonight To Rebuild Your Teeth?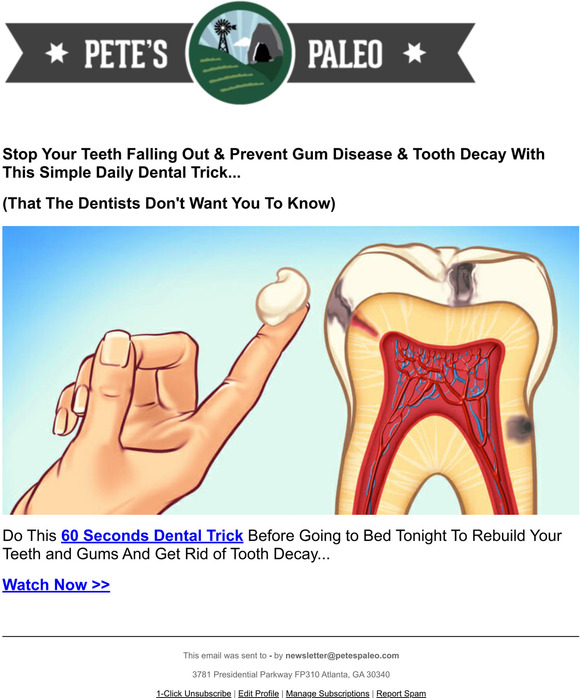 Shop without the noise.
Get our free newsletter of hand-picked sales you need to hear about from the web's best brands.