Creative ideas to celebrate love
This email was sent
| | |
| --- | --- |
| Made with Love. Made by You. | |
30% OFF on orders above £30:
Hello ,
Remember writing little Valentine's Day cards at school? Love is versatile, and all of your friends & family will be over the moon when getting a lovely surprise from you. Read on to get inspired!

Enjoy our current offer and get 30% OFF your new photo gifts.
I Know What We're Doing Tonight!
How about a unique collection of voucher coupons that would 100% match their taste? Don't say, it's impossible - here is our article on how to make a voucher booklet with Pixum.
Your Best Portraits as Wall Decor
Design a photo collage with your best portraits. Adjust the background colour to match the new Wall Art to your interior and add a caption to personalize it even more!
DIY with Photos
Personalize an exploding box with your own photos. Hide little gifts and heart-melting messages inside and watch them getting a highly personalized gift made of sheer love.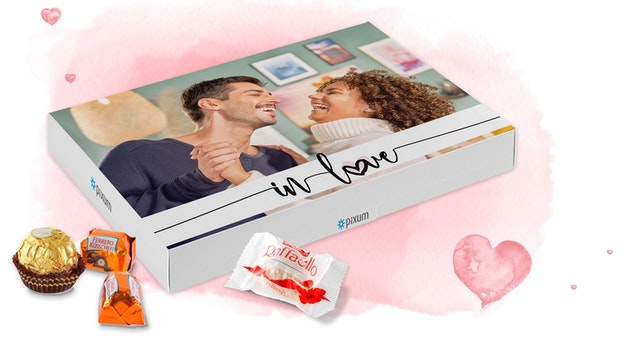 Be My Valentine!
Get yourself or your sweetheart a photo gift box filled with delicious Ferrero chocolates or kinder® sweets. Pick a picture for the front cover and enjoy your best snap by the evening cup of tea with your guests.
Have fun and unleash your creativity with Pixum!
Pixum.co.uk - Always beautiful pictures
| | | |
| --- | --- | --- |
| | Creative on the Go | |
| | | |
| --- | --- | --- |
| | Award-winning photo service | |
| | | |
| --- | --- | --- |
| | *The voucher code is valid for all Pixum products and can be used up to and including 01/02/2022 at midnight. Ordering from £30 (excl. p&p) you get 30% off the product price with the code J7H8TAK8UYTGAM. Per order, only one voucher code can be used. The code may be used multiple times. Please see our price list for p&p rates. | |
You are registered with the following e-mail address: -
Please do not reply to this e-mail. To contact us, please send an e-mail using our contact form.
If you no longer wish to receive such e-mails, please click here: Unsubscribe
Company Info

Pixum is a protected brand of
Diginet GmbH & Co. KG
Industriestr. 161
D-50999 Cologne
E-Mail: service(at)pixum.com
Tel: +49 2236 886-0
Fax: +49 2236 886-699
Commercial Registry Cologne Local Court,
HRA 25531 VAT Reg No: 894537964
Managing partner:
Diginet Management GmbH, Sitz Köln, HRB 69766
CEO: Daniel Attallah, Oliver Thomsen
Pixum | Contact | View online
© 2000 - 2022