⭐ Decorate your home with photos!
Redecorate your home and office & save up to 25% | Pixum. It's easy. It's fun.
This email was sent
| | |
| --- | --- |
| Save 25% on Your New Wall Decor | |
Hi there,
Looking for something new for your walls? Wall Art with photos taken by you would be a classic option for that. But how about a large Pixum Photo Book standing on a picture ledge? This way, you can change the wall decoration any time you feel like with no efforts at all! Making a large wall calendar is another good option for flexible wall art. Pick a calendar template with space for your entries and design a family planner. Be bold and try different things out - decorating with your favourite photos is sheer fun!
Wall Art Meets Planner
Make a photo calendar for the whole family! Pick a calendar template with enough space for entries. Mark birthdays, anniversaries and holidays. Select a large size to have all the appointments at a glance and enjoy brand-new wall art each month!
Your Unique Collection
Pick several photos from a family event and design a photo collage to be printed as wall art. Benefit from our free layouts with up to 24 photos per wall print! Mix between portraits and close-ups with fewer details for a dynamic and still vivid look.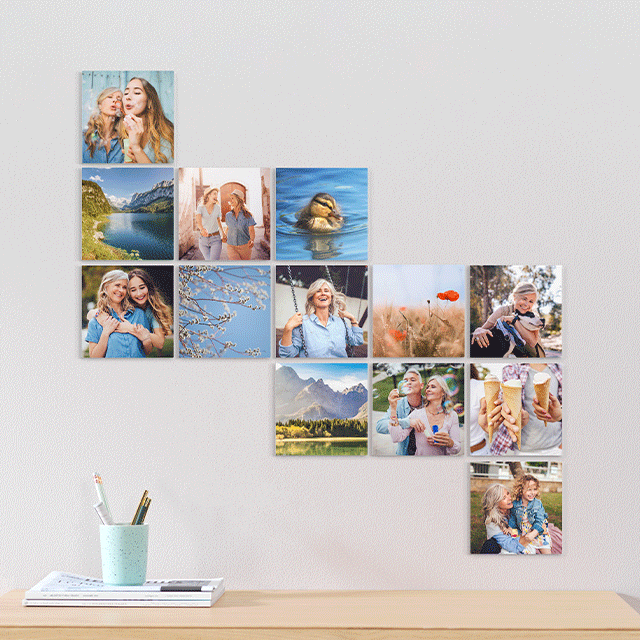 Your Own Gallery Wall
Photo tiles are the new trend in the interior design. As soon as you've received your first parcel with the Pixum Squares, you'll know why. These are incredibly easy to be mounted and let you design a picture wall which is easy to be rearranged and expanded. A great idea for the kids' room!
Have fun and unleash your creativity with Pixum!
Pixum.co.uk - Always beautiful pictures
| | | |
| --- | --- | --- |
| | Creative on the Go | |
| | | |
| --- | --- | --- |
| | Award-winning photo service | |
| | | |
| --- | --- | --- |
| | *The voucher codes are valid for all Pixum products and can be used up to and including 03/07/2022 at midnight. Ordering from £60 (excl. p&p) you get 25% off the product price with the code UVZG73T8VKKA57. Ordering from £30 (excl. p&p) you get 20% off the product price with the code NMDUR37BWKNYW5. Get 10% off on orders with no minimum spend with the code U7WUGFSXP5Y7ZW. Per order, only one voucher code can be used. The codes may be used multiple times. Please see our price list for p&p rates. | |
You are registered with the following e-mail address: -
Please do not reply to this e-mail. To contact us, please send an e-mail using our contact form.
If you no longer wish to receive such e-mails, please click here: Unsubscribe
Company Info

Pixum is a protected brand of
Diginet GmbH & Co. KG
Industriestr. 161
D-50999 Cologne
E-Mail: service(at)pixum.com
Tel: +49 2236 886-0
Fax: +49 2236 886-699
Commercial Registry Cologne Local Court,
HRA 25531 VAT Reg No: 894537964
Managing partner:
Diginet Management GmbH, Sitz Köln, HRB 69766
CEO: Daniel Attallah, Oliver Thomsen
Pixum | Contact | View online
© 2000 - 2022