Plant Essentials News - Book a Class, New products in store this month
Email sent: Aug 15, 2020 1:08pm
Take a look...
made fresh locally, or make it fresh locally!

 

After a busy, crazy July, and an action-filled first half of August, I am manifesting a calm finish to the month.  I hope you are all achieving a space of calm as we continue to navigate 2020.

I have finally announced some class dates and am now seeing Liquid Crystal clients as of last week. (Pranic healing spots will open up once I get over my pranic crystals being stolen lol).

Thanks for everyone's patience in waiting for this information to come out and availabilities to open up.  I didn't want to fix dates until I had recovered some energy lost this year.  I'm feeling more creative and ready now than I have since January.

We continue to trade the same hours as we have been for the last month or so, which is 11.00 am to 4.45 pm Monday to Friday.  I don't envisage opening on Saturdays again, for at least the foreseeable future.  The reason being, after discussions with the team, everyone's tired, everyone has family needs to attend to, and we feel we give much better service when we are all here working together, I know, I for one have found it easier to keep production running.

If you added your name to my class waitlists, you should have received a message last week letting you know classes were open to book, I now invite anyone else that would like to attend

Crystal lovers, we've had loads and loads of new crystals arrive instore, and we have loads more arriving in the coming weeks.  Please excuse our lack of photos on the website of the crystals, we are still waiting on our replacement camera to arrive, but will have photos up hopefully as September rolls in (it's quite a job, and we have quite a backlog of crystal needing photos now).

Stay safe, and be cool everyone.
  Toni

Class Dates

 

5th September

Aromatherapy for Beginners - Book or Learn more

Herbs & Teas for Beginners - Book or Learn more

Each class $125 or do the full day for $199

 

12th September

Making Skincare for Beginners + Making Castile Liquid Soap - Book or Learn more

Full Day $199 or combine it with the 5th September full day for $349
 

Dany with one of the coolest Enhydro Quartz we've ever touched!

Liquid Crystal Consultations

I am offering 45-minute appointment that includes a personal chart for you, or you and others to understand relationship dynamics that may elude you. I am also offering 15minute appointments that basically give you a taste of what it is all about and includes a remedy for you to take. The Liquid Crystals offer assistance to move through challenges and or understand your gifts and purpose. I love working with the liquid crystals, and really enjoy seeing my clients grow through their interaction with them.

I'm seeing clients this Friday for Liquid Crystal consultations and still have a few appointments left... if you'd like to book in please email me or text me. ~ Toni x

email: [email protected]
text 0416124210

Read more about the consults here:and about the Liquid Crystals here:

Many more new products available instore and online here (we are still adding images and words to them in many cases). 

Something out of stock?  To get an automatic notification as soon as something you want to buy is back in stock.  Create a Wishlist (to the right of the screen) and add the product you want to be notified about.  As soon as we add stock to the system, Bing, you get an email.
Other emails from Plant Essentials
Sep 2, 2021

Tomorrow is our LAST Friday Trade! We have NEW Opening Hours &... another SPECIAL!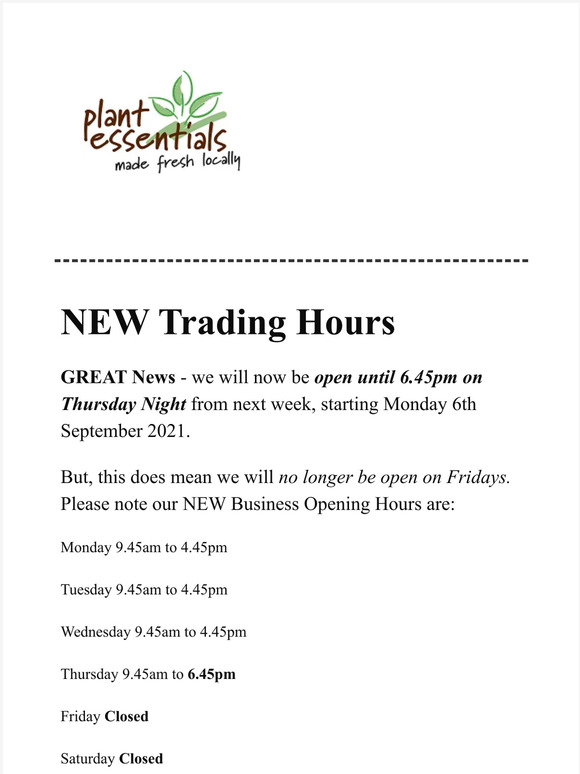 Aug 20, 2021

*This weekend only* ~ 100% Pure Australian Sandalwood essential oil, 10ml $49! | Last Herbs & Teas for Beginners class for the year coming up next weekend!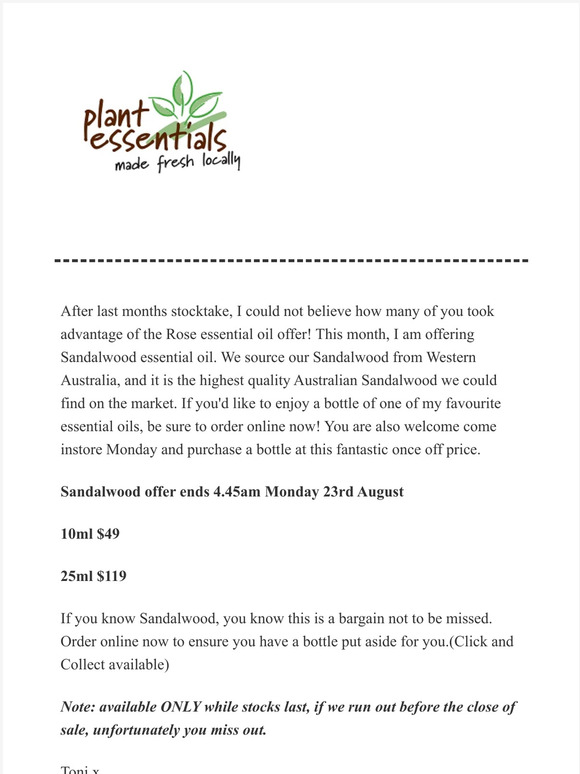 Jul 18, 2021

Plant Essentials - July News - Special announcement - business partnership opportunity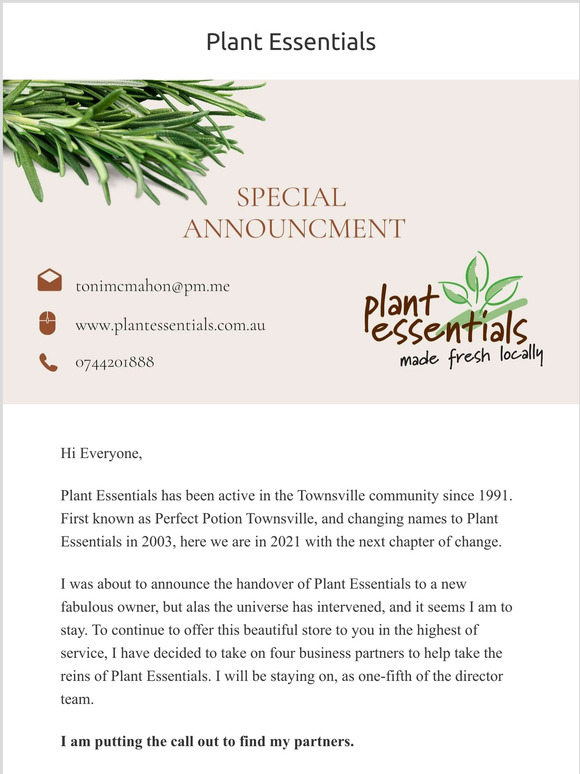 Jul 1, 2021

Last chance to purchase Plant Essentials 100% Pure Rosa centifolia essential oil, 10ml $49!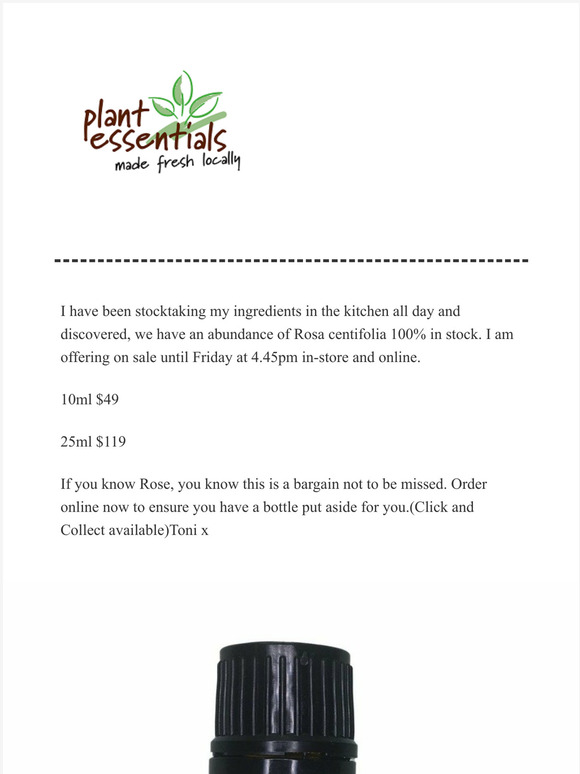 Shop without the noise.
Get our free newsletter of hand-picked sales you need to hear about from the web's best brands.