Plant Essentials News - This weeks best products - #1 Our Natural Hand Sanitiser
Email sent: Mar 5, 2020 1:59am
Take a look...
made fresh locally, or make it fresh locally!

 

NEXT CLASSES - 7th March, 28th March

OUT MOST POPULAR PRODUCTS THIS WEEK

Four Thieves Hand Sanitiser Gel Spray

Four thieves oil comes from a story of four thieves during the 15th-century plague who used cloves, rosemary, and other aromatics to protect themselves while robbing plague victims. We hope you'll use this hand cleanser for good and not evil.

Use

Squirt, lather – done!

Ingredients

Purified water, Sugar cane alcohol, organic aloe vera, organically grown clove bud, organically grown lemon, organically grown cinnamon bark, Australian organically grown eucalyptus, rosemary and Australian organically grown tea tree essential oils. 

This product is also available in a 500ml refill bottle and is refillable in our Townsville store and at some stockists for a discount.

Manuka & Oregano Throat Spray

A potent blend of essential oils blended into medicinal manuka honey.  Soothes, saves, shields.

Ingredients

Distilled water, Manuka honey MGO 263+ & essential oils of Peppermint, Oregano, Menthol, Frankincense, Myrrh, Lavender & Clove Bud.

Use

Spray into the mouth by pumping 2 to 3 times or as required.  Store below 25°C.  Shake well before use

Cautions

If pregnant or breastfeeding consult your healthcare professional.  Not suitable for children under 12 No therapeutic claim is made or intended for this product.  Information is for educational purposes only.

Cellfood

Cellfood is created by a proprietary nine-month process in which these all natural nutrient-rich plant substances are held in a negatively-charged suspension of deuterium (an isotope of hydrogen). The result is a remarkable formulation which- by utilizing the same technology used decades ago to split the atom- actually 'dissociates' (splits) water molecules within the body by weakening the bonding electrons and gives birth to cascades of vital, life-giving oxygen. This newly-born oxygen, combined with an array of vital nutrients, is carried to every cell in the body- cleaning, toning and building the cells and tissues hour after hour, day after day. Since our bodies are over two-thirds water, this oxygen and hydrogen source is virtually unlimited.

Although leaves, roots, buds and fruit offer relief when applied to burns and cuts, the best method of using natural plants to prevent infection is through the use of their oils. However, even a white potato makes an excellent poultice that draws out the corruption. Here are some items typically found in a home kitchen that serves as Natural Antibiotics.


Another name for Lemon Balm is Cure-All. Also known by other names including Honey Plant, Scholars Herb, Sweet Balm, and several others, it has many benefits from relieving anxiety and stress and to reducing fever and works as a sedative. As an anti-microbial, it also serves as an antihistamine, antiseptic, antiviral, that provides digestive relief.

Oregano brings to mind Italian recipes, but it has remarkable antimicrobial benefits. It is from the genus of mint and applied as an essential oil treats everything from yeast infections and inflammation to foot fungi. Basil and Rosemary also offer First Aid protection from infection and are typically found in most home kitchens. 
Read on >>

Other emails from Plant Essentials
Sep 2, 2021

Tomorrow is our LAST Friday Trade! We have NEW Opening Hours &... another SPECIAL!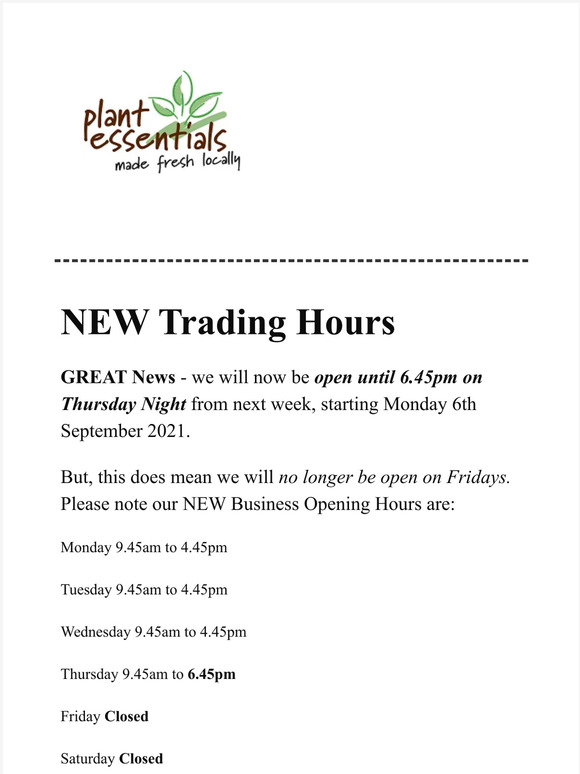 Aug 20, 2021

*This weekend only* ~ 100% Pure Australian Sandalwood essential oil, 10ml $49! | Last Herbs & Teas for Beginners class for the year coming up next weekend!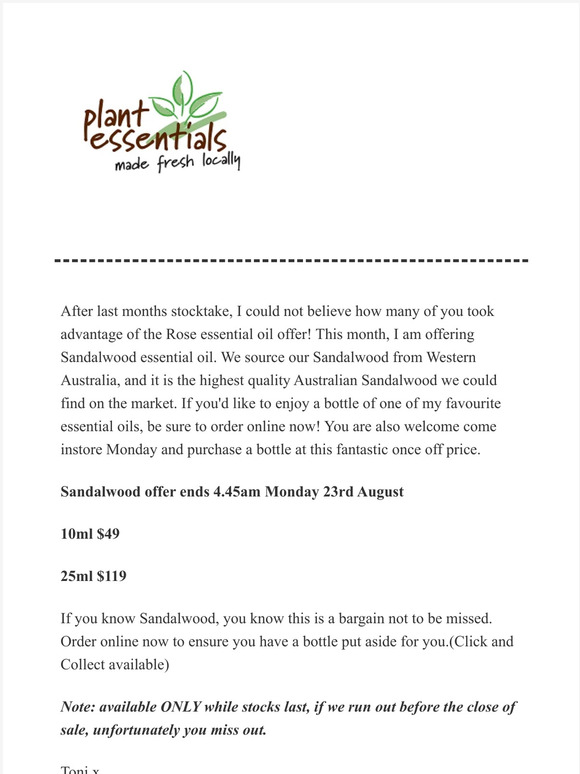 Jul 18, 2021

Plant Essentials - July News - Special announcement - business partnership opportunity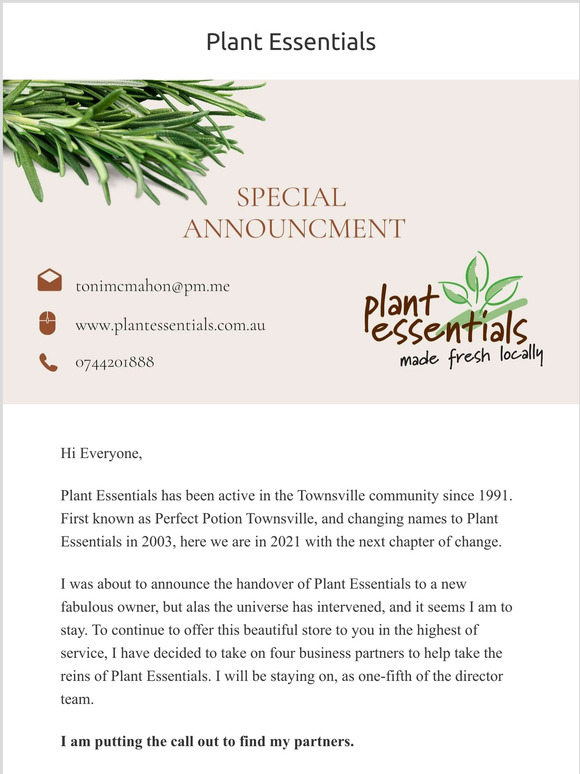 Jul 1, 2021

Last chance to purchase Plant Essentials 100% Pure Rosa centifolia essential oil, 10ml $49!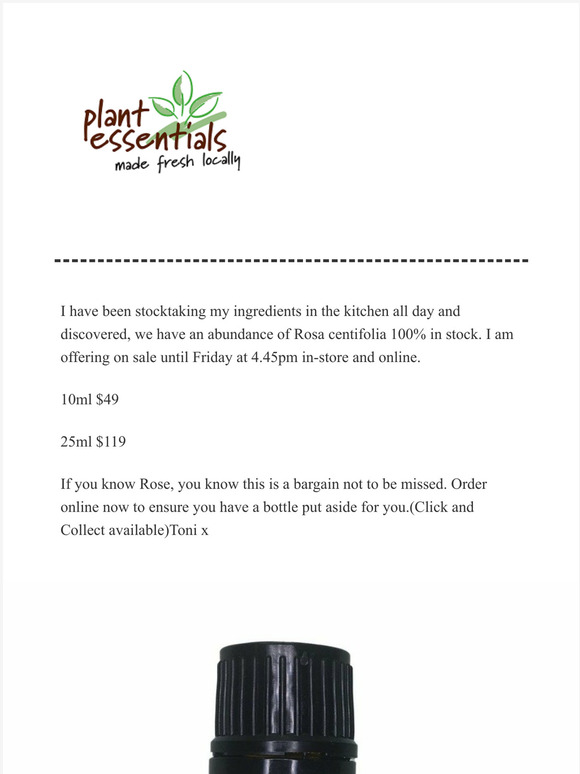 Shop without the noise.
Get our free newsletter of hand-picked sales you need to hear about from the web's best brands.