Plant Essentials News - Trading Hours & Updates, Our Birthday, Back in stocks, Free Class
Email sent: Apr 20, 2020 3:00am
Take a look...
made fresh locally, or make it fresh locally!

 

Well here we are in April. 

I kinda thought things would have calmed down in Australia by now, but who can predict these things.  Here's an update from us to you, as much as is possible.


Mail orders are back on track and have been for a couple of weeks now.  We are sending nearly all parcels out within 24 hours.  Australia Post has slowed a bit, but hopefully, that sorts itself soon.  Classes are cancelled for the foreseeable future (I have no idea what that term means anymore - the "Foreseeable future").  Everyone that was booked has been refunded.  Once we know what's what, we can look at new times and class arrangements - apologies for this, it's super hard to keep distance in my classes.  I really do love teaching them, and hope we can get on track again soon. 

In the meantime I am going to pop some classes up on the website and social media weekly so you can try to make somethings at home :-)  I'm planning to teach castile soap making first, so keep an eye on the website.


Trading Hours - we are currently at work Monday to Friday 9.30 am-5.00 pm making products, taking phone orders and answering emails etc... We are only a team of 4 (with Anya away at the moment) so as you can imagine, we are doing the best we can with our tiny weenie micro team.

We are open 2.30-4.30pm for counter sales and online pickups.  We hope to extend pick up times shortly (I'll be having a Chai Chat with the team this week for their input before we announce that).  If you need to pick up outside of the above times, just shoot us a message, we are pretty flex if those hours are unavailable to you due to work or commitments. The reason we have limited pick up times is so we can focus on production and mail orders before opening for service. 

Here are our Trading Hours page and our Update Page (since nothing seems to stay the same long enough at the moment to not have an updates page).


Lastly, It's our Birthday.  It just seems pointless to have a party of any sort at the moment, so when things are back on track, we'll be holding a belated party.  I'm not one for online get-togethers, I like the real thing.  So when able, we'll have a shindig worth travelling for (if you aren't in Townsville). 

Plant Essentials was originally called Perfect Potion Townsville and originally opened in Townsville in 1991.  On April the 18th, 2003 I purchased the business and renamed it Plant Essentials.  We've moved a few times, grown and shrunk in different directions, always striving to offer the best we can make and find.  Thanks so much for your support over the years.


Stay safe, and be cool everyone.
  Toni

Products back in stock include perfume base 100ml & Four Thieves Hand Sanitiser (70% alcohol) - available in 50ml and 125ml spray, and a 250ml refill bottle.  We now have a second option - Patchouli & Lavender Hand Sanitiser is all the same size, but without aloe (for those that are allergic) and with no dermal irritant or BP raising essential oils - so a good option for our pregnant & sensitive clients.

Nutmeg and Palmarosa essential oils are now back in stock.  Eucalyptus is currently limited to 10 and 25ml sales, much if not all of the crop we buy was burned in the recent fires.  There are many other essential oils that you can substitute, drop either Dany or I a line on your usage and we can recommend something to you. 

Wotnot Wipes are due back in stock at the end of the week.  Some of the Rochway products have been out of stock for a while now, the supplier can't give me an ETA.  Konjac sponges should be back within the week (finally!)

Tip: To get an automatic notification as soon as something you want to buy is back in stock.  Create a Wishlist (to the right of the screen) and add the product you want to be notified about.  As soon as we add stock to the system, Bing, you get an email.



20% OFF ESSENTIAL OILS

To celebrate our Birthday (and our record as the longest-running aromatherapy store in Townsville), we are offering 20% off all essential oils and essential oil blends for the rest of April.  Simply use the below promo code during online checkout to receive your discount.  Available on ALL sizes of essential oils, but not available with any other offer including stockist discount or rewards.



Promo code: HAPPYBIRTHDAY



SHOP NOW
 

Other emails from Plant Essentials
Sep 2, 2021

Tomorrow is our LAST Friday Trade! We have NEW Opening Hours &... another SPECIAL!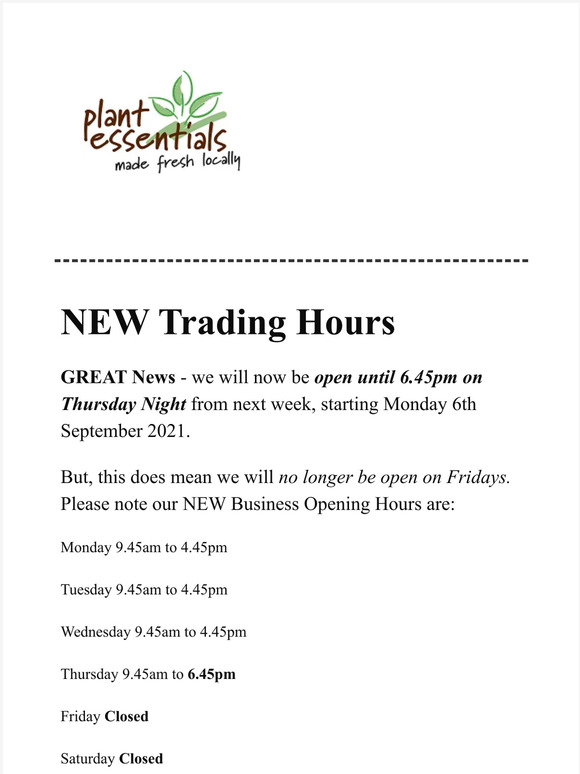 Aug 20, 2021

*This weekend only* ~ 100% Pure Australian Sandalwood essential oil, 10ml $49! | Last Herbs & Teas for Beginners class for the year coming up next weekend!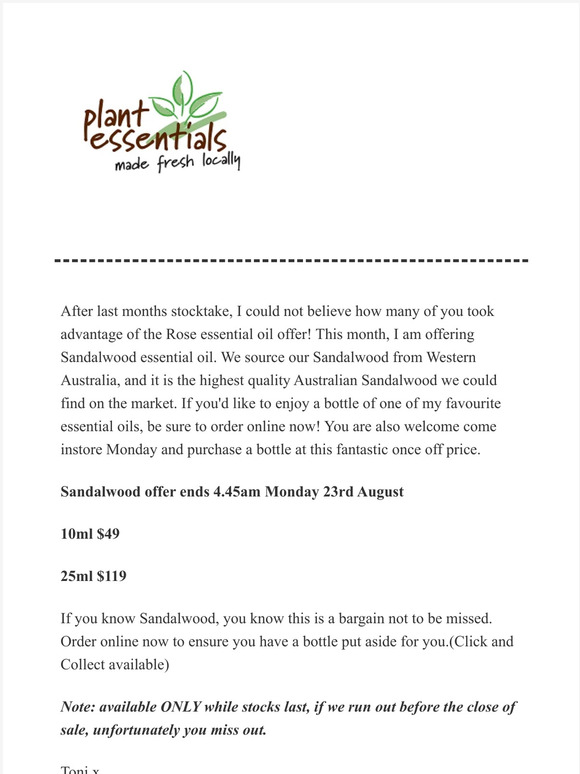 Jul 18, 2021

Plant Essentials - July News - Special announcement - business partnership opportunity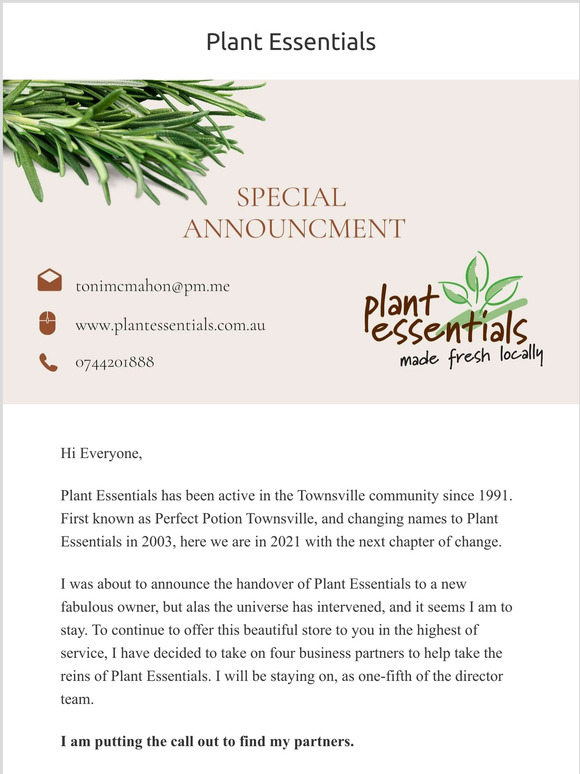 Jul 1, 2021

Last chance to purchase Plant Essentials 100% Pure Rosa centifolia essential oil, 10ml $49!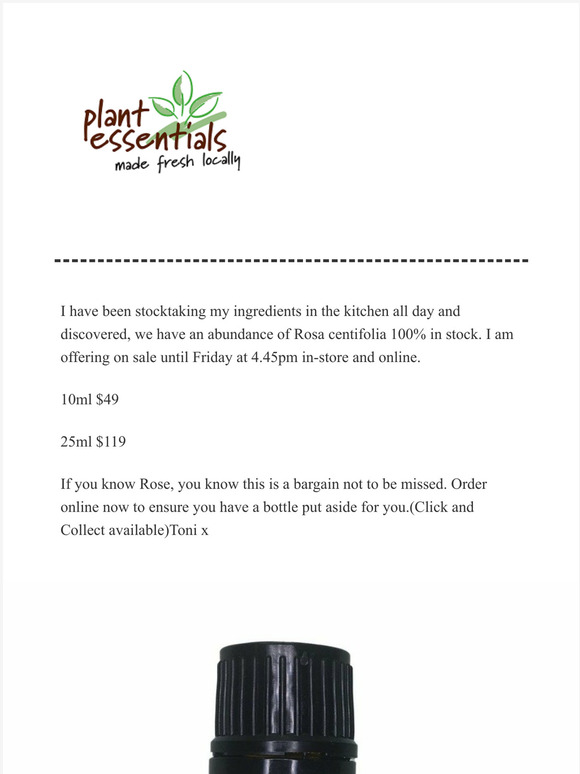 Shop without the noise.
Get our free newsletter of hand-picked sales you need to hear about from the web's best brands.