Plant Essentials - October 2020 - New Crystals! Plus an Important Announcement
Email sent: Oct 1, 2020 6:00am
Take a look...
made fresh locally, or make it fresh locally!

 

Happy October. And do I have a big announcement! But first...

Another busy month, we just can't wait for Christmas break, and it's not far away is it.  I do hope everyone will be allowed to spend it with their families.  We'll be closing for two weeks this year (Christmas Day until the 10th Jan 2021).  Normally we only close for the one week, but we all really need a good break after the year that has been.

Unfortunately do to staff shortages, we've needed to reduce our showroom hours.  We are now open 2.00pm to 4.45pm Monday to Friday.  My apologies to anyone this inconveniences, it's just the only way we can keep out service level high and keep the production area turning out fresh stock.  Whilst our showroom hours have reduced, we still offer pick up of orders placed over the phone or website from 9.45am and will endeavour to pick orders as we see them come in.

Dany and the team have been powering on, getting product images (specifically crystals) up on the website, now that we have a camera again.  Our book range has grown substantially in the last 2 months, and it seems the publishers are nearly all back up to full stocks.  I wish I had time to read more of the titles that have arrived. 

My big announcement.  Today I was endorsed by the Informed Medical Options Party (IMOParty) as candidate for Townsville.  (you know because I have so much time free).  I'm not into politics and in fact, I haven't voted for years, but I was asked twice this year to run and had turned it down being too busy.  Then a couple of weeks ago, it popped into my head that, although I don't have free time, I need to create free time and do it. The time is now.  If you'd like to know more about IMOP policies you can click here, it'll probably clarify why I stepped up, when you read the policies. But for the long time followers of Plant Essentials, you know how much trouble the TGA (Therapeutic Goods Administration) has created for us, simply for giving customers information they don't want shared.

You can follow my campaign here on FaceBook if you would like to show support.  At a time when the government is taking away more and more natural health freedoms, I feel I must stand up now.  I won't harp on, as it's not everyone's ( or anyone's) favourite subject, but I did want to share this event, and hope to have your support.

Stay safe, and be cool everyone.
  Toni

Dany show & tells this beauty from our last big delivery!  It's now on show in the store.

Class Dates & The Book

It has been fantastic to be back into teaching classes.  The editing of my book is underway with the intention to release it before the end of the year.  More classes will be available once that is completed (likely December).  Be sure to add your name to the waitlist if you would like to know when future classes are planned.  If you'd like to receive an automated email when the book is available for purchase, please add it to your favourites here.

Many more new products available instore and online here (we are still adding images and words to them in many cases). 

Something out of stock?  To get an automatic notification as soon as something you want to buy is back in stock.  Create a Wishlist (to the right of the screen) and add the product you want to be notified about.  As soon as we add stock to the system, Bing, you get an email.

Other emails from Plant Essentials
Sep 2, 2021

Tomorrow is our LAST Friday Trade! We have NEW Opening Hours &... another SPECIAL!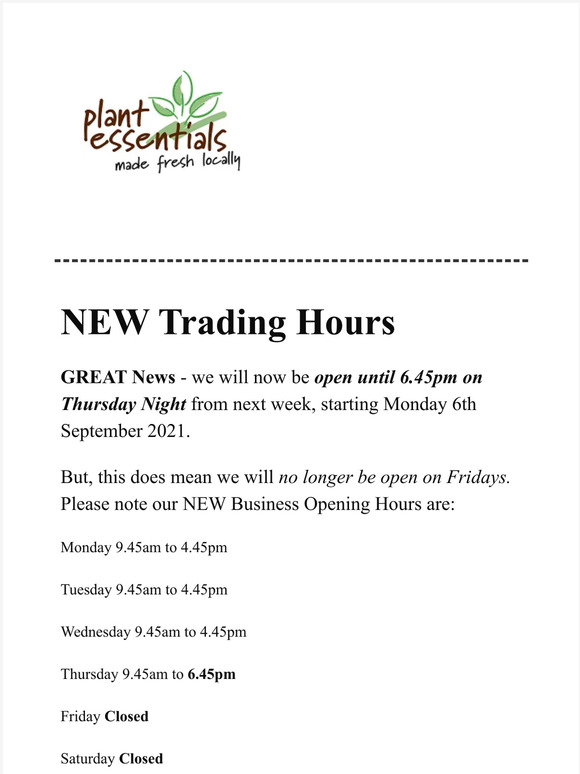 Aug 20, 2021

*This weekend only* ~ 100% Pure Australian Sandalwood essential oil, 10ml $49! | Last Herbs & Teas for Beginners class for the year coming up next weekend!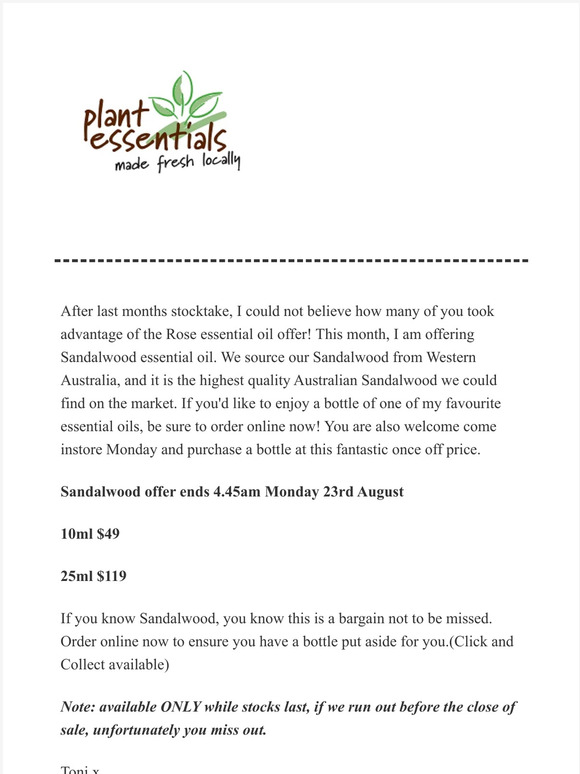 Jul 18, 2021

Plant Essentials - July News - Special announcement - business partnership opportunity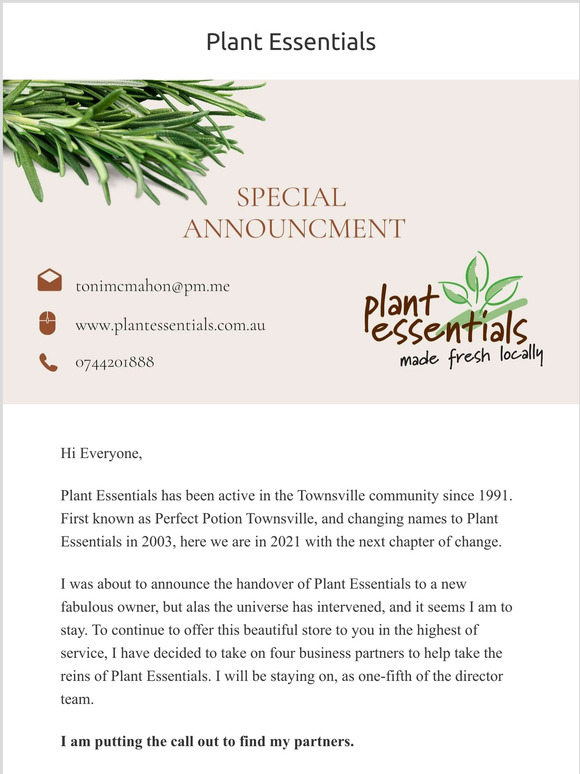 Jul 1, 2021

Last chance to purchase Plant Essentials 100% Pure Rosa centifolia essential oil, 10ml $49!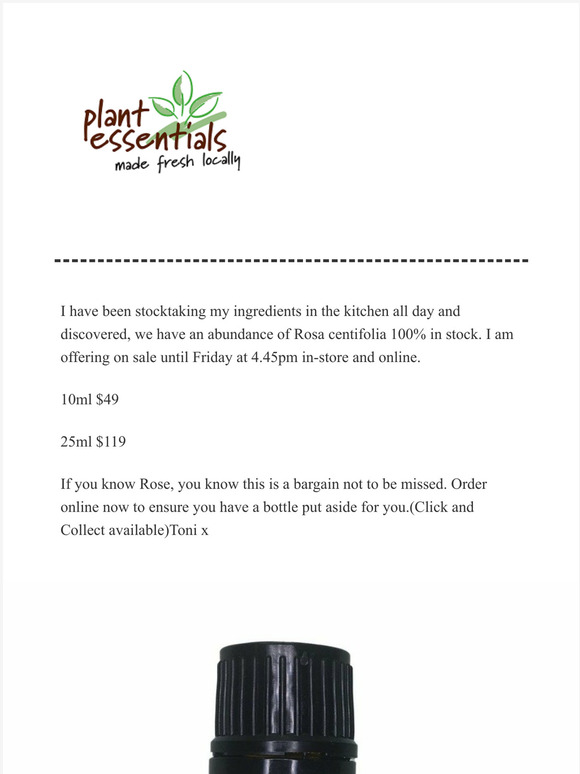 Shop without the noise.
Get our free newsletter of hand-picked sales you need to hear about from the web's best brands.