❄ This way to Peppermint Wonderland 🍬✨
Email sent: Nov 4, 2020 9:01am
Hear the sleigh bells ring, Christmas gifts are here! Visit your local Purdys shop or order now.
You're Invited to a Purdys Peppermint Party!
Where: Peppermint Wonderland
RSVP by: Visit us in-shop or online to collect minty chocolate treats and enjoy your own peppermint party. From crunchy, minty candy cane bits, decadent dark chocolate, to the smoothness of white chocolate.
Candy Cane Truffles
  In-shop and online  
Newly minted! Minty dark chocolate ganache in a delicate white chocolate shell and finished with red candy cane striping for a festive flourish.
Peppermint Bark
  Select shops and online  
You know it's Christmas when the Peppermint Bark is back. Creamy white chocolate with loads (and we mean loads!) of crunchy candy cane bits, drizzled with dark chocolate.
Peppermint Twist Ice Cream
  In select shops  
Our newest ice cream flavour tastes just like Christmas! Pink peppermint ice cream, swirled with a chocolate ripple and candy cane pieces. Made with 100% Canadian milk.
Peppermint Ice Miniatures
  Select shops and online  
What's in the forecast? A flurry of flavours inspired by the North Pole: creamy white chocolate with lots and lots of refreshing candy cane bits.
Mint Melties
  Select shops and online  
Smooth melt-in-your-mouth centres flavoured with natural peppermint, enrobed in milk or dark chocolate, and ready to be enjoyed by a mint lover.
A chocolate moment with our Chocolatier, Rachel McKinley
"When you eat chocolate and mint, you're not only tasting the flavours, you're feeling them in an intense cooling sensation in your mouth. The chocolate has some bitterness and sweetness, and when you add menthol from the mint, it has a refreshing cooling effect."




@purdyschocolatier


is on Instagram!


Made with sustainable cocoa
Every purchase you make helps improve the lives of cocoa farmers in rural communities.
Canada's chocolatier since 1907
We started out in Vancouver and it's where we still craft all your favourite chocolates today.
Purdys gift guarantee
Your gifts will arrive in perfect condition (as if you'd delivered them yourself).
Love chocolate? Let's chat.


Shops          Support


Email not looking as tasty as it should? View in Browser

You're receiving this email because you opted to receive promotional emails from Purdys Chocolatier. We promise to use your information only according to our privacy policy.

Purdys Chocolatier
8330 Chester St., Vancouver, BC V5X 3Y7 Canada
1.888.478.7397


[email protected]



Edit your email preferences

Not feeling the love anymore? Unsubscribe.


Other emails from Purdys Chocolatier
Jan 11, 2021

🌟Take LOVE to the next level with Purdys. Shop new Valentines' Gifts❤️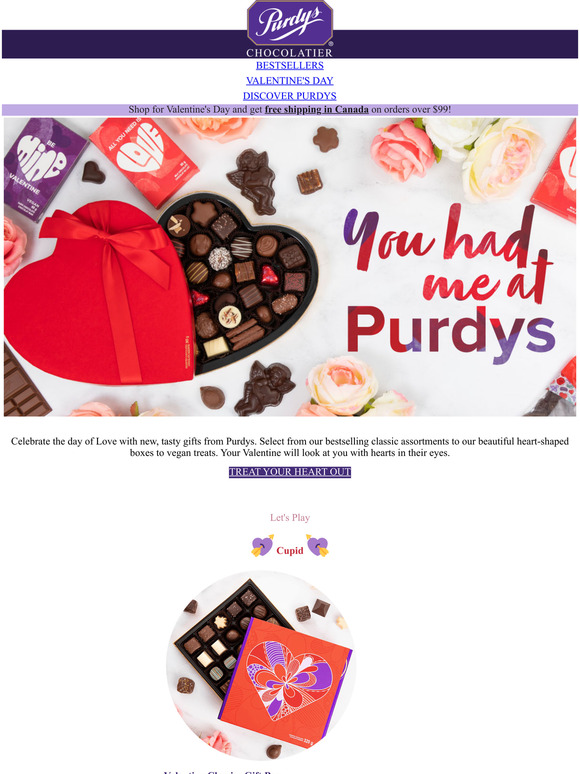 Shop without the noise.
Get our free newsletter of hand-picked sales you need to hear about from the web's best brands.