Pre-order new Puzzles from new Artists
Pre-order your new puzzles from
This email was sent
FEATURED PUZZLES THIS MONTH
New Artists Join the PuzzQuest Family
Jenny Stevens
A wildlife photographer at peace in the wilderness. Jenny has a special spot in her heart for bears, and it shows!
Jim Babbage
A passionate landscape photographer focussing on serene landscapes, often unique spots untouched by human beings.
Maureen Bennett
PuzzQuest's first acrylic painter, Maureen paints from memory and the emotional experience rather than photographs.
Music ~ a 1000 piece jigsaw puzzle to dazzle
This beautiful but challenging puzzle is energetic and full of brilliant color, incredible detail, and dramatic lines that make this a puzzle to be enjoyed.
Catfish Sunrise ~ a serene jigsaw puzzle
This beautiful challenging puzzle of sunrise at Catfish Lake near Obatanga Provincial Park

. The sun-exposed

the rich pinks of the quartz, rubbed smooth no doubt by glaciers, making the scene even more magical.
Grizzly Pounce ~ powerful and

exhilarating
A beautiful challenging puzzle of the Grizzly Bear readying itself to pounce on a salmon for lunch is a powerful and exhilarating jigsaw puzzle to be enjoyed.
Enjoy FREE Shipping within the United States and Canada. Pre-Orders will be shipped in early November in time for the holidays. Limited quantities are available for each puzzle, so order yours today.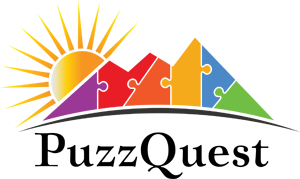 Unsubscribe | Manage your subscription
7901 4th St. N STE 5537, St. Petersburg, FL 33702