Light, easy, and flourless Rose Cardamom Cake.
Email sent: Jun 19, 2021 12:30am This dark chocolate cake has flower power.
View email in browser →
Flourless Rose Cardamom Cake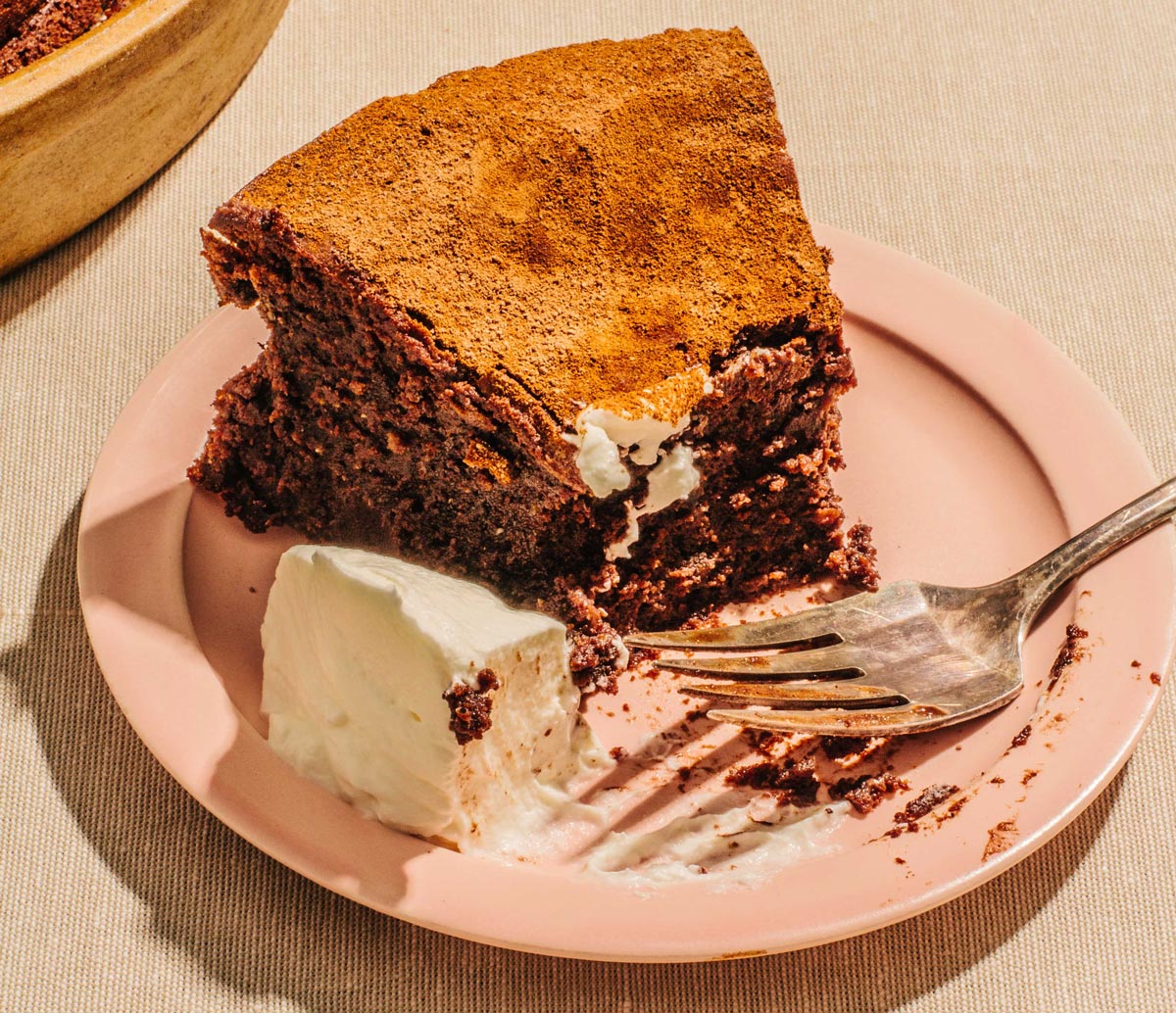 This weekend's recipe, a rich, yet light and floral flourless cake, comes straight from our CEO, head chocolate maker and co-founder, Nate Hodge. For this cake, we recommend our single origin Classic Dark Baking Chocolate, a 71% cacao dark chocolate we make with beans from Zorzal Cacao in the Dominican Republic that has balanced floral, earthy, and fruity notes. There's a jasmine note to this chocolate, creating a fully rounded floral flavor with the rose and cardamom infusion.

From Nate:

Growing up, whenever we had family or special friends over for dinner, my mother would make a flourless chocolate cake. Her secret was adding a lot of chocolate, which coincidentally is a great secret. I can't help but get nostalgic for family meals and loved ones whenever I make or eat a flourless chocolate cake. I've added my own secret ingredient to the family recipe: rose and cardamom. Both taste great with chocolate and can be infused into butter very easily because of their fragrant aroma. However, you may choose to infuse your cake with hibiscus, chile peppers, herbs, or something else entirely. You do you.

Serves 8

Ingredients:

Flourless Cake
12 ounces of (340g) Classic Dark Baking Chocolate, coarsely chopped
½ cup (112g) butter
8 cardamom pods, cracked
2 tablespoons of dried rose petals
5 large eggs, separated
1 ½ teaspoons sugar
1 teaspoon hot water

Cacao Powder Dust
1 ½ tablespoons (9g) Raaka Tanzanian Cacao Powder
1 ½ tablespoons (11g) confectioners sugar

Steps:
1. Preheat the oven to 425ºF and arrange a rack in the middle position.

2. Melt the chocolate in the top of a double boiler over low heat. Keep warm.

3. Melt the butter in a small saucepan over low heat. When the butter has melted, add the cracked cardamom pods, shells and all, and the dried rose petals. Turn off the heat and let the pods steep in the butter for 10 minutes, stirring occasionally.

4. Pour the butter mixture into a small strainer set over the melted chocolate. Stir the butter and chocolate mixture until fully incorporated. Remove the chocolate-butter mixture from the stove and allow to cool for 5 minutes.

5. Add the egg yolks to the chocolate-butter mixture and lightly whip them in.

6. In a separate bowl, whip the egg whites, sugar, and hot water together until the egg whites form thick peaks.

Add about one-quarter of the egg whites to the chocolate mixture and whip them in. Gently fold the remaining egg whites into the chocolate mixture.

7. Pour the batter into a 9-inch (23cm) springform pan and bake for 15 minutes. Let cool for 5 minutes.

8. Combine 1 ½ tablespoons (9g) cacao powder and 1 ½ tablespoons (11g) confectioners sugar in a bowl with ½ teaspoon ground cardamom and sift this over the top of the cake after you have removed it from the pan. Slice and serve.

Have a wonderful weekend and a lovely week ahead.

Shop Baking Chocolate

Free shipping on all orders over $35!
*within the continental U.S. only
SHOP CHOCOLATE You are receiving this email because you requested to be added to the Raaka Chocolate mailing list.
Raaka Chocolate
64 Seabring St.
Brooklyn, NY 11231

Other emails from Raaka Chocolate
Shop without the noise.
Get our free newsletter of hand-picked sales you need to hear about from the web's best brands.