The perfect crisp for summer solstice.
Email sent: Jun 12, 2021 1:04am A peach crisp with a cacao-twist.
View email in browser →
A crisp for the solstice.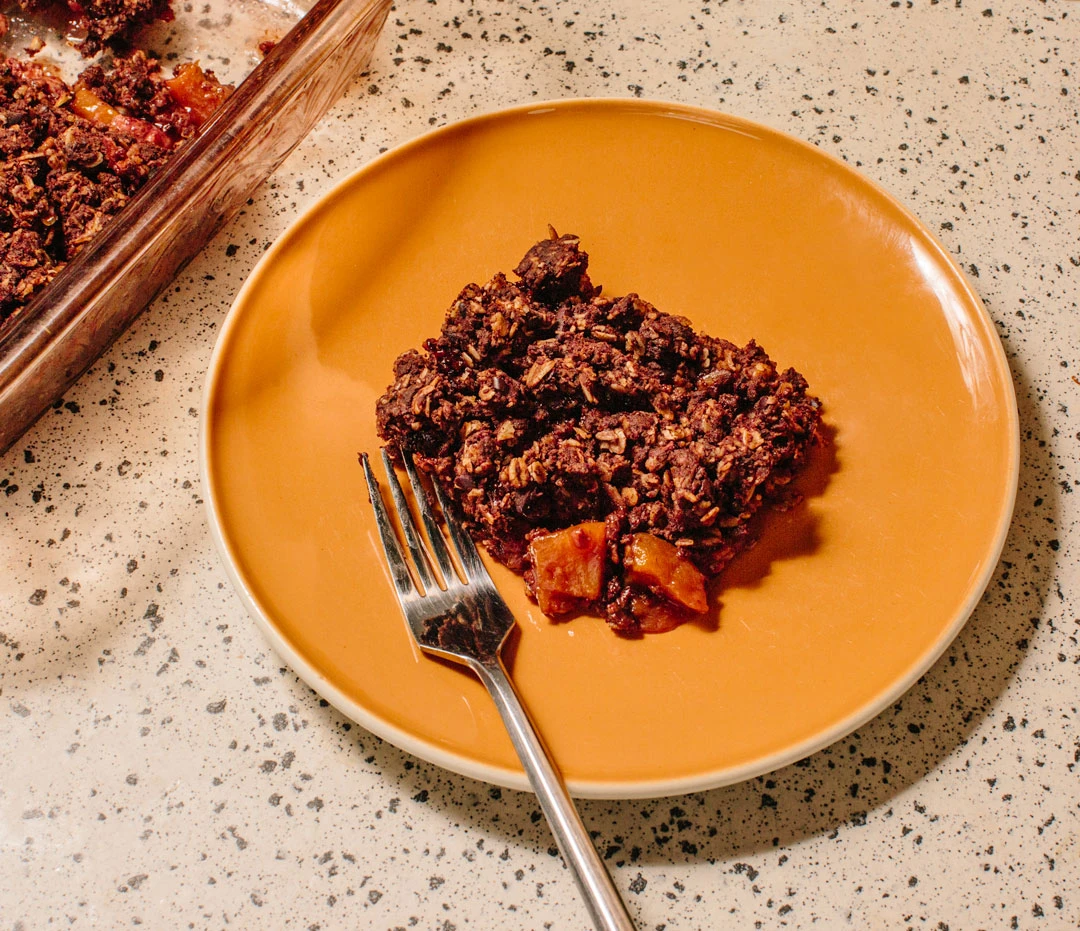 This week's recipe is a nostalgic summer classic from our recipe editor Abbe Lentz. She's taken the peach crisp she grew up with and given it a Raaka-twist with peak-season strawberries and our single-origin, Tanzanian Cacao Powder. The solstice is just around the corner and we recommend celebrating with this Cacao Strawberry Peach Crisp.

From Abbe:

This was the default dessert of my childhood. The special thing about this crisp is how effortlessly it comes together. Once you're in the groove of it, you'll find yourself measuring ingredients with your eye, rather than a tool. You'll know when the macerating fruit has sat long enough to bake up with the perfect amount of juiciness, and the feel of the crumble topping in your hands when it has the perfect balance of oats to butter.

Now that I'm an adult, I find myself coming back to this recipe more and more for the same reasons my mother did when I was growing up. The no-fail familiarity of a comforting dessert, no matter what season or which fresh fruit is available.

This crisp is the perfect dessert to enjoy with friends and family at a summer gathering. Best eaten in the afternoon under the shade of your favorite tree, in the evenings on your porch as the air starts to cool and the sun goes down, or the following day for breakfast with a fresh cup of coffee.

Ingredients

Filling
2 c strawberries, chopped
1 c peaches, chopped
2 tbsp coconut sugar
½ a lemon's juice
1 tbsp tapioca starch (or cornstarch)

Topping
1 c rolled oats
⅓ c Raaka Tanzanian Cacao Powder
⅓ c all purpose flour (gluten-free or regular)
⅓ c Raaka Cacao Nibs
¼ c coconut sugar
5 tbsp room temperature butter, cubed
½ tsp vanilla extract
½ tsp salt

Instructions
1. 1. Preheat oven to 350ºF. Mix together fruit, coconut sugar and lemon juice in bottom of 9x9 baking dish. Let sit and macerate for ~20 minutes. You should see a pool of juice form at the bottom of the dish after this time. If it seems too dry, add ~2 tbsp water.
2. In a bowl, add in all of your topping ingredients and combine together using your hands and squeezing together. This will take a few minutes, and you'll know its incorporated when the cacao powder turns a rich dark color, and the topping forms clumps.
3. Add tapioca starch to fruit and stir to combine, making sure no clumps. There should be a layer of liquid at the bottom of the dish, if it seems too dry, add ~2 tbsp water.
4. Crumble the topping over the fruit in an even layer of clumps.
5. Cover with foil and bake for ~30-40 minutes, until juices are bubbling around the edges.
8. Remove foil and bake for another ~10 minutes, until topping crisps up and center is bubbling.
9. Enjoy with fresh whipped cream or vegan alternative cream like cashew or coconut cream.

Shop Baking Chocolate

Don't sleep on the Swirls!
We still have a limited stock of our very popular First Nibs "Second Helpings" (aka extra First Nibs bars!). Currently we have our last batch of Matcha Swirl, 100% Cacao & Coconut Swirl, Miso Maple, Blueberry Lemon Poppy Seed, and Rose Masala Chai. Don't sleep on these, they won't be around for much longer!
Get Second Helpings

Free shipping on all orders over $35!
*within the continental U.S. only
SHOP CHOCOLATE You are receiving this email because you requested to be added to the Raaka Chocolate mailing list.
Raaka Chocolate
64 Seabring St.
Brooklyn, NY 11231

Other emails from Raaka Chocolate
Shop without the noise.
Get our free newsletter of hand-picked sales you need to hear about from the web's best brands.