Chapter #5: Uniqueness
Separate but together.
This email was sent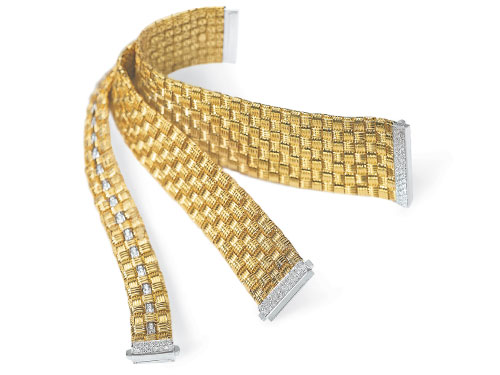 Yesterday we celebrated Earth Day, together with the entire golden kingdom of the Animalier collection, the stars of Chapter 4. Today we're going to talk about another subject that identifies us in the world and that we love to express with our jewelry, uniqueness.
 
Uniqueness is a true mission for us, as Roberto Coin explained in the opening sentence of Chapter 5, a sentence that encapsulates much of the significance of our jewels. Each woman is different and to make her like the others would be to take something away, while we prefer to celebrate ALL of her. And, really, what quality is more special than uniqueness?
 
In 1996, the Roberto Coin brand originated with the jewels of the Appassionata line, which was not simply a COLLECtion, it was a veritable INVENtion. The gold of the pieces was woven in such a way that it was as fluid and pliable as fabric. Gold had become soft for the first time. It took two years of research and trials before perfecting Appassionata and the unique effect of its gold that even today, is still a symbol of the brand all over the world. This unusual beginning perfectly represents Roberto Coin's mission – to create not only jewelry, but something unprecedented, something truly unique!
 
Roberto Coin presents his
UNIQUE CREATIONS
"I've never wished to be recognizable at a glance; I've always preferred to give every woman a different jewel, one that celebrates her uniqueness. That's why my signature is a ruby, hidden inside my pieces, that only the woman wearing the jewel can see."


Every piece of our jewelry is a combination of shapes and colors, in which the stones and the gold are mixed in a play that is as visionary as it is precise.  One-of-a-kind pieces are the quintessence of uniqueness, which is the most precious quality a piece of jewelry can have. A jewel is not only something that we choose; it also chooses us.
In creating a unique piece of jewelry, the gemstones are used like a palette of colors to dip into, just like in the world of art. The mixture of hues is an amalgamation of stones in combinations that are sometimes traditional and sometimes quite unusual. It takes character to break free from the rules of fine jewelry and from the whims of fashion, and it takes courage to ignore assessments based on material things and to search instead for meanings that are more symbolic and personal.

Design is quite the opposite. It follows strict rules, respecting the traditional values of Italian artisanship while embracing avant-garde techniques in a fascinating synchronization of workmanship and technology. Design uses all of the precision and experimentation possible in an atelier of fine jewelry to achieve the uniqueness that each piece must attain.

Each piece of our jewelry carries with it a story that develops throughout the entire creative process, a story narrated by the colors of the stones and the details of the design, and our one-of-a-kind jewels are our masterpieces. Each one of them also has an exceptional history and, in fact, every person who works behind the scenes at Roberto Coin knows and recognizes each one-of-a-kind piece created over the years. Because for us, the creation of these pieces is a special mission, a common goal made of beauty and dreams, a journey that each of us wants to be a small part of. Then, we happen to see one of these pieces on a woman we don't know, a woman who not only wears the jewel but is illuminated by it, and in our eyes, she's the one who's been chosen.
 

Roberto Coin S.p.a. Viale Trieste 13 - 36100 Vicenza, Italy
Copyright ©2020 | All rights reserved

Recent emails from Roberto Coin

See more