In The Presence Of State Champions
Email sent: Jun 11, 2021 8:10am
| | IN THE PRESENCE OF STATE CHAMPIONS! | |
| --- | --- | --- |
Last week, I shared with you several of our athletes that were going to be competing in the state track and field championships. I'll be telling you here shortly that some good things happened last weekend.

In case you don't read my emails a whole lot, let me remind you that I'm the head track coach for the boys and girls at Bishop Watterson. Some of those athletes do train at my facility. Our facility also is the home for track athletes from other schools.

When I say "our athletes," I'm referring to the athletes that train at my facility and some of my Watterson athletes. I consider us one big happy family.

That being said, I am proud to say that I had two relays claim state titles last weekend in Girls Division 1 - the 4x200M and 4x400M. WOOHOO!!!

The above photo is that 4x200M and the middle two brunettes - my daughter Anna on the left a senior and Sydney Workman on the right a sophomore - have been training at our facility for a long time. Training partners, teammates, and now state champions together.

Again. These two were part of the 4x200M team that claimed the state title at the Indoor State meet in early March.

And I can proudly say THEY ARE A PRODUCT OF THE SPEED DEVELOPMENT PROGRAM WE IMPLEMENT HERE!!

Here is a rundown on who we had participating (training with us in the last 12 months) in the state meet last weekend and how they did:

Brooklyn Brush, a senior for Watterson who ran in the D1 Girls 4x800M relay. Their team finished 14th in the state.
Maya Fuller is a junior who was on Dublin Jerome's 4x400M team. They ran in the prelims, but unfortunately did not make the finals.
Will Garey ran in the D2 meet for Watterson. Also a senior, he ran on the 4x800M team that placed 11th and the 1600M placing 9th. Our program can also help DISTANCE RUNNERS TOO.
Anna Kessler had a great meet. I'll be elaborating more on her season, her training, and what we did to put her in this position in a later blog post. Besides being on the state champion 4x200M team, she was on the 4x100M team that placed 4th. She also placed 5th in the 100M and 8th in the 200M.
Skylar Themelaras qualified for states in the 200M, but scratched to focus her energy on her Westerville Central 4x200M team. Skylar, a senior, helped them secure a 6th place finish in D1.
Sydney Workman, as I mentioned earlier, was on that 4x200M team and was also on the 4x100M team that finished 4th. Not bad for her first season running outdoor track in high school.

If you get a chance to see either relay race, they are both pretty exciting. In the 4x200M, Anna anchored us to victory. She took the baton, raced to the early lead, and fought off the Euclid runner to win.

I'm sure I will be sharing them at some point on our social media channels.
CLICK HERE to try out some of our great nutritional products at Advocare.

COLUMBUS ATHLETES CLICK HERE if you are interested in getting a free consultation to see how we might be able to help you achieve your athletic goals.

TRAINING PRODUCTS CLICK HERE to see what we have to offer for athletes who feel they can do training on their own.
This message was sent to
-
from
[email protected]
Adam Kessler
Fitness Planning Consultants, Inc.
P.O. Box 20323
Columbus, OH 43220
- - - - - - - - - - - - - - - - - - - - - - - - - - - - - - -


Other emails from Run Faster Method - Proven System To Improve Your Speed
Jun 4, 2021

Some Of Our Athletes To Watch This Weekend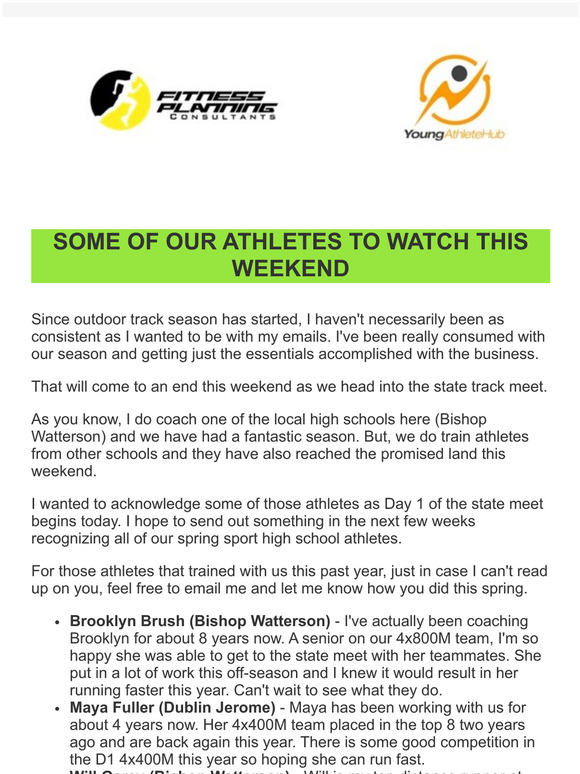 May 28, 2021

Is It Worth Attending Sporting Events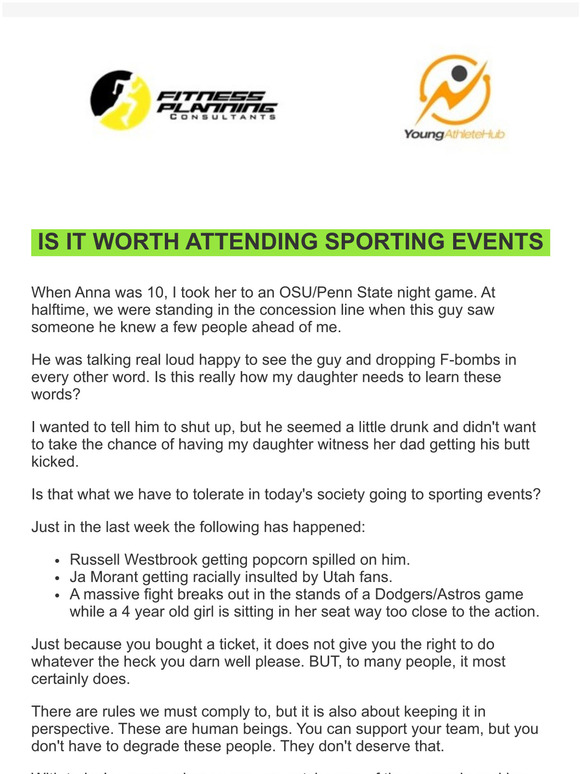 May 21, 2021

From 0 to 5K: A Beginners Guide to Running Success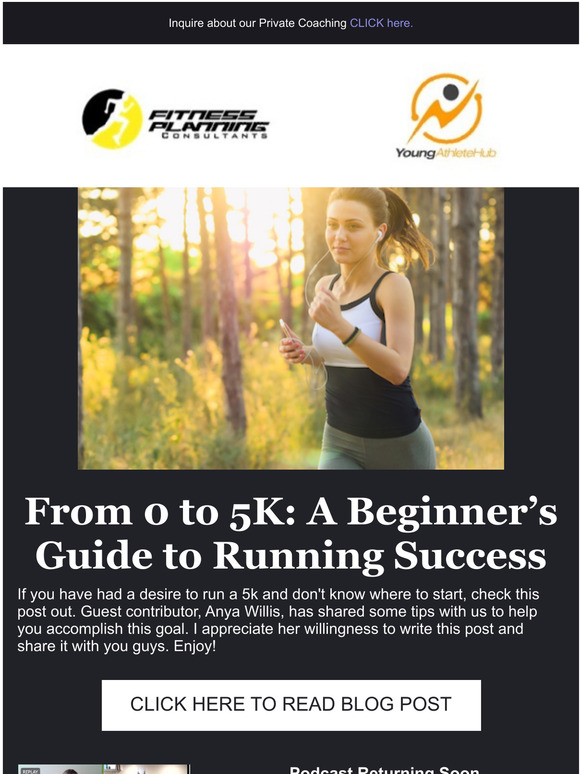 May 14, 2021

What I Know As A Coach Means More Than What I Did As An Athlete
May 5, 2021

Practicing Martial Arts at Home - Your Ultimate Guide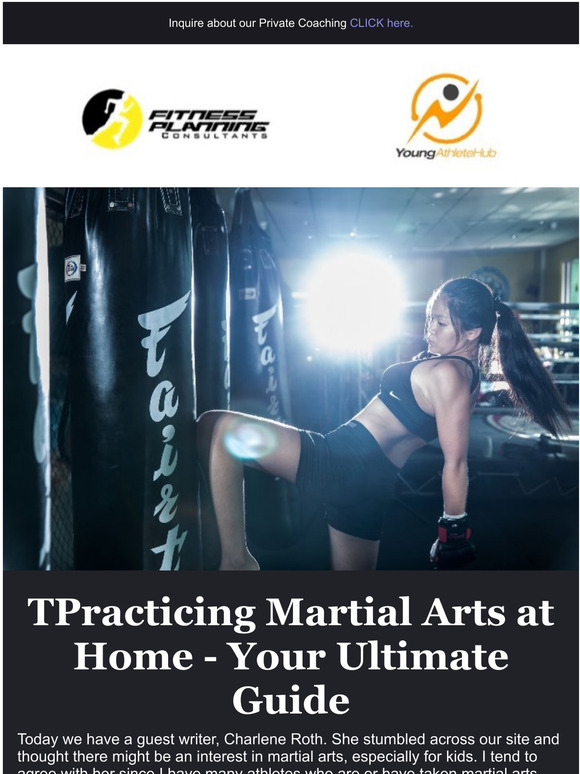 Shop without the noise.
Get our free newsletter of hand-picked sales you need to hear about from the web's best brands.