2-Hour In Store Pickup on 30% Off ion & GVP Hair Care with Purchase
Email sent: May 4, 2021 1:20pm
SALLY FAN FAVES OF THE WEEK
Shipping Information  |  View Online

Buy 2, Get 1 Free Select Textured Hair Care
Offers valid in store and online unless otherwise noted, while quantities last. Pricing and availability online may differ from in store and may vary by location. For full terms and conditions around offer and combining with other promotions and rewards, refer to full offer terms and conditions online. Offer is not applicable on equipment purchases. Additional restrictions may apply. Not all items at SallyBeauty.‍com can ship to Canada. Shipping restrictions are noted on the product page. All prices online and in email reflect USD. Prices reflected within this email represent retail prices at the time in which this email was deployed and are subject to change. Offers expire in store at the local store closing time and online at 11:‍59 p.m. ‍PST on 05/‍15/‍2021 unless otherwise noted. Sally Beauty maintains the rights to stop or end a promotion at any time without notice.

Mother's Day Gift Ideas - Sale on Appliances for Mom
Offers valid in store and online unless otherwise noted, while quantities last. Pricing and availability online may differ from in store and may vary by location. For full terms and conditions around offer and combining with other promotions and rewards, refer to full offer terms and conditions online. Offer is not applicable on equipment purchases. Additional restrictions may apply. Not all items at SallyBeauty.‍com can ship to Canada. Shipping restrictions are noted on the product page. All prices online and in email reflect USD. Prices reflected within this email represent retail prices at the time in which this email was deployed and are subject to change. Offers expire in store at the local store closing time and online at 11:‍59 p.m. ‍PST on 05/‍09/‍2021 unless otherwise noted. Sally Beauty maintains the rights to stop or end a promotion at any time without notice.

30% Off ion/GVP Hair Care with Purchase of 2 ion/GVP Hair Colors & $39.99 GiGi Wax Bundle & Free Travel Bag with a $25 Buy Online Pickup In-Store Order
Offers valid in store and online unless otherwise noted, while quantities last. Pricing and availability online may differ from in store and may vary by location. For full terms and conditions around offer and combining with other promotions and rewards, refer to full offer terms and conditions online. Offer is not applicable on equipment purchases. Additional restrictions may apply. Not all items at SallyBeauty.com can ship to Canada. Shipping restrictions are noted on the product page. All prices online and in email reflect USD. Prices reflected within this email represent retail prices at the time in which this email was deployed and are subject to change. Offers expire in store at the local store closing time and online at 11:‍59 p.m. ‍PST on 05/‍31/‍2021 unless otherwise noted. Sally Beauty maintains the rights to stop or end a promotion at any time without notice.

Pricing and availability online may differ from in store and may vary by location. Pricing is subject to change without notice. All clippers and trimmers are final sale. Further restrictions and limitations may apply. All prices online reflect USD. Shipping restrictions are noted on the product page. Not all items at SallyBeauty.com can ship to Canada.

Sally Beauty Rewards points and reward balance based on account data at time of email send.

You are currently subscribed at -.
To manage your member information, sign in or create an online account at SallyBeauty.com.

If you no longer wish to receive marketing emails from Sally Beauty, please click here.

Please do not reply to this message. Contact Customer Service by email.
Sally Beauty Company, Inc. |

3001 Colorado Blvd.

|

Denton, TX 76210


Sally Beauty Customer Care: (866) 234-9442
EID: CRM-2445_SBHA_BOPIS



Other emails from Sally Beauty Supply
May 5, 2021

Receive $20 Off Your $50+ Purchase When You Apply & Are Approved Today!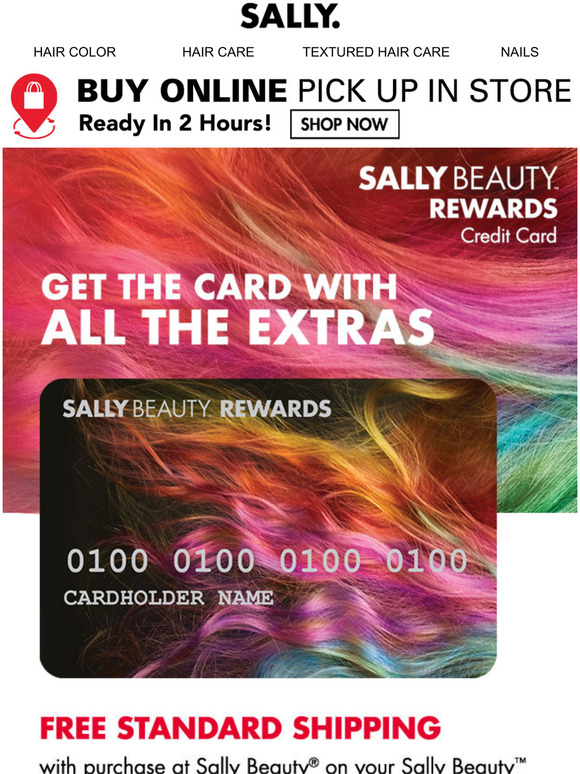 May 2, 2021

Mothers Day Is Coming! Find The Perfect Gift For All Moms In Your Life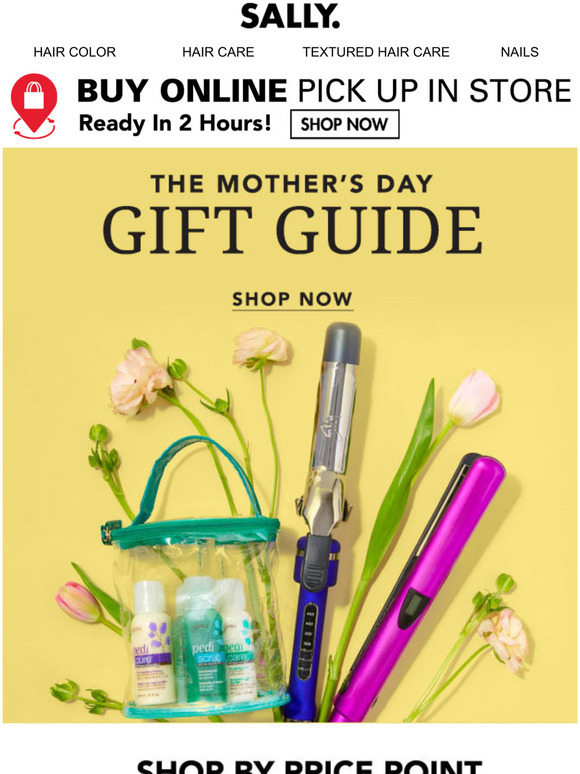 May 2, 2021

More Ways To Shop + Find Deals Like 30% Off ion & GVP Care with Purchase of 2 ion Or GVP Hair Colors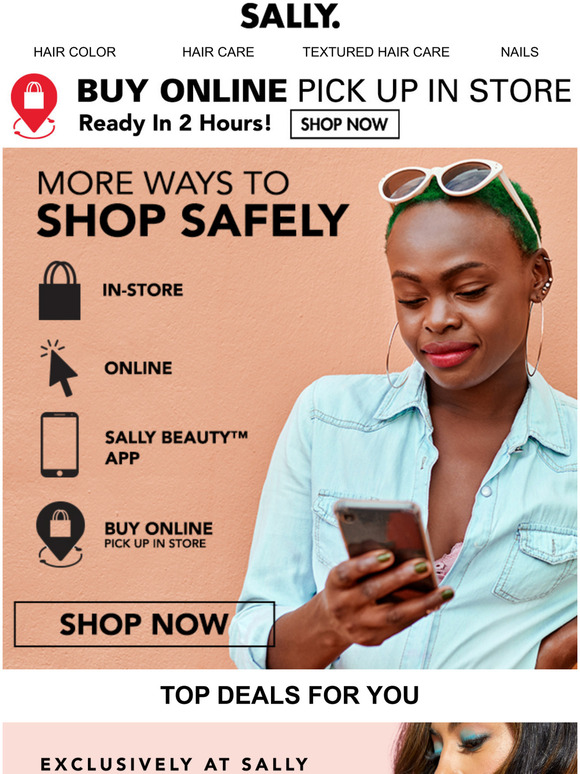 Apr 30, 2021

Last Day To Shop $10 Off $40 Hair Care with 2-Hour In Store Pickup!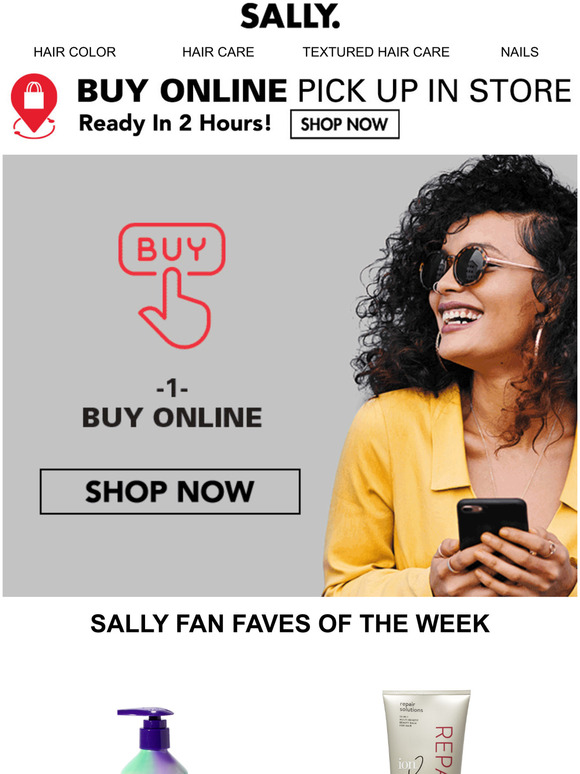 Shop without the noise.
Get our free newsletter of hand-picked sales you need to hear about from the web's best brands.