🧟 Last Chance: Scare up Savings by Sunday
Save up to 65% before our Monster Sale ends and see inside for more Howl-O-Scream reveals.
This email was sent
LAST CHANCE:


SCARE UP SAVINGS BY SUNDAY
The season of terror is approaching fast, but our Monster Sale is ending even sooner. Be ready to face your fears this fall with limited-time discounts now: Save up to 65% with Howl-O-Scream tickets as low as $34.99. This sale is set to expire Sunday—don't wait until it's gone.

Howl-O-Scream is back on select nights, Sept. 9 – Oct. 31. Get your tickets today.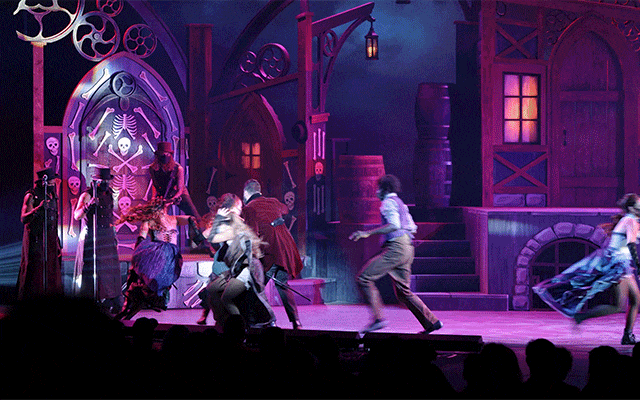 YOUR FEARS HAVE RESURFACED
Sometimes the most gut-wrenching frights are the ones you know are coming. Don't miss the reemergence of these Howl-O-Scream favorites.
Reimagined House: Dead Vines


This is no innocent garden stroll. You've just wandered into a terrifying realm of ravenous plants and hidden horrors.

Returning Bar: Poison Grotto


Unwind with a refreshing concoction in the enticing atmosphere of this unearthly lounge. Just remember, you're her guest.

Returning Scare Zone: Deadly Ambush


Something's happened in this quaint old campground. Now there's nowhere to hide, and no park ranger to rescue you.

Returning Scare Zone: Witchcraft Bayou


Voodoo and witchcraft aren't real, right? Tell that to the zealous worshippers trying to shackle you with their spells.

Returning Show: Monster Stomp


In the misty corners of London, Jack the Ripper walks the streets. Catch him on stage as you've never seen him before.
Think you know everything that's waiting for you? Think again—there are still clues left to decipher and evils yet to materialize.
Download the SeaWorld Orlando App for the best in-park experience!
Howl-O-Scream is intended for a mature audience. This event contains intense adult content such as violence, gore, and blood. Howl-O-Scream 2022 is a separately-ticketed night event. No costumes are allowed. Event dates, hours and details subject to change. Limited capacity.

Ticket Offer: Valid for one Howl-O-Scream 2022 event night, select nights Sept. 09 - Oct. 31, 2022 at SeaWorld Orlando. Event starts at 7:00 p.m. Gates open at 6:30 p.m. Howl-O-Scream 2022 ticket is not valid for general day admission, parking, tours or dining. Not valid with any other discounts or offers. Operating hours are subject to change without notice. Visit howloscream.com/orlando for event dates & hours. No guests in costume admitted. No rain checks or readmits. Tickets are non-refundable and nontransferable. Ticket void if altered. Online savings based on general admission prices available at the park. Howl-O-Scream is a separately-ticketed night event. Tickets are valid for one event night only.
 
Park products, services and schedules subject to change without prior notice. All offers are based on availability and subject to change, or cancellation without prior notice. See website for full details, and park and show schedule prior to arrival.

 
Recent emails from SeaWorld Parks

See more