'ALMOST BLACK'... sweet pea!
This email was sent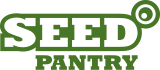 Hello
IT'S 'ALMOST BLACK'... SWEET PEA! As seductive as a Black Friday sale in the middle of a lockdown, the sultry sweet pea 'almost black' has deep violet purple petals with an enchanting mauve undertone and a luscious scent. Slinking into the Seed Pantry Grow Club soon, how alluring!
...and psst! Black Friday deals are nearly here!
For non-members, you can join The Grow Club here
We have lots of new food and flower choices every month!
For green-fingered festivities, check out our Christmas gift guide here!
Ready, steady, grow!
Kind Regards,

The Seed Pantry team
Contact us: [email protected]
Like and follow Seed Pantry on Facebook or Instagram

If you have any feedback for us we'd love to hear it. Just send an email to us and we'll respond quickly. This email has been sent to you by us - Seed Pantry. If you don't wish to receive Seed Pantry news you can switch it off by clicking here: http://www.seedpantry.co.uk/index.php?dispatch=newsletters.unsubscribe&list_id=16&s_id=29802&key=0d53fb58a0956d439318830e9635753e