NO ONE wants to talk about it...
Email sent: Jun 11, 2021 3:35pm
Perhaps the best kept secret in the Christian sex realm. Plus, the best from the blog this week!
There's one word that, when we were researching for The Great Sex Rescue, came up less in current Christian resources than any other. 

It wasn't abuse. 

It wasn't clitoris. 

It wasn't erectile dysfunction. 

It was vaginismus.

When we scoured sites like Focus on the Family and Desiring God we found lots of mentions of the first three things, so they were definitely willing to talk about sex and difficult topics. But vaginismus--women's pain during sex due to a tightening of the vaginal muscles--didn't appear. 

Similarly, in the best-selling books on sex and marriage, very very few even mentioned vaginismus and the ones that did tended to not handle it well at all. Some were better than others, but for the most part, desperate women who feel alone and scared because sex is downright painful, if they were to look to our best-sellers and most popular online resources, would come up short. There's no help for them; only threats about what will happen if they don't do this incredibly painful thing. 

And of course, every single one of the resources that mishandled or omitted mentions of vaginismus was chock full of obligation sex messaging (if she doesn't sleep with her husband and meet his needs, he'll turn to pornography; you are duty-bound to fulfill each other's sexual desires and urges).

This next week, continuing in our pelvic floor health month, we'll be talking about vaginismus. So I want to know something quickly from you: 

Had you heard of vaginismus before reading this blog? 
Yes
No

And that's all for this week--if you're one of the many women who has experienced vaginismus or is currently battling it, take heart. You are not alone. There are treatment options. And we'll be tackling that all next week. 
#1 on the Blog This Week...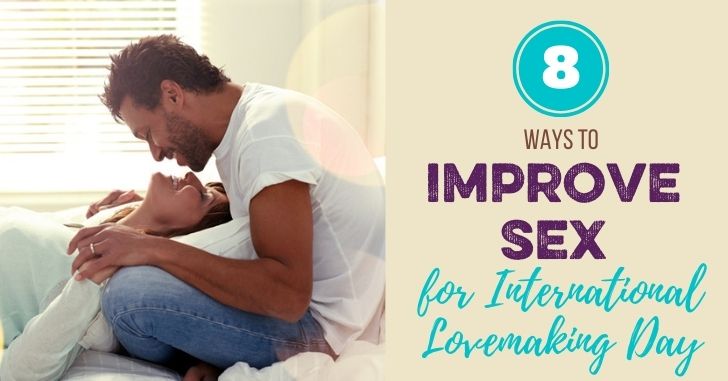 We've spent several months talking about how WRONG the church has all too often gotten sex, and how much couples have been hurt in the process (especially women).
But in The Great Sex Rescue, we tried to leave everyone with a vision of what great sex looks like in our final chapter on Passion.
Want to support our research and help spread our message?
Check out our Patreon to see what we're up to:
(note: the Patreon does not support the blog, which is self-sustaining)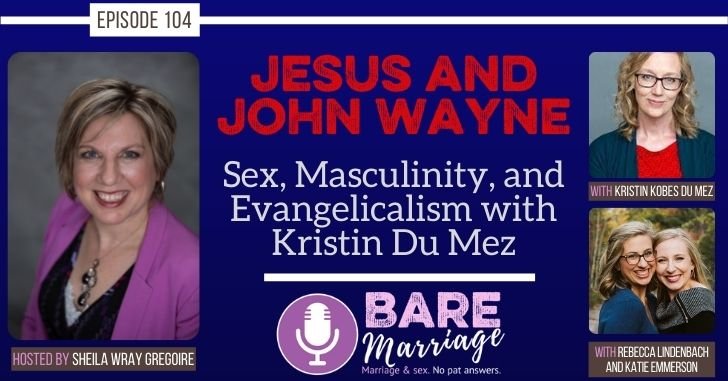 We're so excited to have Kristin Kobes Du Mez join the podcast today! Kristin is the author of a book that is getting a ton of buzz–Jesus and John Wayne. 
Kristin looks at the history of evangelical culture, specifically in the United States, where militaristic, chauvinistic, and cutthroat male behavior became the standard for evangelicalism, rather than love, joy, peace, patience, kindness, goodness, gentleness, faithfulness, and self-control.
Plus Becca and I talk about how to find a church when you're disillusioned, and Katie joins us for something funny!
Check it out.
And here are the rest of this week's posts!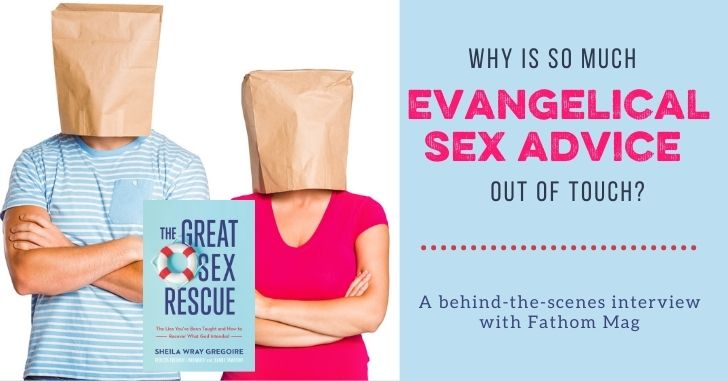 Why is so Much Evangelical Sex Advice Out of Touch?
Do we have hope for the future? How did we get here with sex? What are the big problems with the way the evangelical church sees sex?
Recently I did a big interview with Rachel Joy Welcher, author of Talking Back to Purity Culture (remember the podcast she was on?) for Fathom Mag.
I've been doing a lot of writing for other websites recently to get the word out about The Great Sex Rescue, and I'd like to share them here, too, because it saves me some time, but also I'm pretty proud of them!
Read here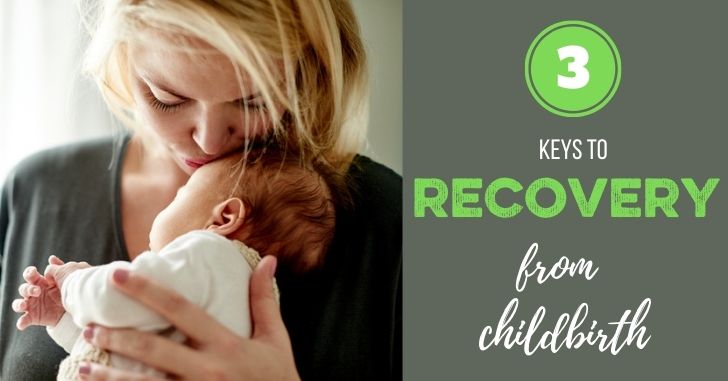 3 Keys to Recovering from Childbirth
Recovering from childbirth isn't something that happens overnight, and it isn't something you can achieve through will power or just "doing what needs to get done."
Your body has just gone through tremendous trauma, and it needs time to heal.

But with preparation, rest, and community, it can be a lot less exhausting and painful
Read here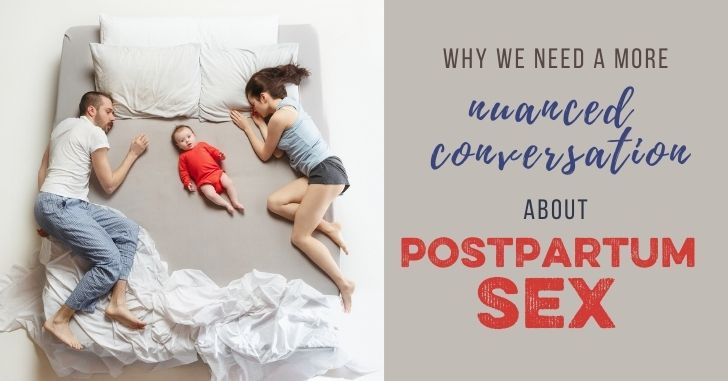 Why We Need a More Nuanced Conversation About Postpartum Sex
When we first wrote The 
Great Sex Rescue
, and started talking about some of the terrible things that we found in evangelical sex books, we didn't know which themes were going to catch on.  
But over and over again, what comes up in private messages to me, and in comments on social media, is people very upset about Kevin Leman's pressure on women to give husbands sexual favors during the postpartum phase. That's what makes women's blood boil the most. 
Did you know I have a FREE resource library, just for subscribers? 
Have a wonderful weekend, everyone!
Shelia.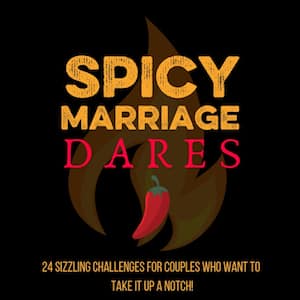 Sexy Dares--24 Dares for Couples

$6.99


Other emails from Sheila Wray Gregoire
Jun 15, 2021

Why Exploring Your Pelvic Floor (and Genitalia!) is Crucial to Your Health and Your Sex Life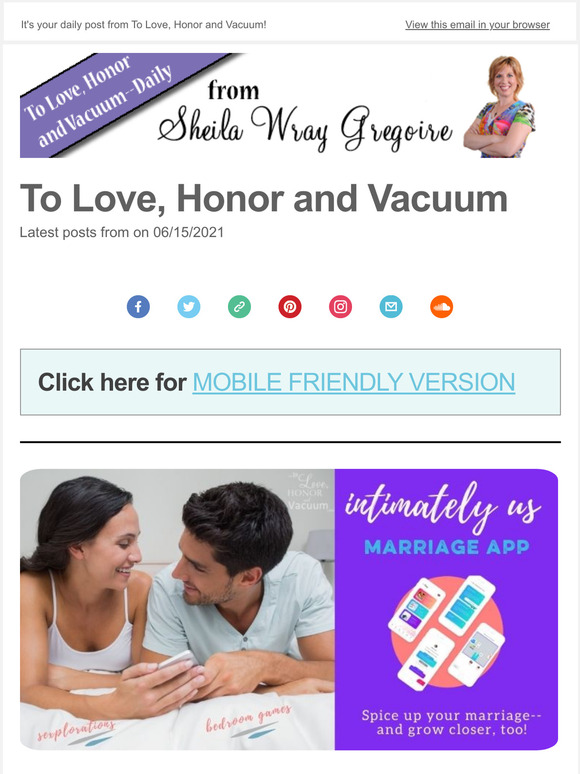 Shop without the noise.
Get our free newsletter of hand-picked sales you need to hear about from the web's best brands.