Which engine do you like more , V8 or L4 ?
Email sent: Jan 5, 2021 7:06am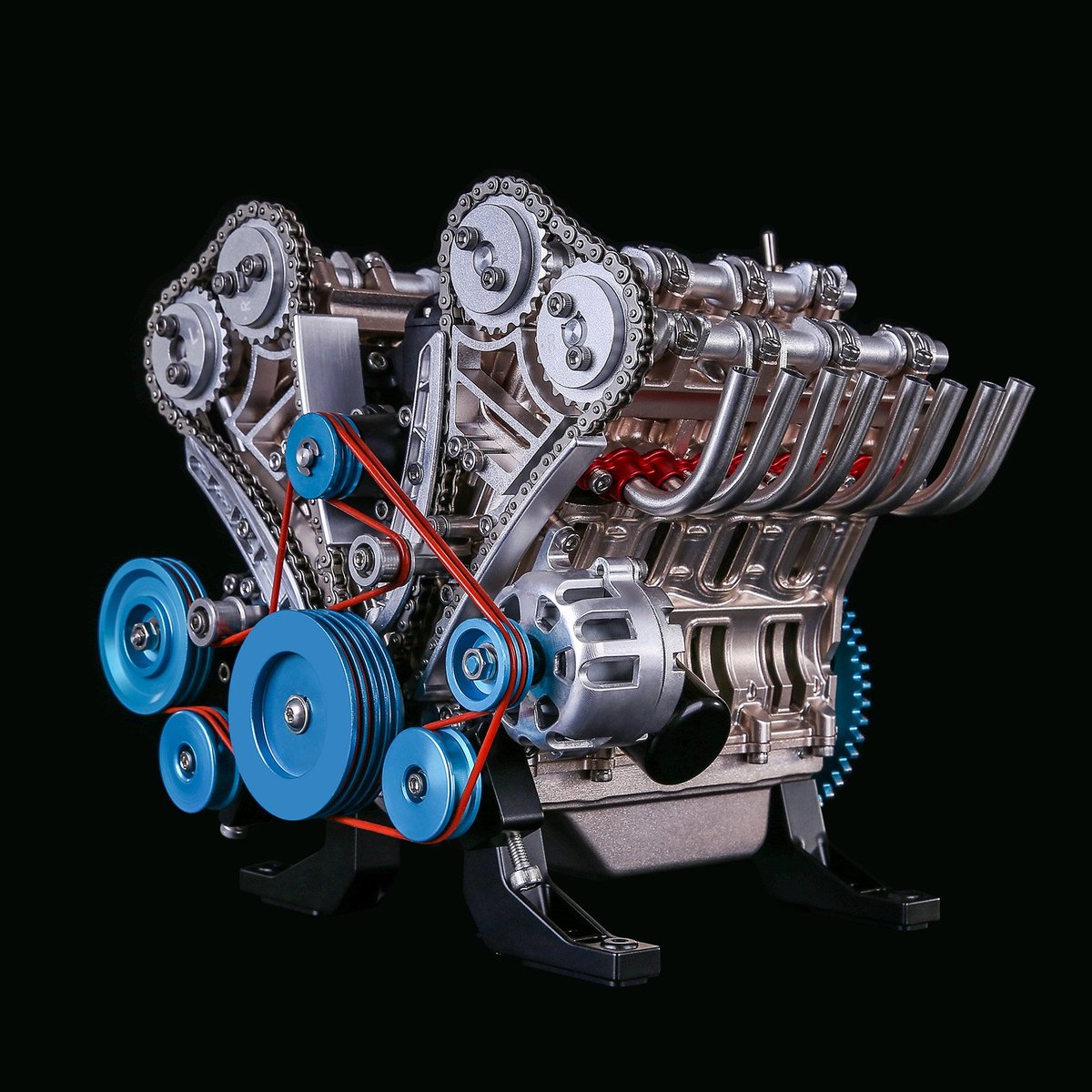 Teching V8 Mechanical Metal Assembly DIY Car Engine Model Kit 500+Pcs Educational Experiment Toy (Pre-sale)
$699.99
Teching V8 Mechanical Metal Assembly DIY Car Engine Model Kit 500+Pcs Educational Experiment Toy Pe-sale
$100 OFF Coupon Code :V8 , Only $599.99 ,Save $100

Shipping Note: this engine is in presale now. All the order will be sent after March 15th, 2021. Once your order is shipped or available for pickup, we'll send you an email, which will include your order number and a link to the tracking. Any problems pls email me directly [email protected]

Features:

Story Origin: To show the respect, this Teching v8 engine is based on the ideas of the the first 8-cylinder engine in the United States, letting more kids to know more about how it works.

Challenging but funny: After assembly, the engine size is about 172 x 198 x 180mm; It consists of 500+pcs parts and comes with a paper English instruction book. It takes about 5hrs to build it. So it's a great time to enjoy the whole process of assembly from small parts to complete products, an charming V8 car engine model.

Exquisite Model Details: This V8 engine model kits are mode of highly textured metal parts. The alloy golden color make it more real. While Building, you can know more about the wonderful mechanical engineering world.

Simulation Model: The V8 engine can be driven by a motor, which is more realistic and interesting. When you observe the engine running process, it's not only an exquisite decoration model, but a simulative dynamic model that can simulate the operation of a real car engine.

Excellent Steam Toys: It's a great time for parent-child interaction because parents can build it together with their children; Children can learn more about science and industry. It can't only increase their knowledge and imagination, but also develop mental and logical thinking, and develop innovative and creative abilities.

Perfect Gift Choice: The products are well-packaged in high-end metal gift boxes, which are the best gift choices for friends and relatives for their birthday, Christmas days, Thanksgiving day, New Year etc.. And it's a beautiful collection for home decor, coffee shop, office etc..

Material: Stainless steel + Aluminum alloy, Color process: Anodized.

Recommend Age: it's suitable for age 12+ people ,Type: Assemble toys ; Subject teaching aids ; Decorative Arts

Note: This engine powered by lipo battery, Not by Gasoline.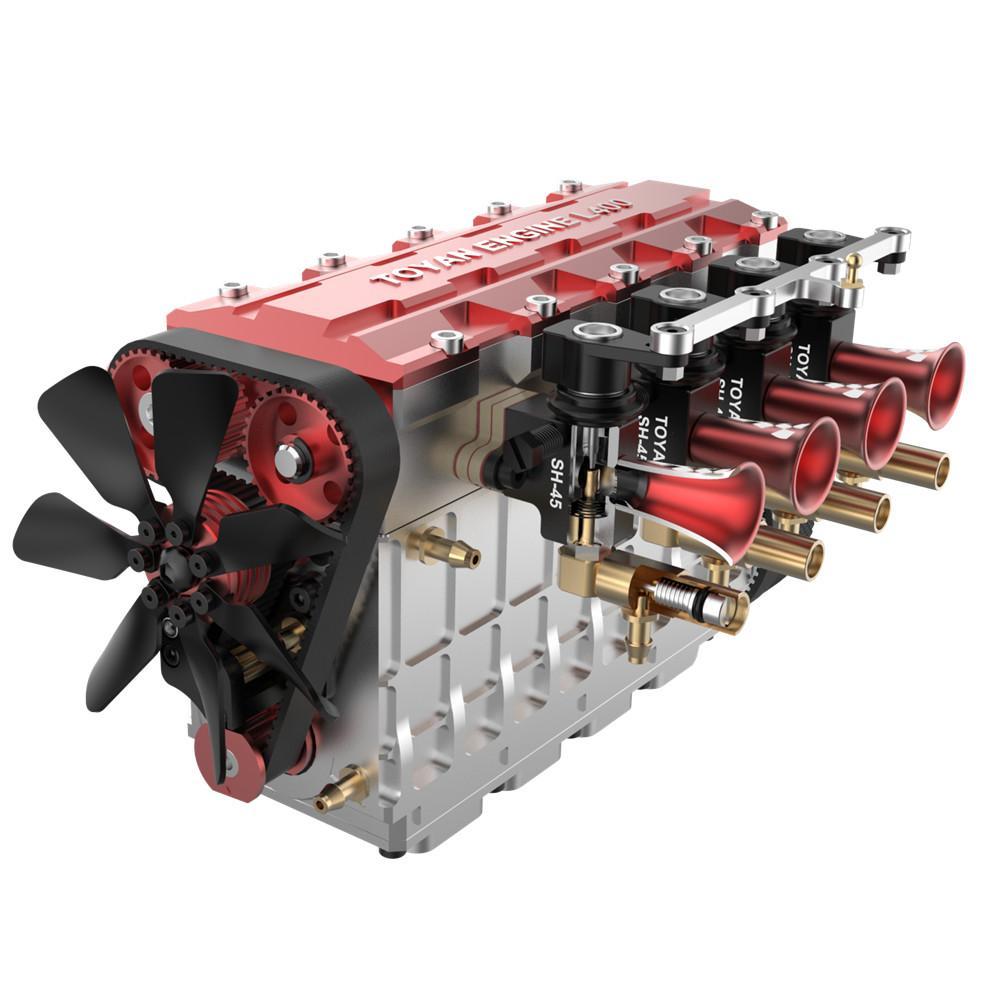 TOYAN FS-L400 14cc Inline 4 Cylinder 4 Stroke Water-cooled Assembly Engine Model For RC Model Car Ship Airplane
$799.99

TOYAN FS-L400 14cc Inline Four-cylinder Four-stroke Water-cooled Nitro Engine Model DIY Assembly Kit for 1:8 1:10 1:12 1:14 RC Model Car Ship Airplane - KIT Version
$100 OFF Coupon Code :L400 , Only $699.99 ,Save $100
Features:
.Exquisite Model: Incredibly detailed following the real engine.
.Long Stroke: Long-stroke for effectively higher torque.

.Integrated Crank Shaft: It utilizes a 180-degree crankshaft. The ignition timing sequence of 1342 for running smoother and more sensitive acceleration response. The maximum speed is 13,500 RPM.

.Double Synchronous Pulley: The timing structure of the dual synchronous pulley reduces the risk of gear jumping during high-speed operation.

.Precision Rocker Arm: Alloy rocker arm and independent intake and exhaust design for more accurate valve switch.

.Built-in Mechanical Pump Water-Cooled Kit: The power of the pump body comes from the crankshaft, and the pump body provides circulating power to the coolant. Later, it can cooperate with the cooling fan to enhance the self-cooling performance

.Precision Carburetor: Independent four carburetors for more accurate tuning, more sensitive throttle response, and working more stable

.High Precision Gear Pump: High-speed structure design & corrosion-resistant material manufacturing. Large flow water pump provides powerful cooling capacity.

.Lightweight:  It can be better compatible with the RC model and improve the unit power output ratio

.Starter Kit: The engine comes with an electric motor starter kit, providing users with all new fun. Therefore it is started by electricity and does not need to be pulled by hand. To start this engine you need to buy the extra starting accessories, for example refer to glow head, ignition module, etc. (you can also buy it from this link below)

.DIY Assembly: This engine features exquisite appearance, superior quality, excellent craft, and strong practicability. You can either enjoy the fun of DIY assembly, build your engine work and collect the finished product as a static decoration, or start the engine, or modify it to an RC model. We believe you will love the model engine. More applications are waiting for you to develop. I'm sure you'll like this engine model. Suitable for personal use or as a high-end model gift to others.
.For Ages: 10+


Stirlingkit
2nd Floor, Comprehensive Building, Nankeng Second Industrial Zone, Putian Street, Longgang District, Shenzhen Shenzhen
518000 Guangdong
China


Other emails from Shenzhen Meng Zhi Wu Network Co.Ltd (Stirlingkit)
Feb 26, 2021

Our First Diesel Engine Project New Arrival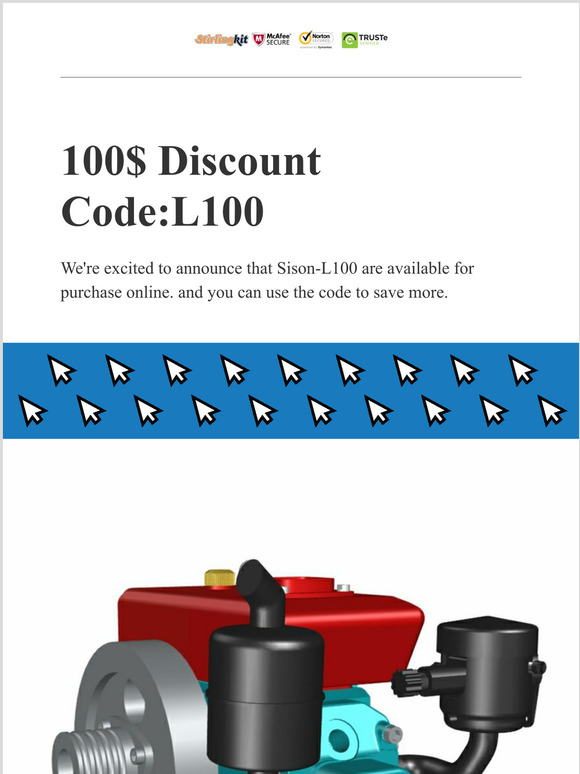 Feb 20, 2021

Best Selling , Best Deals ! Best Seller of Stirlingkit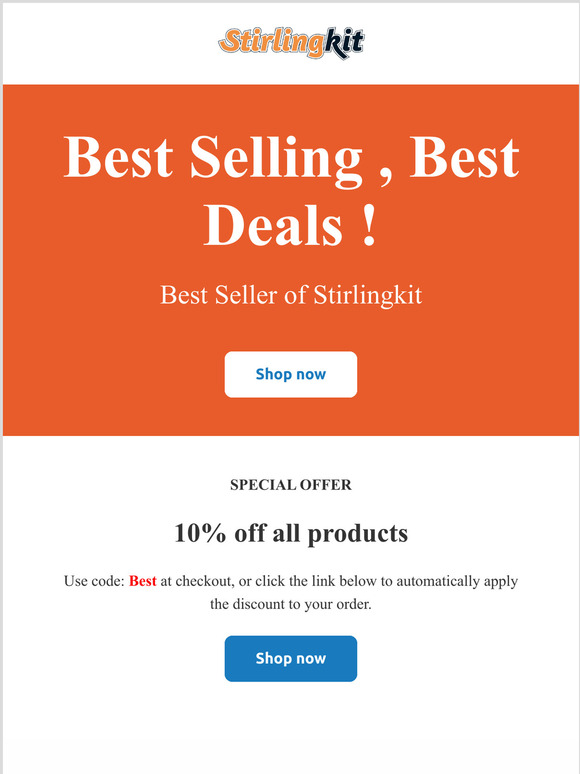 Feb 18, 2021

Four Cylinder Engine ,Which one do you like best ?
Feb 9, 2021

Toyan Engine & Parts Big Sale ! - Stirlingkit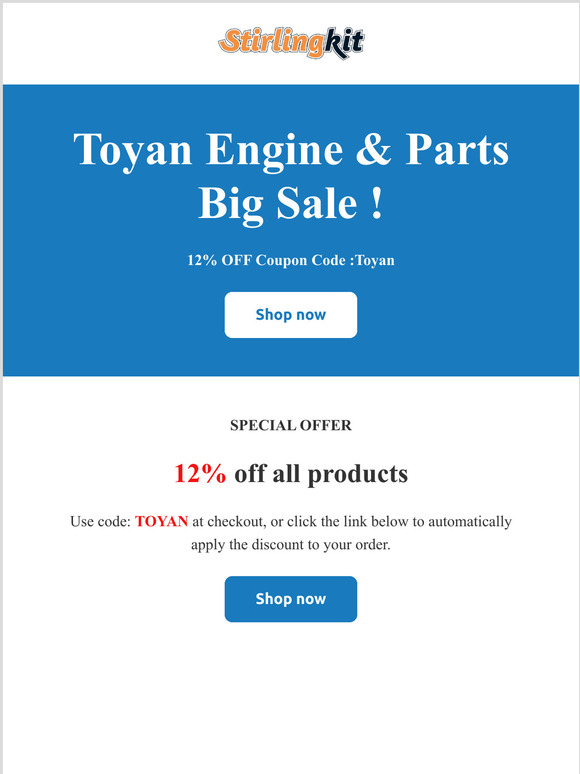 Shop without the noise.
Get our free newsletter of hand-picked sales you need to hear about from the web's best brands.