This Certificate Costs $0. Upgrade Your Resume For Top Job Roles For
This email was sent
Cost of this certificate =




$0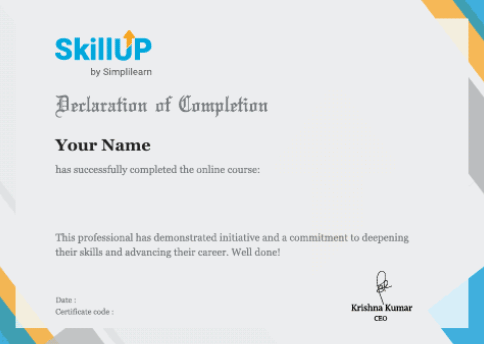 -, strengthening your CV is imperative to your success in a competitive job market. Now you can upskill and add top certifications — valued by employers — to your resume and still not pay a dime!
Enroll in courses in top fields like Data Science, Cybersecurity, Digital Marketing, Cloud Computing, and much more — all for $0.
UPSKILL FOR $0
Data Science & Business Analysis
Explore the world of Data Science, 
Data Analytics or even Business 
Analytics. Become an expert in 
data exploration and visualization. 
Cyber Security
Learn cyber security basics and the relevant tools to assess the security protocols in information processing systems.
AI & Machine Learning
Gain hands-on experience in data processing, text mining, time series, supervised and unsupervised learning
Know more...
Software Development
From C++ to Java to Python - get
an introduction into key software development languages as well as Blockchain, robotics and more. 
Digital Marketing
Gain a marketing advantage by learning digital marketing fundamentals to achieve better user engagement strategies. 
Cloud Computing
Cover diverse concepts: learn
cloud architecture, services and 
hosting. Study basics of AWS, 
Azure, and Google Cloud Platform.
DOWNLOAD OUR MOBILE APP
JOIN THE CONVERSATION
 2009-2022 - Simplilearn Solutions Pvt. Ltd. All Rights Reserved.
If you do not want to receive these emails, you can unsubscribe here. 


Recent emails from simplilearn americas inc

See more