IT Pro Connect Newsletter
Save on Thunderbolt™ 4 & Thunderbolt™ 3 Laptop Docking Stations Save on Thunderbolt™ 4 & Thunderbolt™ 3 Laptop Docking Stations
This email was sent
Save on Thunderbolt™ 4 & Thunderbolt™ 3 Laptop Docking Stations

Special Pricing Until May 30th, 2023
Now is the perfect time to upgrade your docking stations to high-performance StarTech.com Thunderbolt Docks. Save up to 30% on some of our most popular models until May 30th, 2023. Discount varies by product and reseller.
From our Blog: The Port
Learn about the newest trends and technologies
Learn about three unique accessories that help IT Pros overcome challenges they face in the workplace.
If you couldn't make the live session, an on-demand version is now available. During this informative session, StarTech.com experts discuss a range of unique KVM use cases, from accessing servers, kiosks and other systems with a USB crash cart adapter to leveraging KVM switches and extenders for remote access and other advanced applications. Whether you're a seasoned IT professional or just starting in the field, this webinar equips you with the knowledge and tools you need to optimize your server management and improve your IT infrastructure.
Learn how to clone and sanitize hard & solid-state drives without a computer.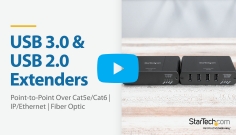 Find out how to control remote USB devices such as printers, drive enclosures, and whiteboards at distances of up to 1150 feet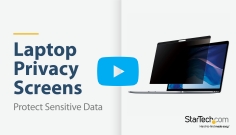 Learn how to increase workplace privacy while reducing blue light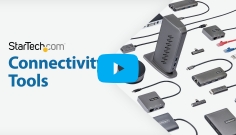 Enhance productivity and device management with StarTech.com's innovative suite of utilities
Subscribe to our YouTube Channel to stay up to date on the latest connectivity solutions
The IT Professional's trusted source for performance connectivity accessories.
IT Pro Performance

Compatible, Reliable,
Lab Tested

Hard-to-find Made Easy

Thousands of accessories
supporting over 200 technologies

Free 24 Hour Support

Experienced Tech Advisors 
Online Technical Resources
Free 24 Hour Support
 Monday - Friday
| | | | |
| --- | --- | --- | --- |
| Support | Live Chat | Phone | Email |
Thunderbolt and the Thunderbolt logo are trademarks of Intel Corporation in the U.S and/or other countries. USB Type-C and USB-C are trademarks of USB Implementers Forum. HDMI, High-Definition Multimedia Interface are trademarks or registered trademarks of HDMI Licensing LLC.
This email was sent by: StarTech.com, 45 Artisans Crescent, London, Ontario, Canada, N5V 5E9
No longer want to receive these emails? Unsubscribe.