Add some spice to your life with 3 NEW Seasoning Blends and rubs!!
Email sent: Mar 23, 2021 2:00pm
Add some spice to your life with 3 NEW Seasoning Blends and rubs!!
Check Out Our New Tasty Seasoning Blends and Rub!
Starwest's seasoning blends and rubs are designed to enhance the natural flavor of your foods. We've created many authentic and uniquely flavorful blends, all made with our own premium quality herbs and spices.
Organic Apple Pie Spice
Available in 1lb and 4oz 
Ingredients: Organic cinnamon, organic allspice, organic ginger root, organic nutmeg, organic cloves, and organic cardamom seed. SALT FREE!
An aromatic blend of delicious warm spices including cinnamon, ginger, nutmeg, and more. It is perfect for adding flavor to all of your desserts and baked goods. This warm and comforting spice blend can be used for so much more than just apple pie!
Uses:
It can be added to muffins, puddings, fruit crisps, cakes, pies, and cobblers for that wonderful, warm apple taste. 

For a delicious change, add it to pancake and waffle batter, or sprinkle it on French toast, hot cereal, and crumb topping for coffee cake.

Sprinkle over sliced refrigerated sugar cookie dough before baking, or even stir it into applesauce.
Organic Chili Lime Seasoning 
Available in 1lb and 4oz 

Ingredients: Organic Pasilla chili, Himalayan sea salt, organic cane sugar, organic Chipotle chili pepper, organic coriander seed, organic garlic, organic paprika, organic onion, organic cumin seed, organic black pepper, organic cayenne pepper, organic allspice, and organic lime oil.
This tasty blend of lime, chili peppers, and Himalayan sea salt can bring out the flavor of your favorite foods, fruits and veggies. It is great when you want a citrusy zesty flavor, and it can add the perfect balance of zing to food.
Uses:
You can try it with fruits, veggies, meats, poultry, seafood, and salads, adding  a layer of spice into your favorite recipes. 

It is very good on fresh fruit such as pineapple, mango, or watermelon. For a twist, fire up the grill and grill some sliced pineapple or watermelon.

Sprinkle over fresh baked chips and even popcorn for a lighter snack, giving you a tangy and delicious treat.
Organic Cocoa Chili Steak Rub 
Available in 1lb and 4oz 

Ingredients: Organic garlic, organic cumin seed, organic brown sugar, organic Ancho chili pepper, organic black pepper, organic cane sugar, organic onion, and organic cocoa. SALT FREE!
This mildly spicy and slightly sweet cocoa rub is made with Ancho chili peppers and cocoa, along with several other flavorful spices. It adds a wonderful depth of heat and flavor to meats. Adding cocoa to chili lends depth and richness to the dish, making it both more savory and more satisfying. It's a rich rub with a lot of layered flavors- from slightly sweet, to smoky to spicy. Take a walk on the wild side and see how just a cocoa chili rub can infuse an ordinary dish with extraordinary flavor!
Uses:
It is excellent on steaks, and is also delicious on thick chops, pork tenderloin, spare ribs, flank steak, and beef brisket.

You can also add it to chili, and to hearty, thick soups.

Other emails from Starwest Botanicals Inc.
Jun 1, 2021

Are you Sponge Worthy? Take 15% Off Starwest Sea Sponges and Bath Accessories in June!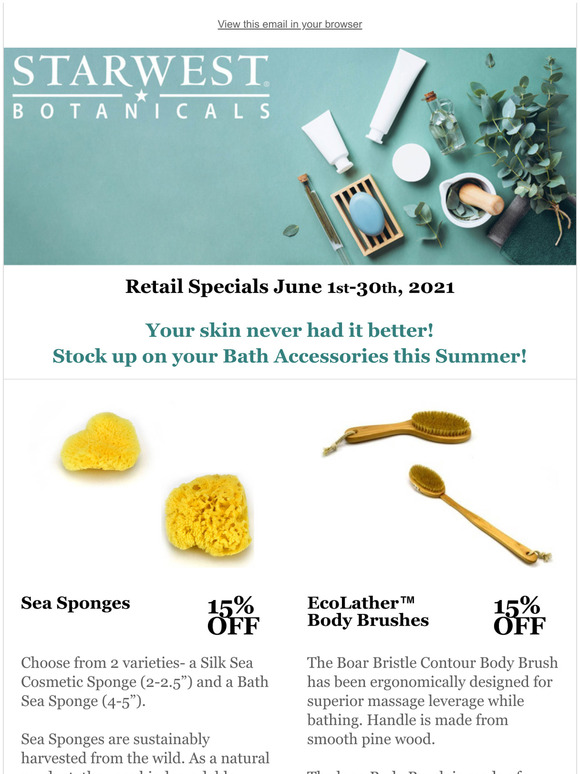 May 25, 2021

Summer's coming but you can still have Spring in the air with our NEW Aroma Mist Diffuser!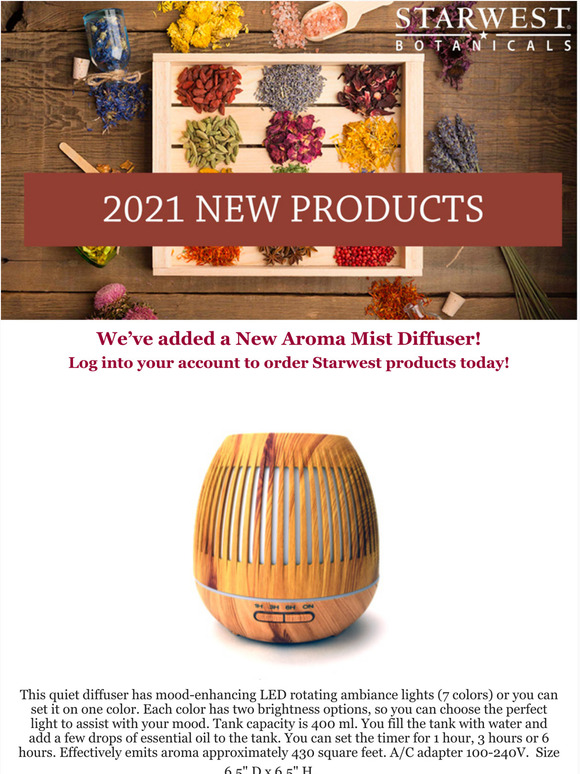 May 18, 2021

Spice up your life with Starwest Herbs and Spices! Introducing 16 NEW varieties in 2021!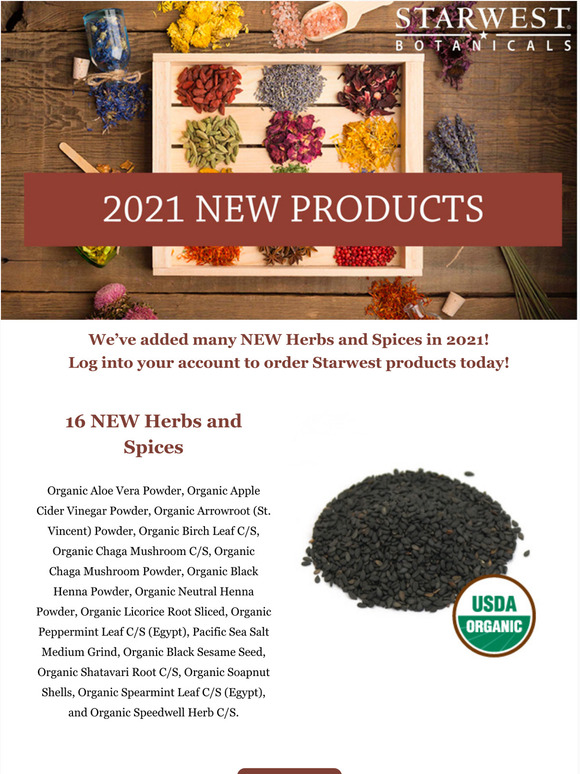 May 4, 2021

May is the time to prove how green your thumb is with Starwest Sprouting Seeds & Accessories! Start small, grow big.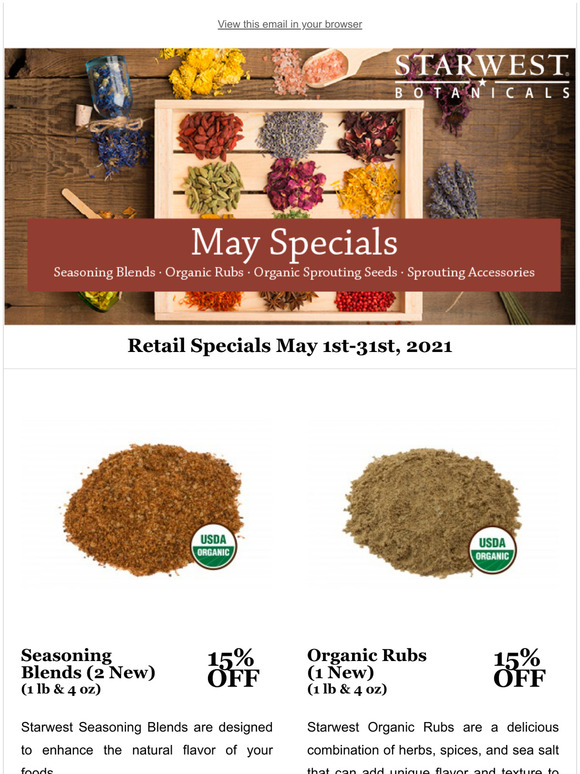 Shop without the noise.
Get our free newsletter of hand-picked sales you need to hear about from the web's best brands.