May is the time to prove how green your thumb is with Starwest Sprouting Seeds & Accessories! Start small, grow big.
Email sent: May 4, 2021 2:02pm
May the Spice Be With You!
Retail Specials May 1st-31st, 2021
Seasoning Blends (2 New)


(1 lb & 4 oz)

Starwest Seasoning Blends are designed to enhance the natural flavor of your foods.
We've created many authentic and uniquely flavorful blends, all made with our own premium quality herbs and spices - perfect to add delicious flavor to a wide variety of your favorite recipes! We also offer many organic and salt-free varieties.
Check out our tasty NEW Organic Seasoning Blends - Apple Pie Spice & Chili Lime!

Organic Sprouting Seeds


(1 lb & 4 oz)

Organic Sprouting Seeds provide a fresh, natural way to supplement one's diet.
Sprouts are baby vegetables in their prime, & they have a greater concentration of nutrients, including protein, vitamins & minerals, & enzymes.
Any of our flavorful Organic Sprouting Seeds can be used in a variety of recipes, including stir-fry, salads, sandwiches, & soups.
You can grow a variety of fresh flavors, while saving time & money.


 

Organic Rubs
(1 New)

(1 lb & 4 oz)

Starwest Organic Rubs are a delicious combination of herbs, spices, and sea salt that can add unique flavor and texture to your meats and seafood.
We've created five uniquely flavorful rubs - All made with our own premium quality organic herbs and spices!
Check out our tasty NEW Salt-Free Organic Cocoa Chili Steak Rub! It's excellent on steaks, thick chops, pork tenderloin, spare ribs, and beef brisket.

 

We offer 3 sprouting accessories, including a Sproutman's® Hemp Sprout Bag & Sprout Chart, and a Sprout Screen.
You can sprout their own homegrown superfoods in the Sproutman's® Sprout Bag made from 100% Organic Hemp. Very simple to use - just dip & hang.
The easy-to-use Sprout Chart is a field guide to growing & eating sprouts - just turn the dial. It includes information on taste & usage, along with color photos.
The Sprout Screen is a stainless steel screen that fits a wide-mouth mason jar. It's heavy duty & long lasting.
Vendor Products
15% Off Ancient Secrets® Himalayan Crystal Tea Light Holders
15% Off Lotus Brands Citronella Outdoor Sticks™
10% Off Quantum®  Health Buzz Away®  Products & Itch Nix Gel

Other emails from Starwest Botanicals Inc.
Apr 1, 2021

Good News! Weve extended the special of our New Organic Blazing Cider! Act Now & Save 15%!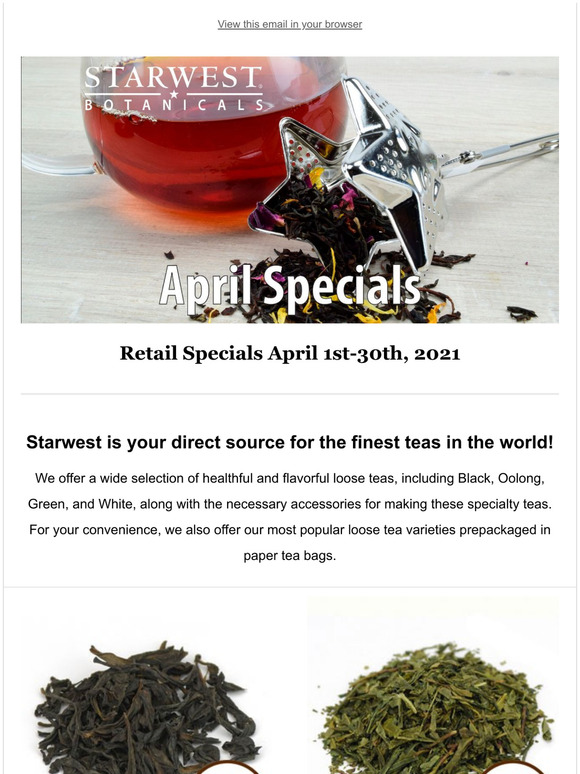 Mar 23, 2021

Add some spice to your life with 3 NEW Seasoning Blends and rubs!!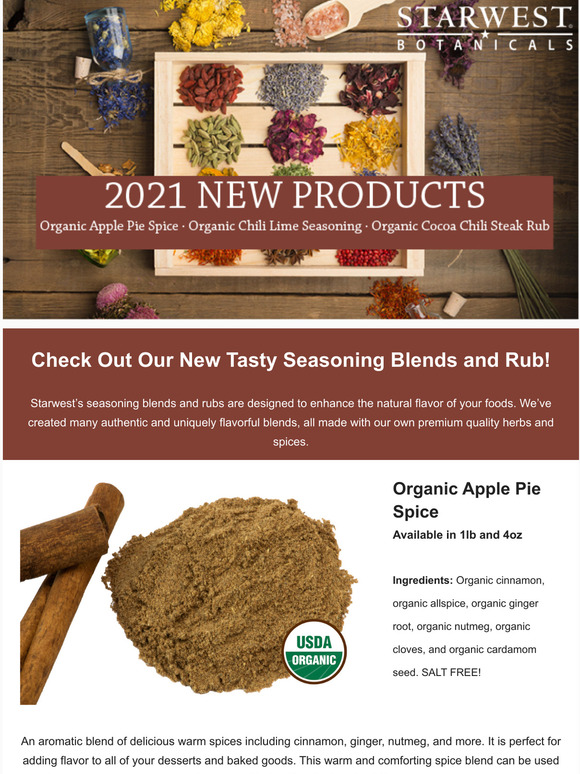 Mar 9, 2021

Be Well - Try our NEW Organic Blazing Cider Blend to Support Overall Health and Well-Being!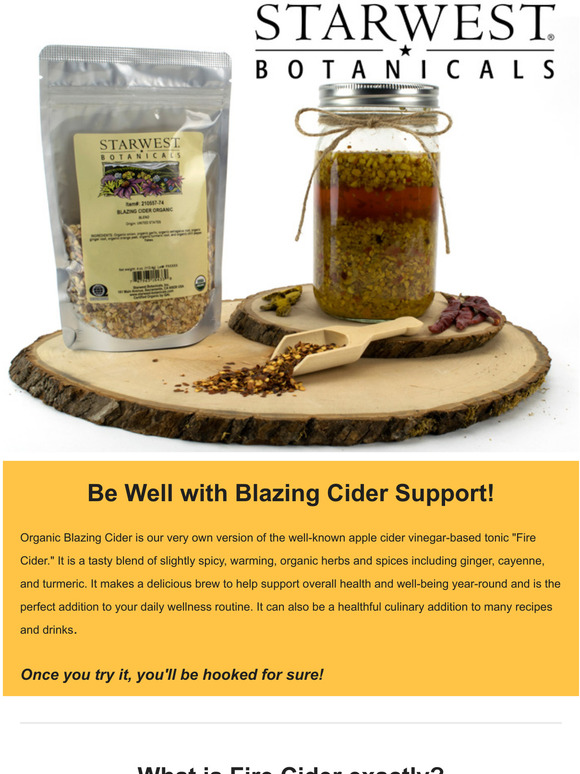 Mar 2, 2021

Act Now! Promote optimum health and stock up on Starwest Organic GreenPower Blends and Triple Probiotic Powder - 15% Off in March!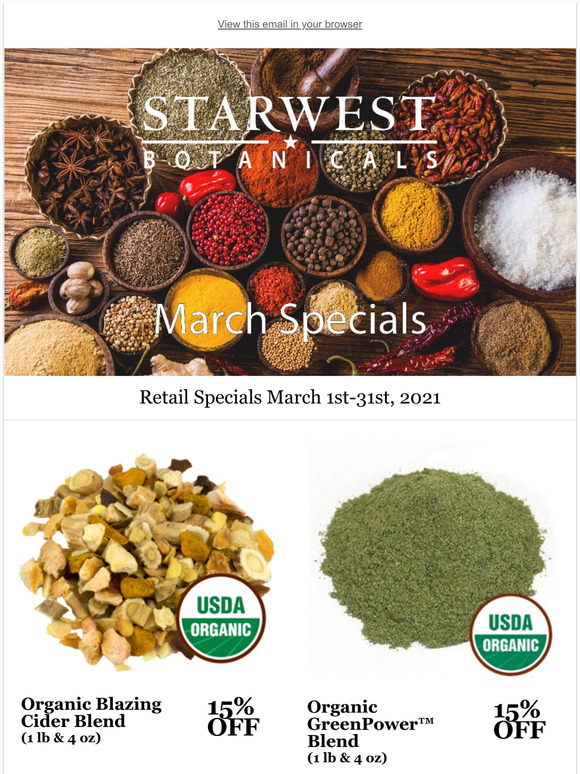 Shop without the noise.
Get our free newsletter of hand-picked sales you need to hear about from the web's best brands.