Learn more about THE TRANSCENDENT ELIXIRS
Email sent: Aug 23, 2021 11:29pm
More on our original elixirs formulated and produced at our sunny Santa Barbara, CA HQ!
ALCHEMICAL MAGIC  
The Power of Sun Potion's Transcendent Elixirs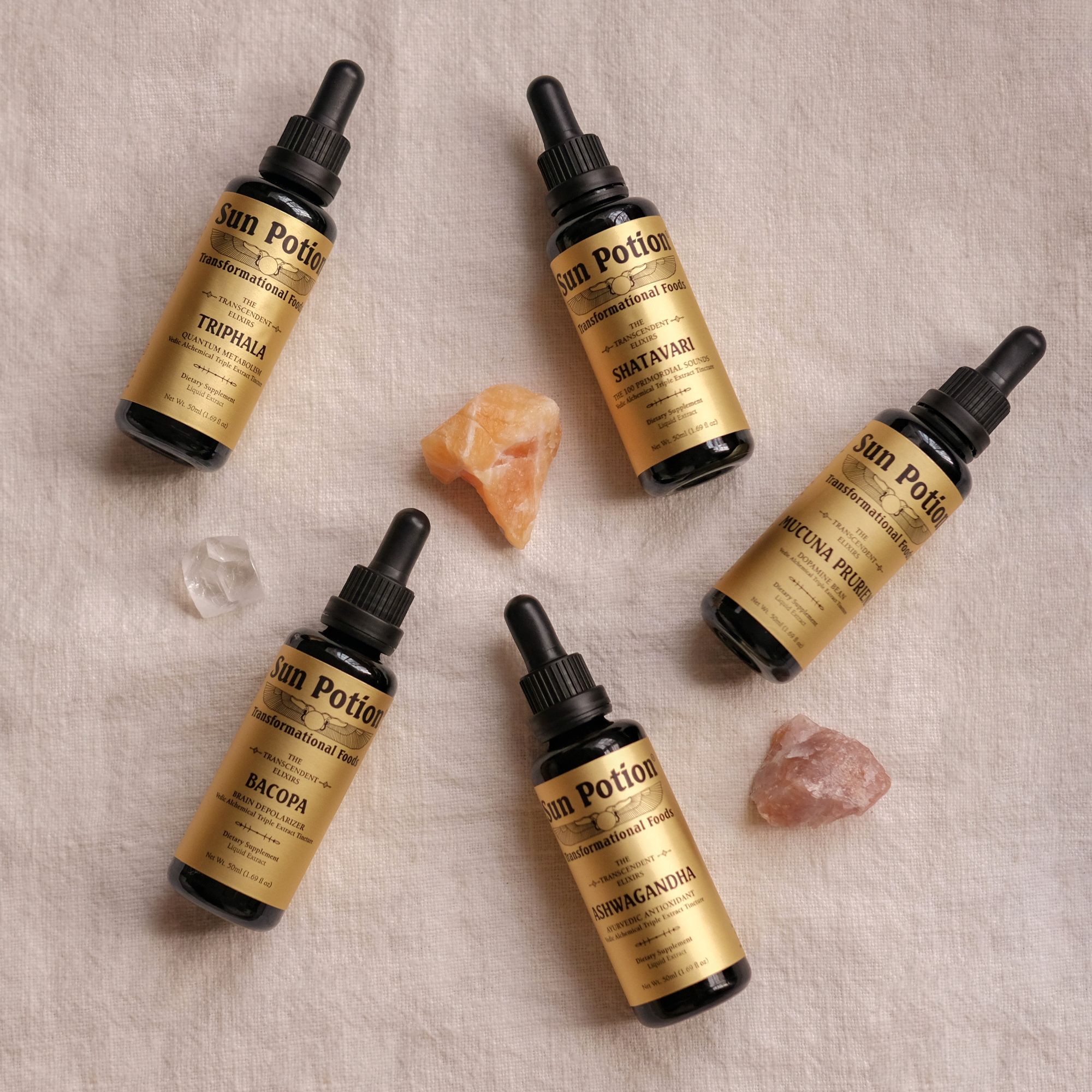 Our line of Transcendent Elixirs is a collection of triple-extract, liquid, Vedic alchemies created to elevate you to another level of well-being and completely nourish you from head to toe. These magical potions made from potent herbs are filled with utterly powerful benefits that have immediate, health-reinforcing effects. Combining three formats of each herb: A Critical C02 Extract, Mineral Ash, and a Hydro-Ethyl Extract for maximum potency. The herb is mixed with organic grape alcohol and our Bio-Active Honey to create a truly magical elixir. From Ashwagandha to support immunity and increase energy to Shatavari to support reproductive health and balance hormones, each of these elixirs is made just for you... and in our founder Scott's words, 
"You will feel it!"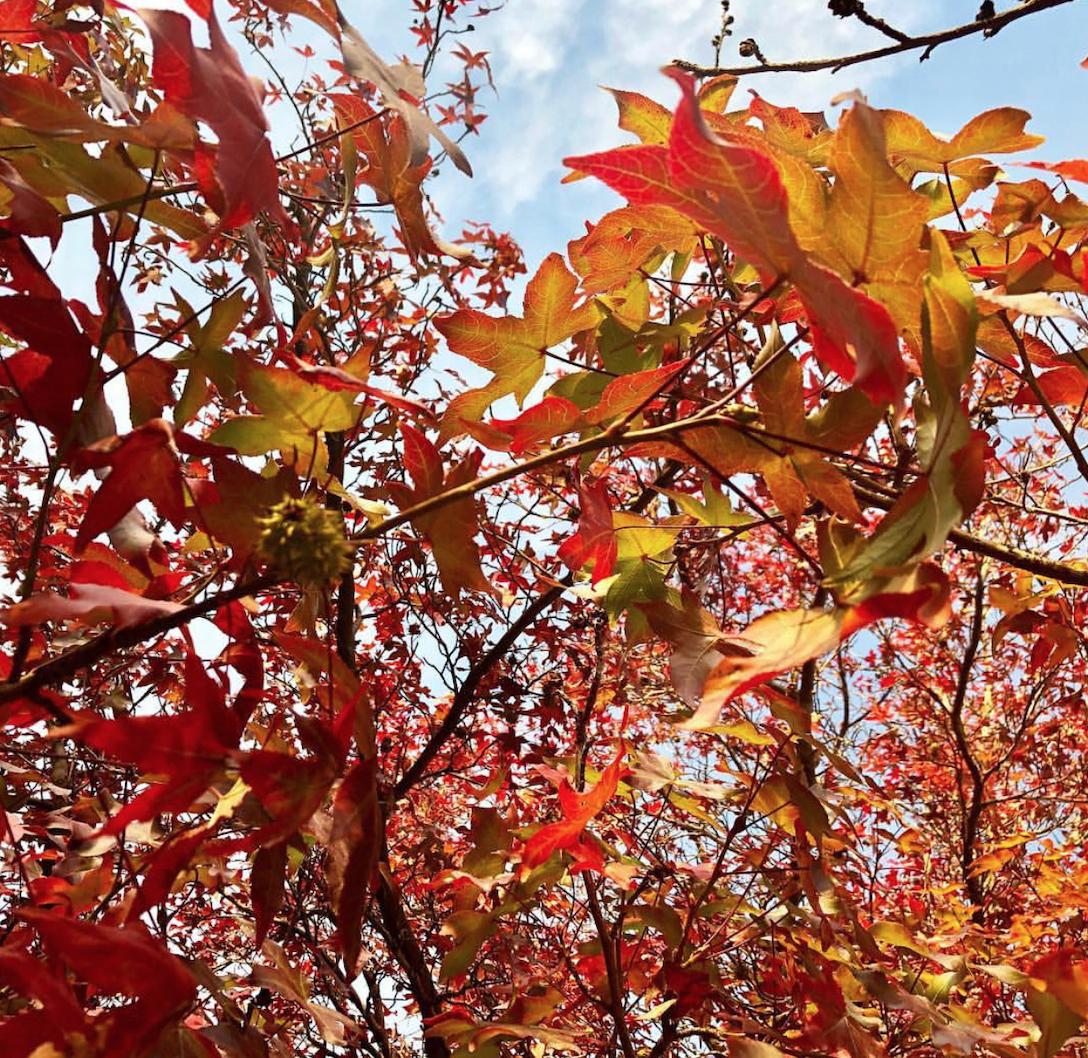 - OUR GUIDE TO THE ELIXIRS -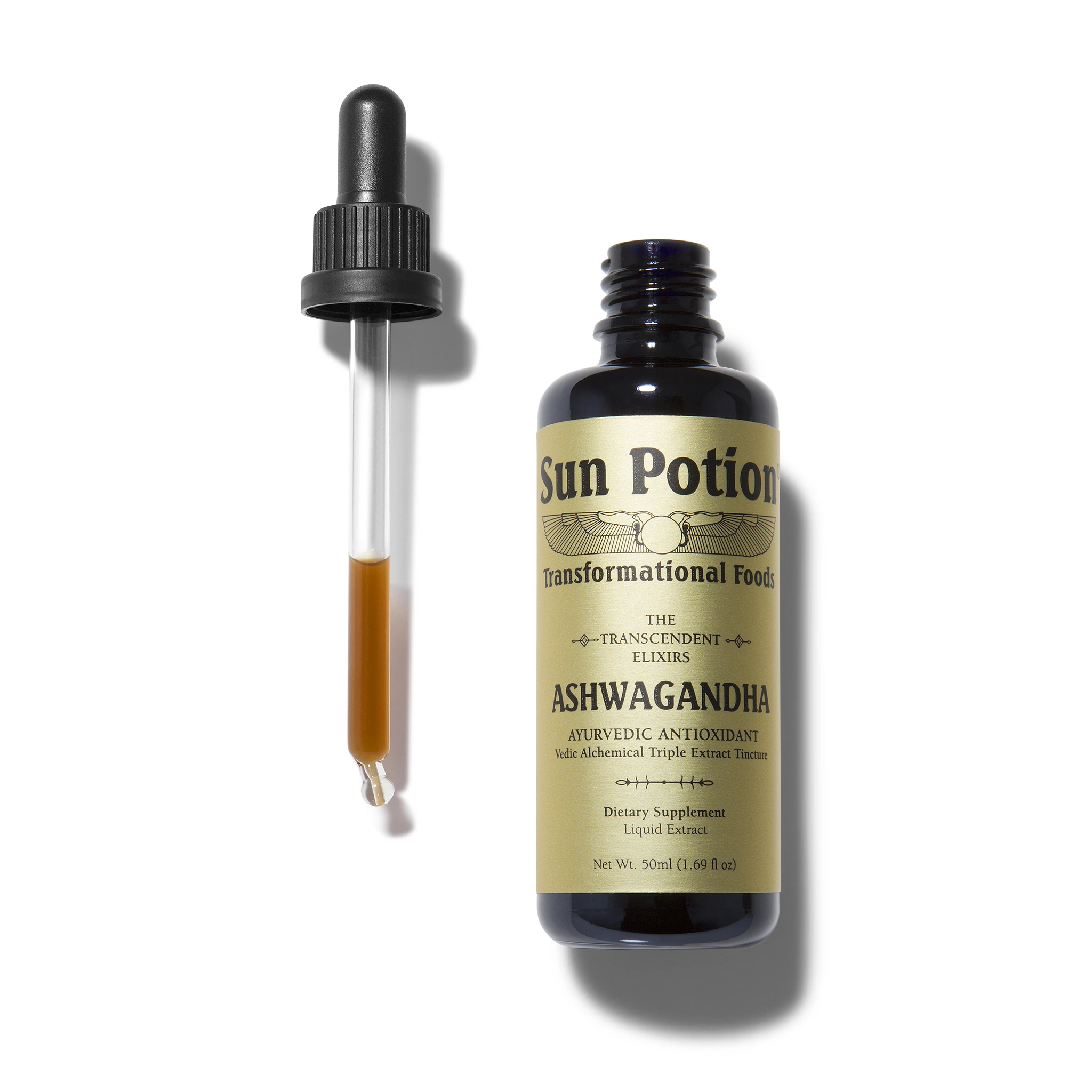 ASHWAGANDHA
Known as the "Bliss Activator," Ashwagandha is a potent tincture made from the Ashwagandha root, an incredibly powerful adaptogenic herb that supports your entire well-being. With it's bliss-enhancing benefits, Ashwagandha may help to elevate your mood, boost creativity, relieve stress, and increase sexual vigor (say no more…) As an adaptogen, it helps your body to manage stress on all levels, which will leave you feeling calm and grounded, no matter what life throws your way.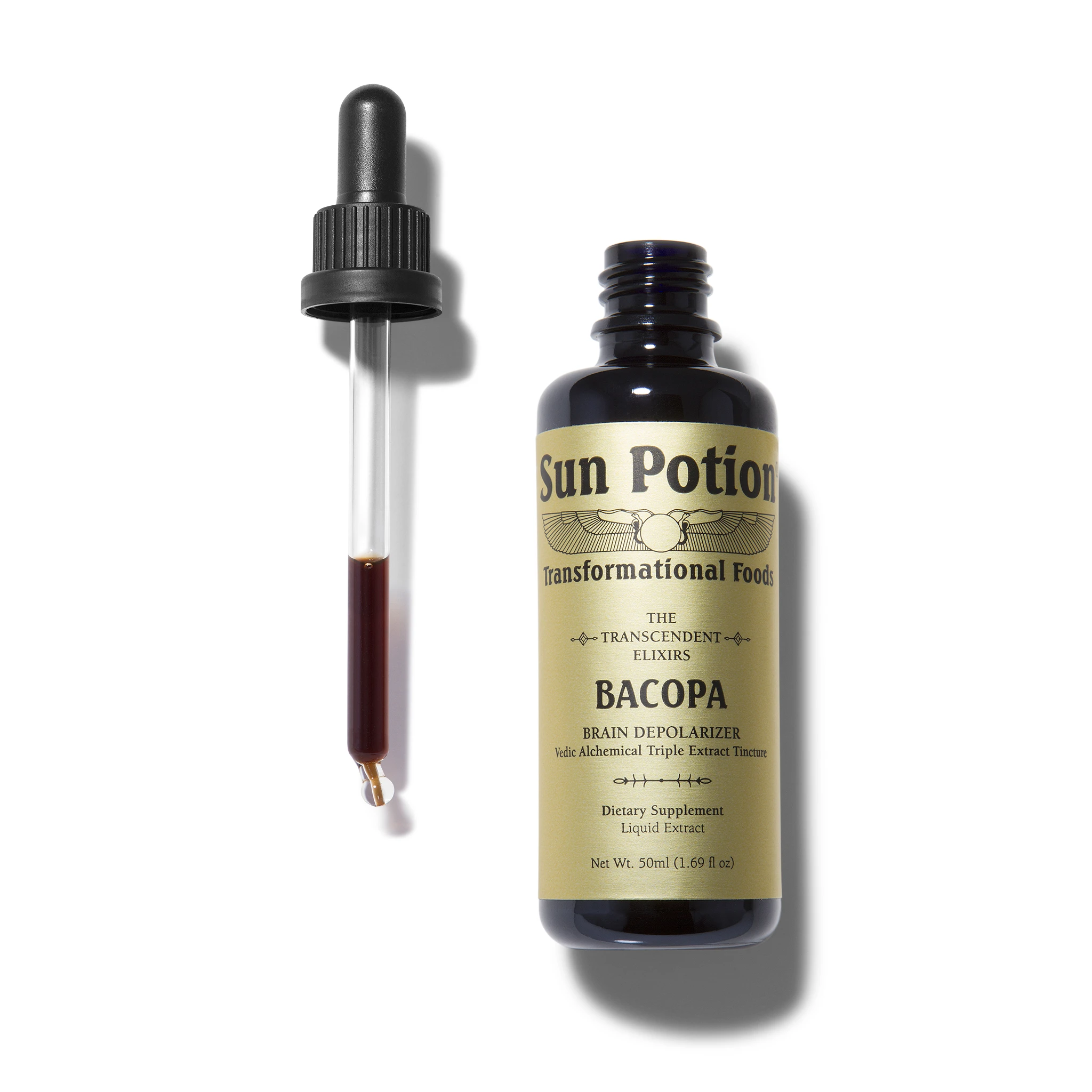 BACOPA
Truly a magical elixir, Bacopa is a potent neuro-protective elixir that may enhance short + long term memory, elevate mood, and support overall brain function. Deriving its named from two saponin compounds called bacosides + bacopasides, Bacopa has the potential to improve cognition, learning, and memory functions within the brain, all of which are essential to staying healthy and adept at all ages of life. If you're ever feeling foggy or like your memory isn't as efficient, whether it be from stress, fatigue, or other factors, Bacopa is the perfect elixir to reach for.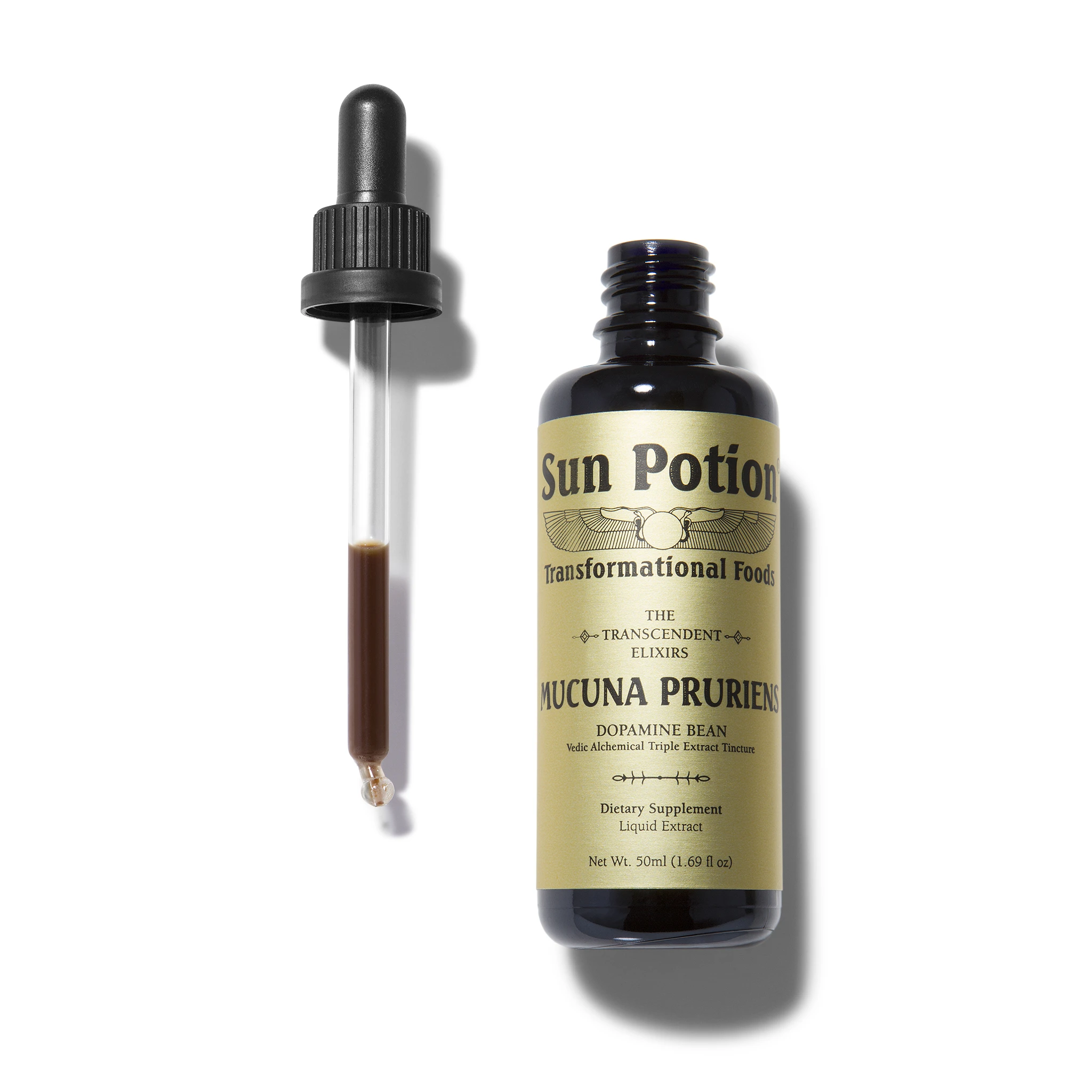 MUCUNA PRURIENS
Made from the Velvet Bean native to Africa, Mucuna Pruriens contains a potent dose of L-Dopa, the immediate precursor to Dopamine. Dopamine is a powerful neurotransmitter also known as the "feel good" molecule. As we transition into the cooler, more yin / introspective months of the year, it's the perfect elixir to help boost your mood if you ever feel the blues coming your way. When taken daily, Mucuna Pruriens may help to enhance mental function, soothe the nervous system, elevate mood, support stress relief, and inspire creativity.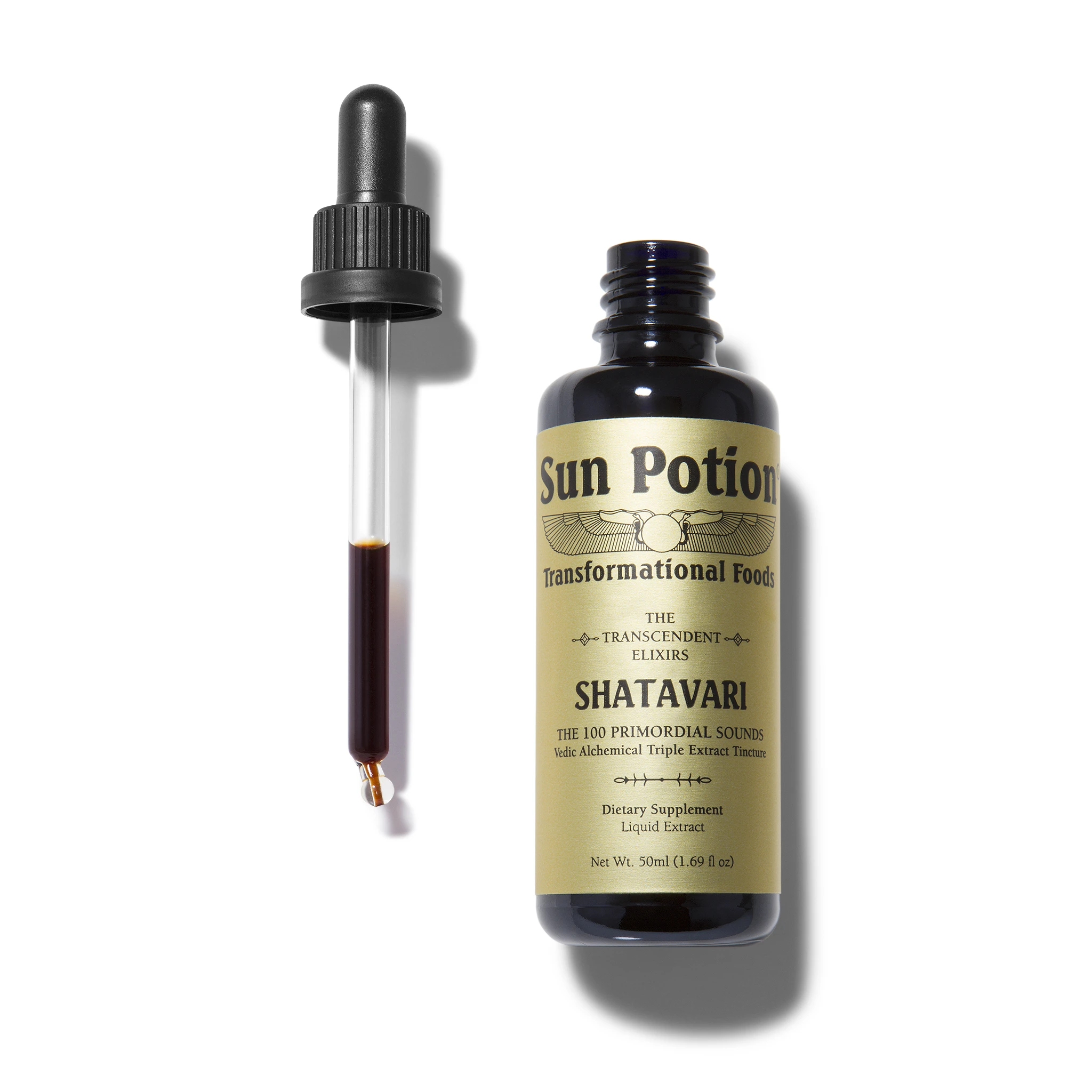 SHATAVARI
A powerful Ayurvedic rejuvenating herb, Shatavari contains so many healing benefits that we appropriately named it the elixirs of 100 Primordial Sounds. Not only may it help your body to decrease stress + inflammation in the system but it may also support reproductive + hormonal health, holds powerful antioxidant prosperity to help prevent free-radical cell damage, and also may help to maintain blood sugar levels, which is essential to keeping our glandular system + hormones healthy and vibrating with utmost balance.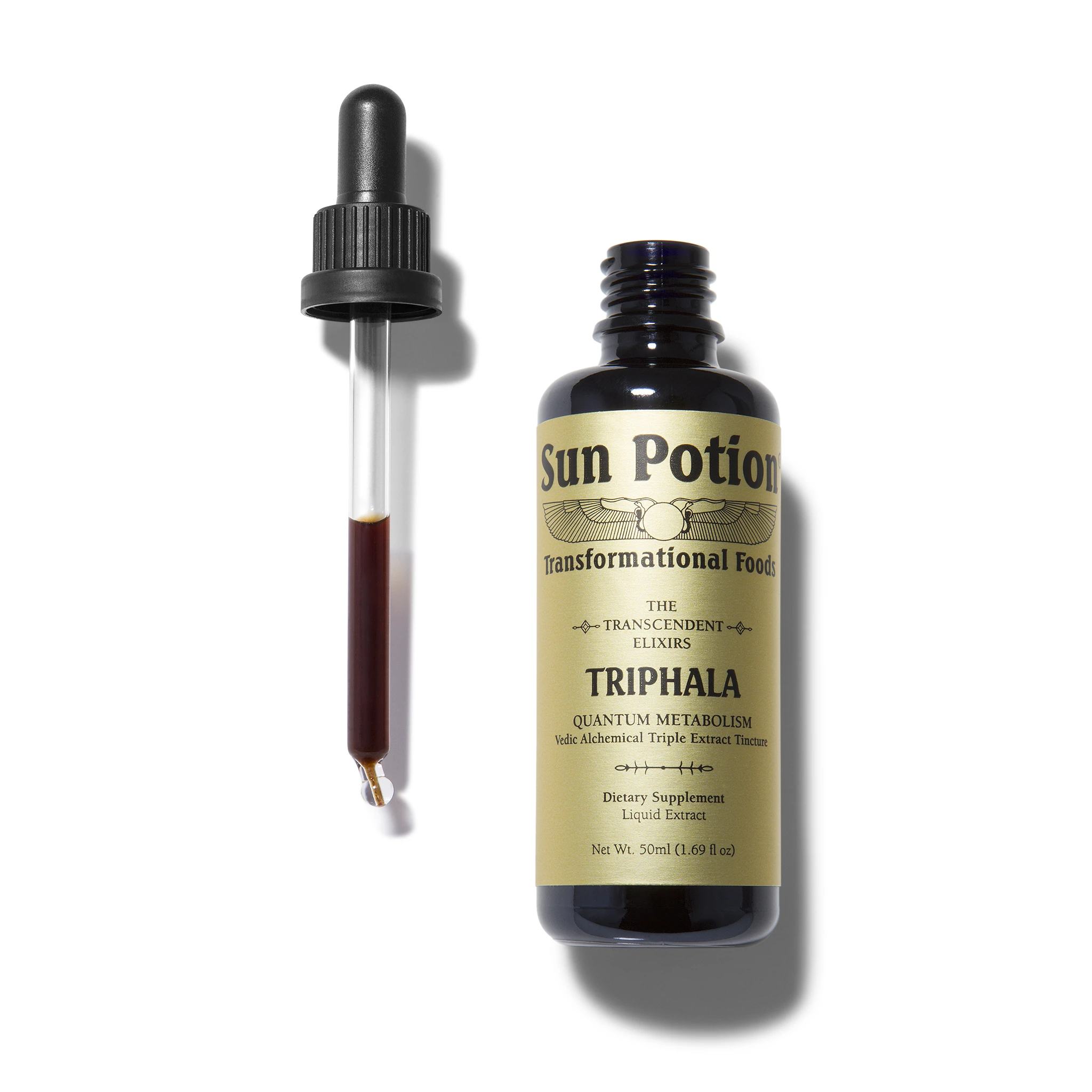 TRIPHALA
The perfect elixir to add into your routine as the seasons change, Triphala is a powerful Ayurvedic digestive tonic. A blend of three potent plants native to India, Triphala may help to support organs of digestion + elimination as well as nourish + cleanse the entire system without stripping away essential nutrients. Adding Triphala into your routine as we transition into the Autumnal month will help to keep things moving smoothly as the seasons dryness can also affect the organs of elimination. And as we know, a healthy elimination system is key to keeping our entire bodies balanced, our digestive systems working optimally, and our skin glowing.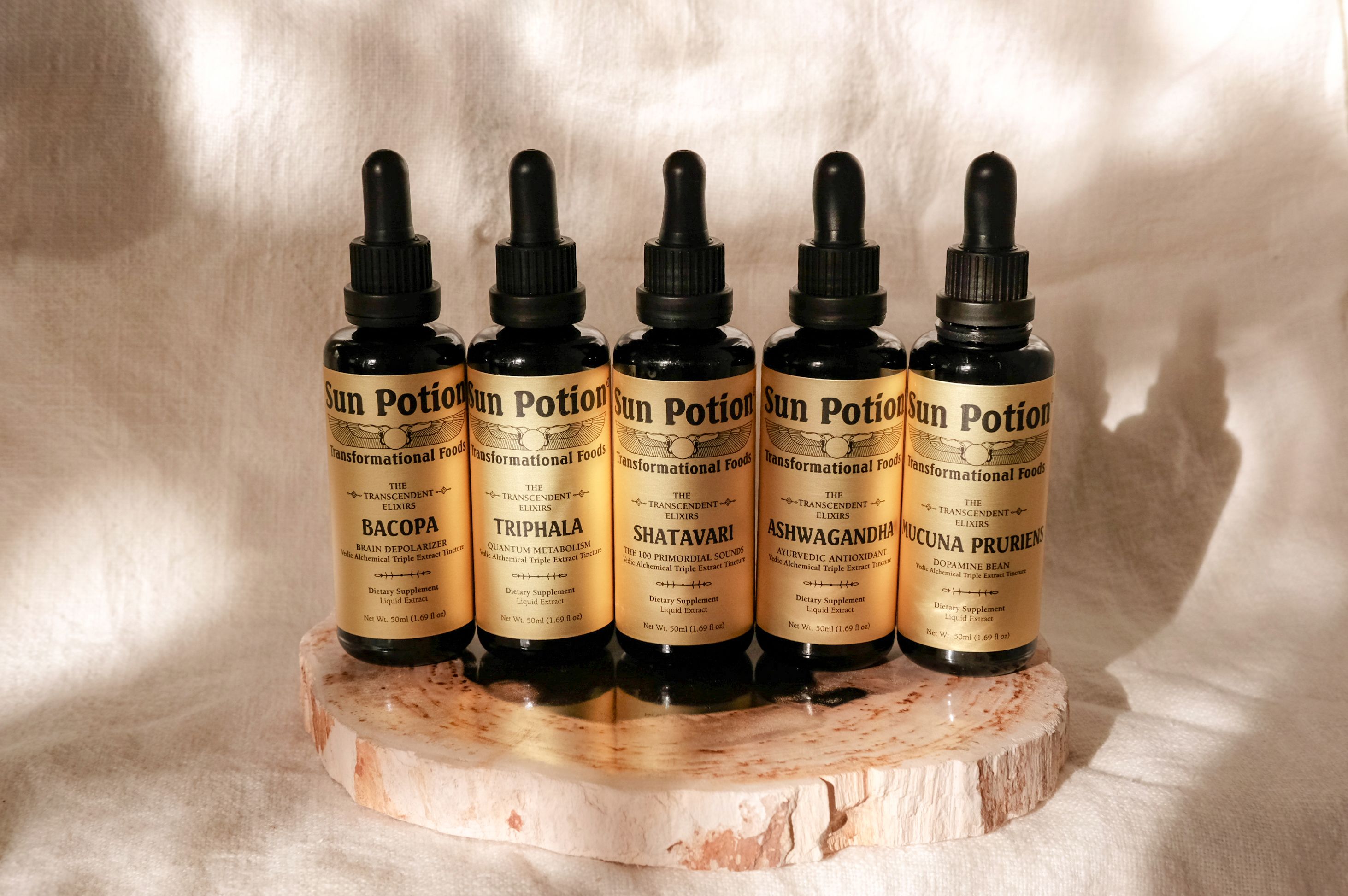 INVITATIONS FOR USE
Add a dropperful  of elixir to warm water, tea, or kombucha for an immediate, energetic upgrade. 
In Joy!
Copyright © 2021 Sun Potion | Transformational Foods, All rights reserved.
Hi! You are receiving this note because you have expressed an interest in Sun Potion.

Our mailing address is:


Want to change how you receive these emails?
You can update your preferences or unsubscribe from this list.



Shop without the noise.
Get our free newsletter of hand-picked sales you need to hear about from the web's best brands.