Audio Industry Legend The Audiophiliac, Sizzling Giveaways, and Live Q&A Highlight SVS Audiophile Happy Hour, This Thursday!
Email sent: Jun 22, 2021 7:15pm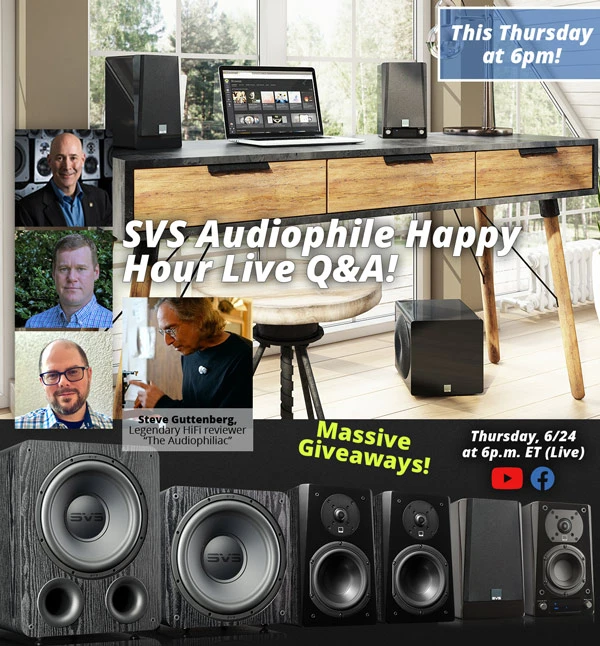 SVS Audiophile Happy Hour Returns This Thursday!
Legendary HiFi reviewer "The Audiophiliac" joins as special guest.
Grab a cold one as the SVS Audiophile Happy Hour returns this Thursday, June 24 at 6 p.m. ET, live on the SVS Facebook page and YouTube channel with massive giveaways, a live Q&A session, and useful home theater tips. Our special guest is a legend from the world of audio, Steve Guttenberg (aka "The Audiophiliac"), who has reviewed gear for CNET, Sound & Vision, Stereophile, and now runs one of the world's most popular YouTube channels dedicated to HiFi reviews and topics!

Giveaways for the evening include, an SVS Prime Wireless Powered Speaker System, Prime Bookshelf Speakers, SB-1000 Pro subwoofer, and an PB-1000 Pro subwoofer. Leave a comment during the live stream and you're eligible. Winners chosen at random and announced live on-air.

We'll also be building a new SVS playlist for the SVS Qobuz and Spotify channels, "Songs to Christen Your Speaker System To." We want to know what songs you put on first after adding new speakers or other gear, so get your suggestions ready! We'll also share the funniest complaints our community has heard from playing their systems too loud based on a series of social posts we did last week.

Be sure to set up notifications on Facebook or YouTube and be ready to tune into the SVS Audiophile Happy Hour this Thursday, June 24, at 6 p.m. ET so you don't miss the fun!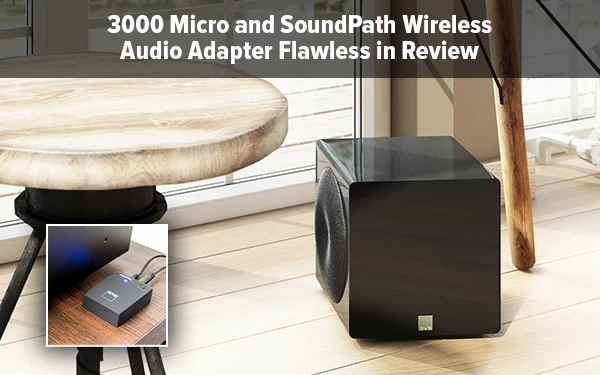 A reviewer from one of the top tech sites in Canada was curious how far the small subwoofer category had come after owning other micro models in the past. After testing the SVS 3000 Micro with a SoundPath Wireless Audio Adapter, he's grinning from ear to ear.
"It is amazing how the sonic assault of a subwoofer this small made me smile. Added depth with enough rumble and kick to boot. Very naturalistic tone. Highly recommend to anybody who craves clean bass and also to those who prefer an unobtrusive sub cabinet."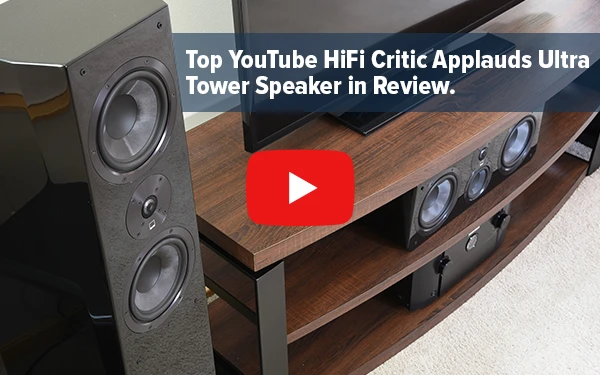 One of the top YouTubers covering all things audio, Joshua Valour, was in the market for new reference speakers and knew he wanted to audition the SVS Ultra Towers. After some extended listening, his search was over.
"The sound of these speakers can be summarized with three "V" words, vivid, vibrant and visceral. It's like listening to music in 4K. You will be rewarded. It will grab you by the balls and take you anywhere you want to go."
Seeking a more immersive and high-impact audio experience while gaming, Dan from Campobello, SC, who also manages the popular Pixelated Gamer website, recently upgraded to a Prime Tower 5.1 speaker system. In this profile, he dives into the importance of heart-pounding bass, surround sound effects and how SVS was able to create gaming experiences that, "…send chills down your spine…and seem a little too real at times." 
@SVS_Sound Featured Instagram Post
Dual SB-1000 subwoofers in stunning Piano Gloss White finish are the sonic foundation for @Tecnoplanet2020, "Sound you can feel never looked so good."
Follow @SVS_Sound on Instagram and tag #soundrevolution for a chance to be featured in an upcoming newsletter.
Easy Monthly Payments on SVS Speakers and Subwoofers.

Shop without the noise.
Get our free newsletter of hand-picked sales you need to hear about from the web's best brands.