Massive Giveaways, Home Theater Tips, and Audio Recording/Mastering Pro on Tap for SVS Audiophile Happy Hour, This Thursday!
Email sent: Aug 9, 2021 5:15pm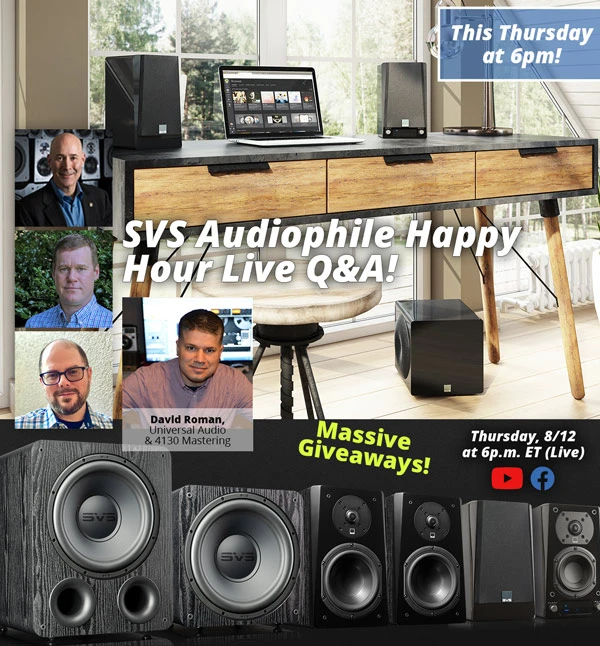 SVS Audiophile Happy Hour Returns This Thursday with Massive Giveaways, Pro Audio Guest, and "Lightning Round" Live Q&A!
Beat the heat with the SVS Audiophile Happy Hour, this Thursday, August 12 at 6 p.m. ET, live on the SVS Facebook page and YouTube channel with massive giveaways, a live Q&A session, and helpful home theater tips.

Our special guest for this week is David Roman of Universal Audio, a company on the cutting edge of recording technology, DSP, and the convergence of analog and digital audio, with products used by the likes of Van Halen, Kendrick Lamar, and many more. Mr. Roman is also founder of 4130 Mastering and will share knowledge about the passion and technology involved in recording music and studio engineering.

Director of Technology, Ed Mullen, will join Gary, Larry, and Nick for the "Lightning Round" with your questions answered live. Giveaways for the evening include, an SVS Prime Wireless Powered Speaker System, SB-1000 Pro Subwoofer, Prime Bookshelf Speakers, and a PB-1000 Pro Subwoofer. Leave a comment during the live stream and you're eligible. Winners chosen at random and announced live on-air.

We'll also be sharing a link to our "Songs to Christen Your System To" music playlist created by the SVS community during our last show.

Be sure to set up notifications on Facebook or YouTube and be ready to tune into the SVS Audiophile Happy Hour this Thursday, August 12, at 6 p.m. ET so you don't miss the fun!
Comparing the new SB-1000 Pro and PB-1000 Pro subwoofers to a crowded field of competition, top AV site Home Theater Review left no doubt about why the new Series from SVS dominates the landscape in their price range and beyond.
"Performed extremely well with testosterone-fueled cinema, room-shaking, thump-in-the-middle-of-the-chest low-frequency pressurization. Both subwoofers beautifully resolved musical bass notes, with excellent attack, decay, sustain, and release. At their price points, there isn't anything I rate higher."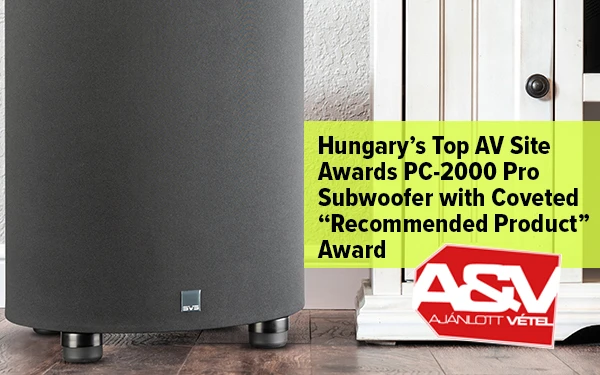 In a detailed review with extensive listening notes, Hungary's most popular AV site found plenty to love about the PC-2000 Pro subwoofer, while awarding it with their most prestigious product award.
"Huge, overwhelming sound pressure, but it remains controlled. Greatly tunable DSP and the possibility of wireless connection. If there is any energy surge that needs to be detonated, the PC-2000 Pro was always ready to go. This subwoofer had us clinging to the armrest."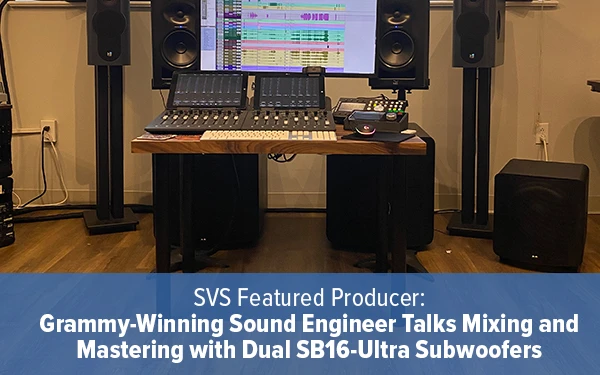 Ben Bloomberg, a PhD graduate of MIT Media Lab and self-proclaimed "creative technologist" (and former Audiophile Happy Hour guest) has been driving innovation for live performances and recorded music for over a decade. With collaborations ranging from Arianna Grande and Bjork to Jacob Collier and the world's first robot opera, Bloomberg has used his genius to delight music fans across the world in new and exciting ways.

In this Q&A, Bloomberg discusses the importance of bass to music, his criteria for choosing audio equipment, and the impact of adding dual SB16-Ultra subwoofers to his studio.

"The 16s have really provided the SPL needed to do a properly calibrated Atmos mixing system. And they did it without sacrificing musicality. The subs really fade away and it feels like I have massive main speakers."
Stunning show of sonic force from @tecnoplanet2020 in Argentina, inspiring the comment "Gravesmente hermoso!!" (Seriously beautiful). No doubt the dual SB16-Ultra add brutal sophistication to the setup.
Follow @SVS_Sound on Instagram and tag #soundrevolution for a chance to be featured in an upcoming newsletter.
Easy Monthly Payments on SVS Speakers and Subwoofers.

Other emails from SVS Home Audio Speakers & Subwoofers
Oct 12, 2021

Featured System Owner Rocks 12 SVS Subwoofers & Blog Debunks Audio Cable Myths!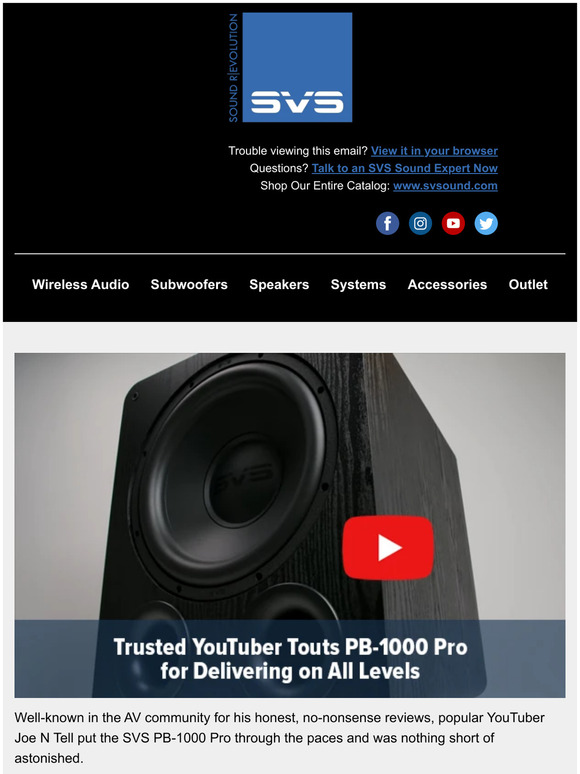 Oct 6, 2021

SVS SB16-Ultra Compared to Muhammad Ali & The Art of Speaker & Subwoofer Placement.
Sep 29, 2021

SVS Audiophile Happy Hour Returns This Thursday with Huge Giveaways & Todd Anderson of AV Nirvana.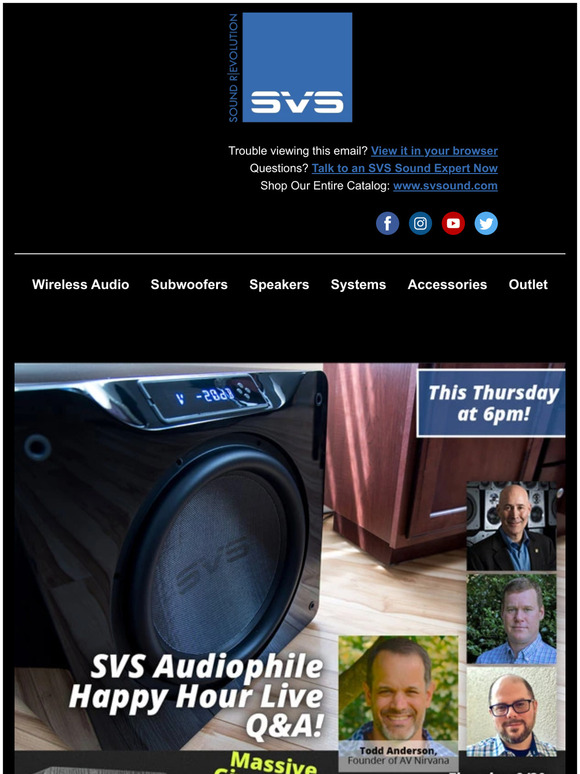 Sep 22, 2021

SVS Ultra Tower Speaker Soars in Review and Video on How to Reduce Subwoofer Room Rattle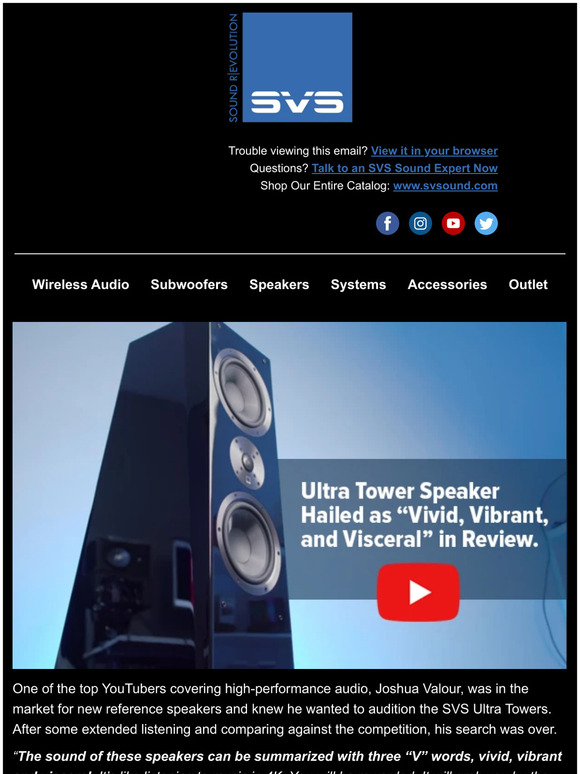 Sep 15, 2021

3000 Micro Touted as Shockingly Deep & Candid Interview with Gary and Nick from SVS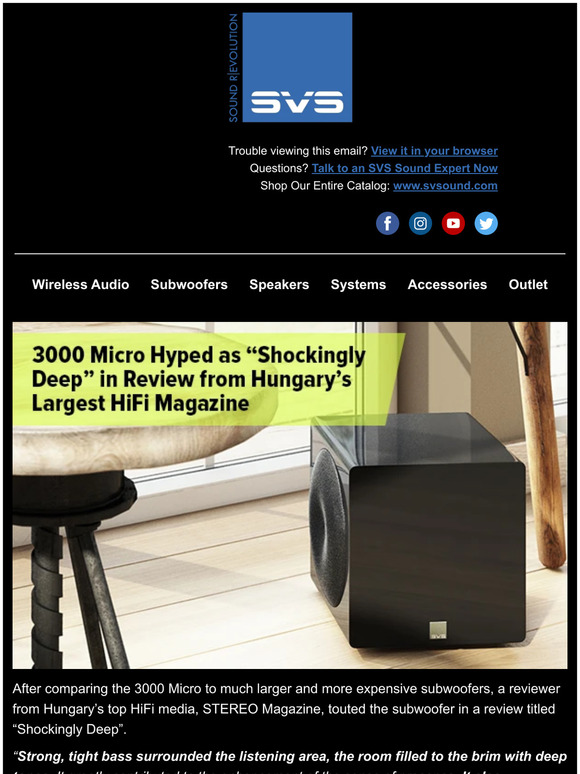 Sep 7, 2021

SVS Audiophile Happy Hour Back This Thursday with Massive Giveaways, Live Q&A and More.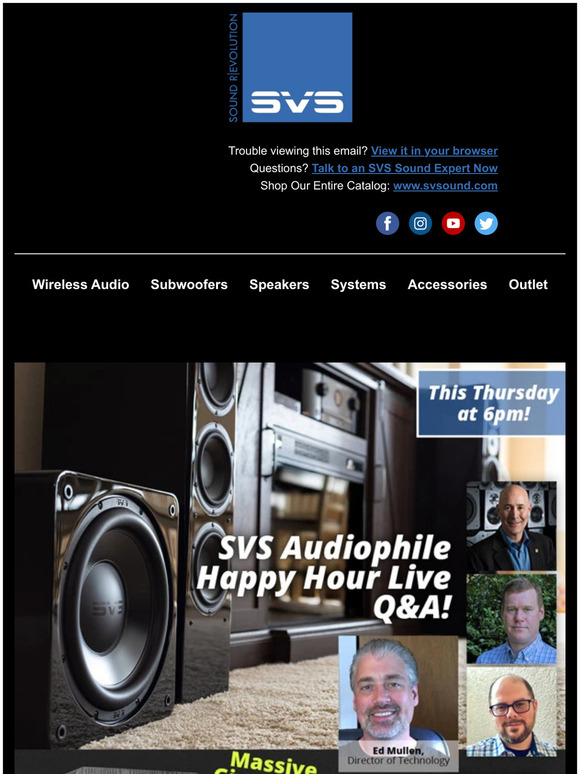 Shop without the noise.
Get our free newsletter of hand-picked sales you need to hear about from the web's best brands.