Opening Day Audiophile Happy Hour with Former MLB Pitcher and Massive Giveaways.
Email sent: Mar 30, 2021 6:15pm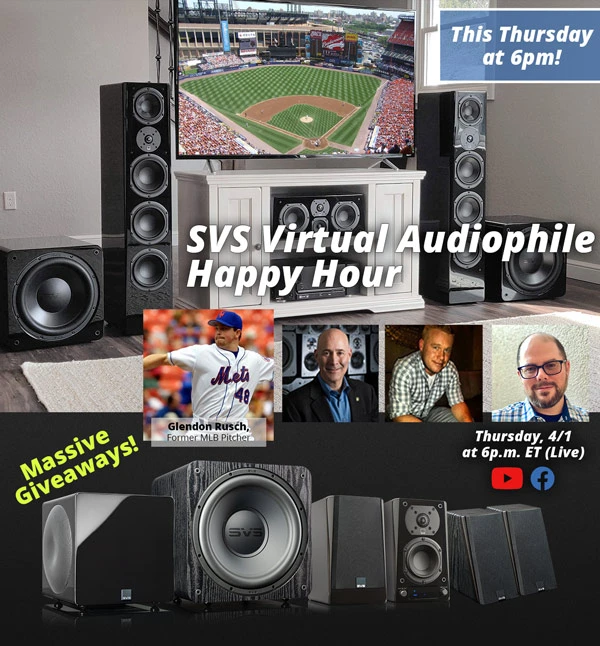 SVS Audiophile Happy Hour Returns with Massive Giveaways and Former Major Leaguer (and SVS owner) Glendon Rusch
It's opening day for major league baseball so we're going to bat with former MLB pitcher and current coach, Glendon Rusch, a 13-year veteran of the big leagues as the SVS Audiophile Happy Hour returns this Thursday, April 1 at 6p.m. ET, live on the SVS Facebook page and YouTube channel! Of course, there will be massive giveaways, home theater tips, and maybe even a couple pranks in honor of April Fool's Day.

Mr. Rusch began his journey with high-performance audio after earning his first major league contract and now runs a pair of SVS Ultra Tower speakers and an SB-2000 Pro subwoofer in his dedicated 2-channel listening room. He'll join Gary, Larry, and Nick to discuss the connection between music and sports, his thoughts on stereo listening vs. home theater surround sound, and more.

Giveaways for the evening include, an SVS Prime Wireless Powered Speaker System, pair of Prime Elevation speakers, a 3000 Micro subwoofer, and an SB-1000 Pro subwoofer. Leave a comment during the live stream and you're eligible. Winners chosen at random and announced live on-air.

Get ready to play ball with the SVS Audiophile Happy Hour and be sure to set up notifications on Facebook or YouTube and be ready to tune in this Thursday, April 1, at 6p.m. ET so you don't miss the fun!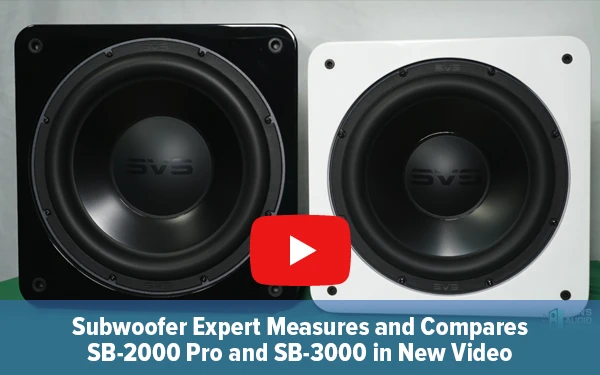 Armed with measurement software and a critical ear, popular YouTube creator, "Erin's Audio Corner", put all his skills to the test in a comparison review of the sealed cabinet SB-2000 Pro and SB-3000 subwoofers. Here's a taste of what he discovered.
"If you're on a strict budget or have room limitations, the SB-2000 Pro is the perfect solution that will give you extreme low frequency extension. The SB-3000 takes it to the next level, infinite bass that will leave you blown away. Either choice is a winner, highly recommend!"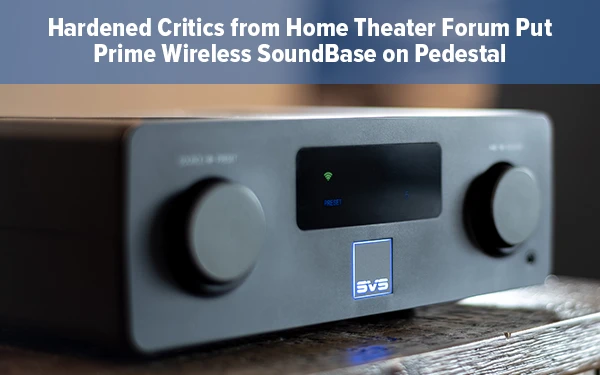 Seeking sonic bliss and simplicity from a wireless component, reviewers from Home Theater Forum found all they wanted and more from the Prime Wireless SoundBase.
"For those of us who have a closet full of audio gear, this is a game changing gadget. I'm not aware of any other competitive products that can match the sheer number of input and output options, clean and powerful sound dynamics, flexibility of setup on wired Ethernet, WiFi or Bluetooth, or even on the handsome, classic, design language that SVS employs."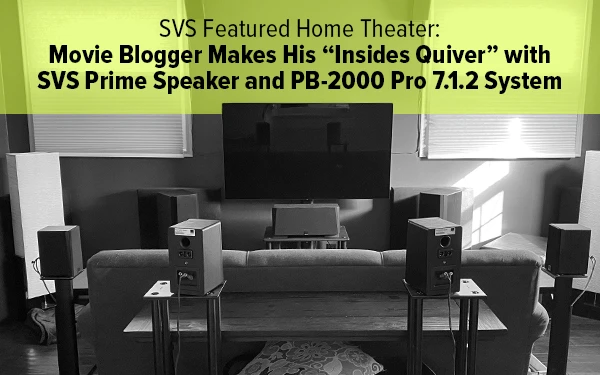 Our latest featured system owner runs a popular movie blog and is on the front lines as an advocate for investing in better audio gear to fully appreciate the artistry in cinema. Learn how he created an immersive "bubble of sound" and what he discovered about subtle and room-shaking bass with help from SVS speakers and a subwoofer in this Q&A.
@SVS_Sound Featured Instagram Post
After introducing dual PC-4000 subwoofers to his living room home theater, @joseph.hall11 proclaimed, "Let there be bass!!!" and it was good.
Follow @SVS_Sound on Instagram
Easy Monthly Payments on SVS Speakers and Subwoofers.
Products Mentioned in this Newsletter

Shop without the noise.
Get our free newsletter of hand-picked sales you need to hear about from the web's best brands.