Rave Review Touts SVS 1000 Pro Series as Best in Class & Blog Covers How to Calibrate Your Subwoofer
Email sent: Mar 12, 2021 1:00pm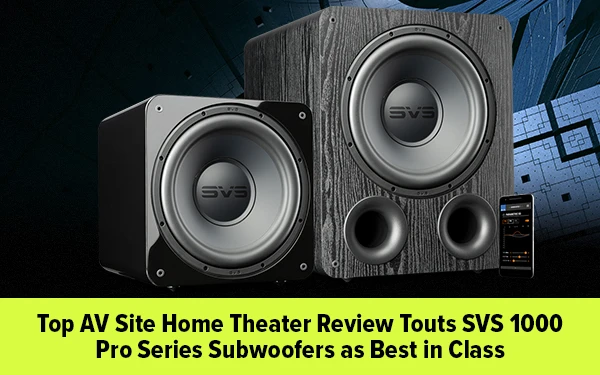 Comparing the new SB-1000 Pro and PB-1000 Pro subwoofers to a crowded field of competition, top AV site Home Theater Review left no doubt about why the new Series from SVS dominates the field in their price range and beyond.
"Performed extremely well with testosterone-fueled cinema, room-shaking, thump-in-the-middle-of-the-chest low-frequency pressurization. Both subwoofers beautifully resolved musical bass notes, with excellent attack, decay, sustain, and release. I highly recommend both the sealed and ported versions of the SVS 1000 Pro Series. At their price points, there isn't anything I rate higher."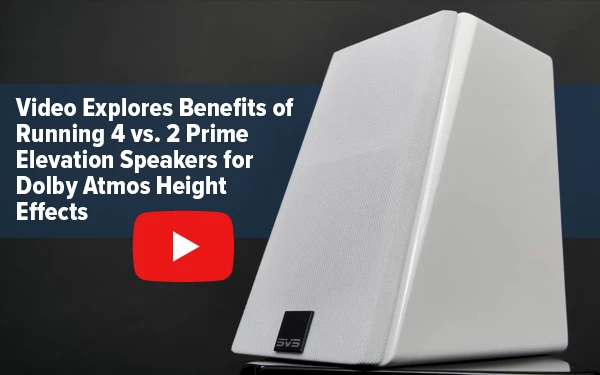 How big of an impact do you get after upgrading from 2 Dolby Atmos height speakers to 4 in a multi-channel surround sound system? The always insightful YouTube creator Joe N Tell explores the difference using SVS Prime Elevation speakers on his ceiling in a new video. Here's an excerpt.
"It definitely had a major impact on sound that was panning from front to back. What surprised me most though was that it actually provided a lot more spatial awareness. Even content that's upmixed just seems more spacious and bigger sounding, music included. It's definitely a worthy upgrade if you have the space to do it."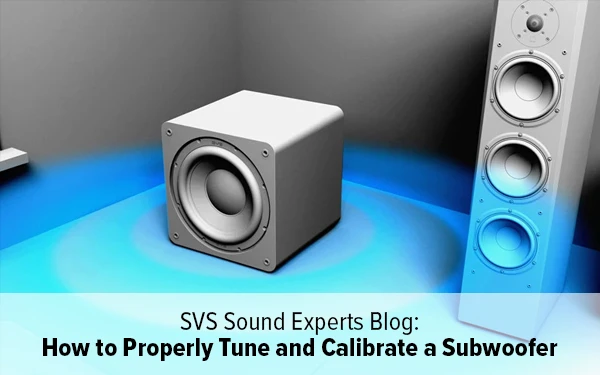 Proper tuning of a subwoofer makes a huge difference in performance. To get you started, we created a simple guide detailing the steps for both multi-channel home theaters with an AV receiver and 2-channel systems.
Hailing Prime Pinnacle as among the "Best Overall Floorstanding Speakers", @tmsaudio offered this scorching take, "In terms of sound, value and design, they just crush it. We adore the audio quality, which manages to be both breathtakingly powerful and surprisingly articulate, handling heavy dance and hip-hop as easily as they handle delicate folk music. These are the best floorstanding speakers you can buy for the price."
Follow @SVS_Sound on Instagram
Easy Monthly Payments on SVS Speakers and Subwoofers.
Products Mentioned in this Newsletter

Other emails from SVS Home Audio Speakers & Subwoofers
Oct 19, 2021

SVS Audiophile Happy Hour Back This Thursday with Big Giveaways and Playoff Talk with MLB Pitcher/SVS Owner Glendon Rusch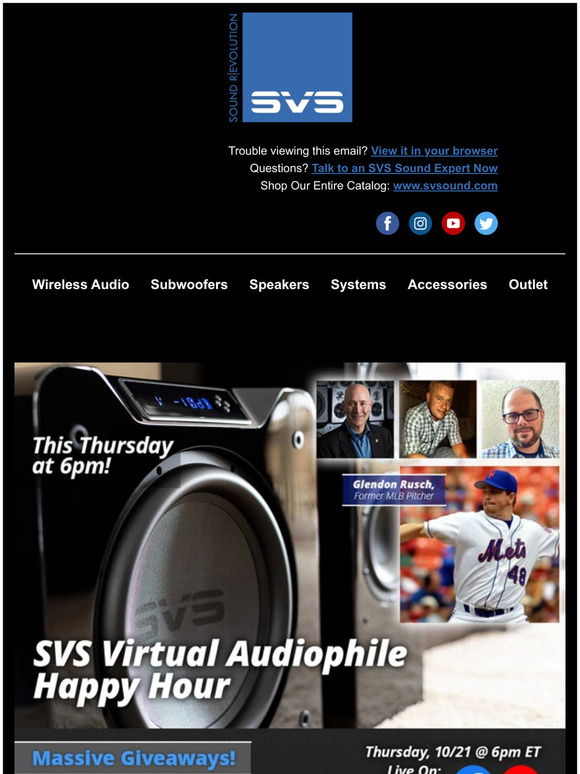 Oct 12, 2021

Featured System Owner Rocks 12 SVS Subwoofers & Blog Debunks Audio Cable Myths!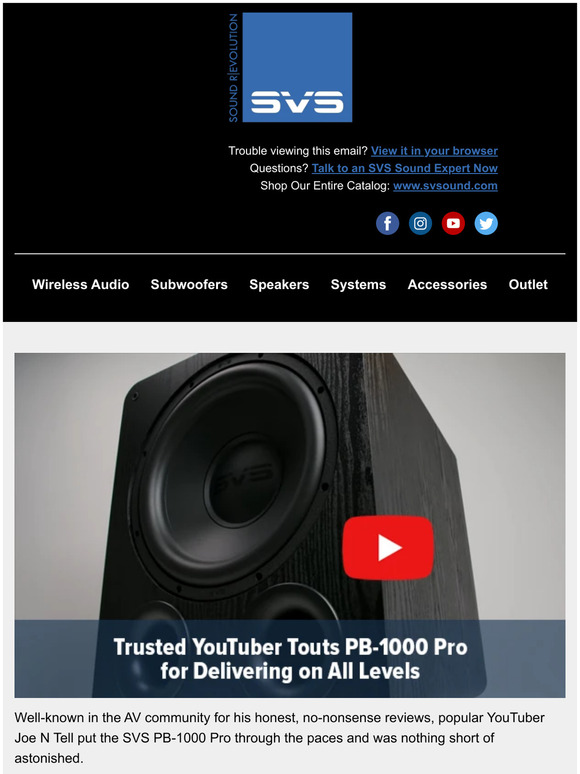 Oct 6, 2021

SVS SB16-Ultra Compared to Muhammad Ali & The Art of Speaker & Subwoofer Placement.
Sep 29, 2021

SVS Audiophile Happy Hour Returns This Thursday with Huge Giveaways & Todd Anderson of AV Nirvana.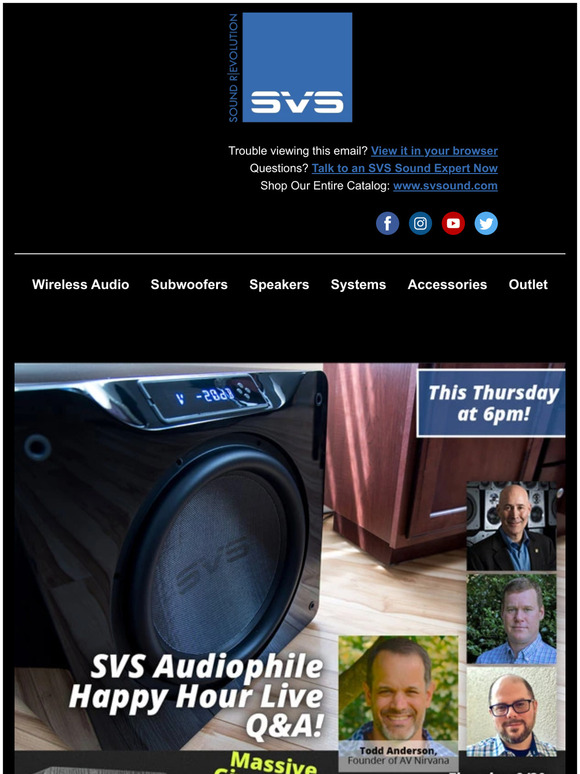 Sep 22, 2021

SVS Ultra Tower Speaker Soars in Review and Video on How to Reduce Subwoofer Room Rattle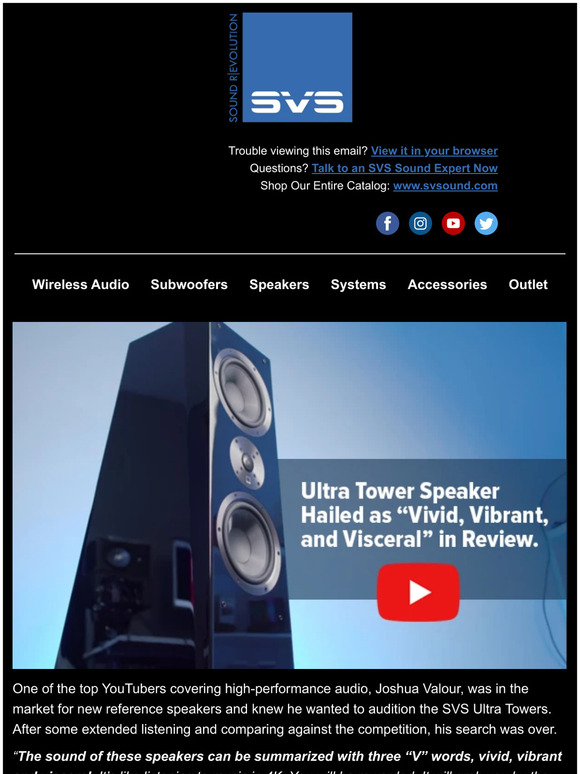 Sep 15, 2021

3000 Micro Touted as Shockingly Deep & Candid Interview with Gary and Nick from SVS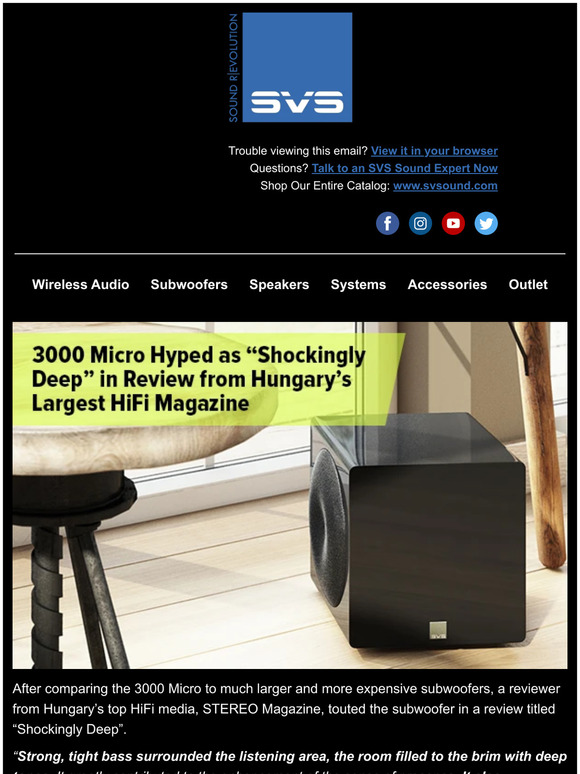 Shop without the noise.
Get our free newsletter of hand-picked sales you need to hear about from the web's best brands.