Shop the SVS Black Friday Subwoofer Deal & Save Extra When You Go Dual
Email sent: Nov 23, 2021 5:30pm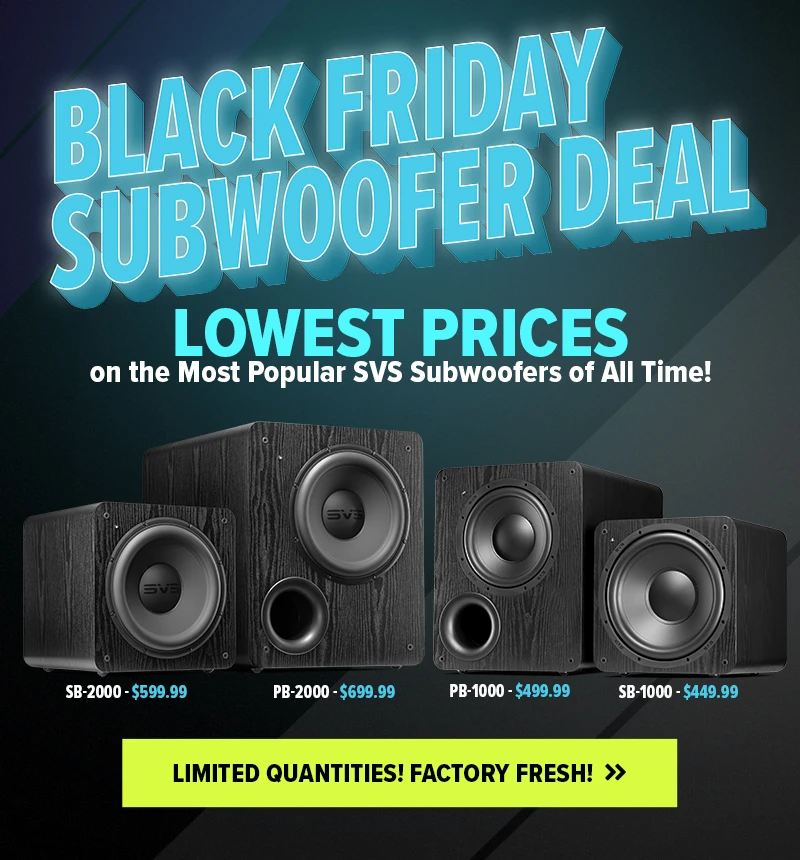 Black Friday is hitting hard! For the first time ever, the legendary SVS 1000 and 2000 Series subwoofers are on sale at the lowest prices you'll find, starting right now! Newly built, the acclaimed SB-1000 and SB-2000 sealed cabinet models and PB-1000 and PB-2000 ported cabinet models are available for a seismic Black Friday deal, but only while supplies last!
· Factory Sealed and Newly Manufactured
· Handsome Black Ash Finish
· Fast & Free Shipping
· Industry Best 5-Year Unconditional Warranty
· Extremely Limited Supply!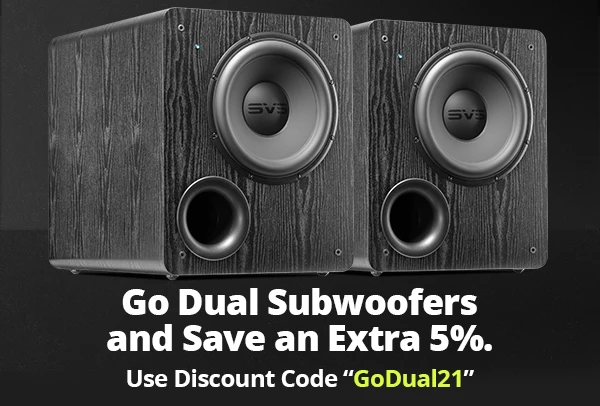 As a one-time deal, receive an extra 5% off when you go dual with any SVS 1000 or 2000 Series subwoofers. Just use the discount code "GoDual21" when checking out to unleash the ultimate bass experience at a groundbreaking value!
To learn more about the benefits of running multiple subwoofers, check out our blog post and video, Why Go Dual?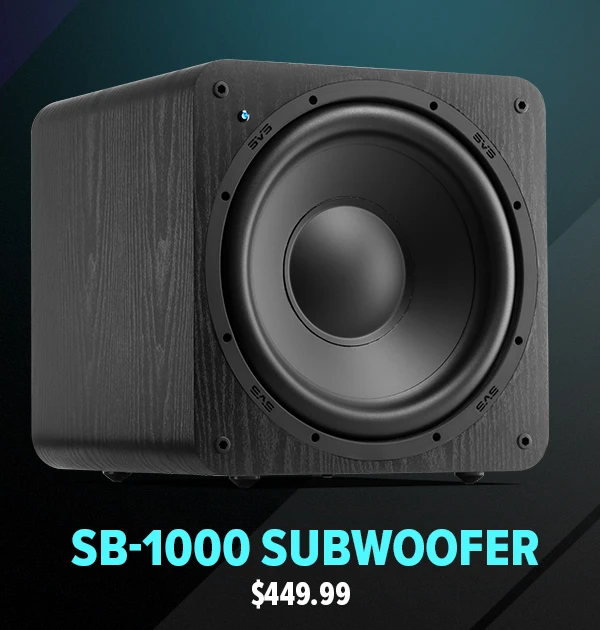 Extreme depth and output of a world-class subwoofer from a compact 13" cabinet that fits in any room. You simply won't find a better performing subwoofer close to the size or price.
"Compact, accurate, and offers satisfyingly deep bass for both movies and music. Nothing matches SVS in terms of value for money." -CNET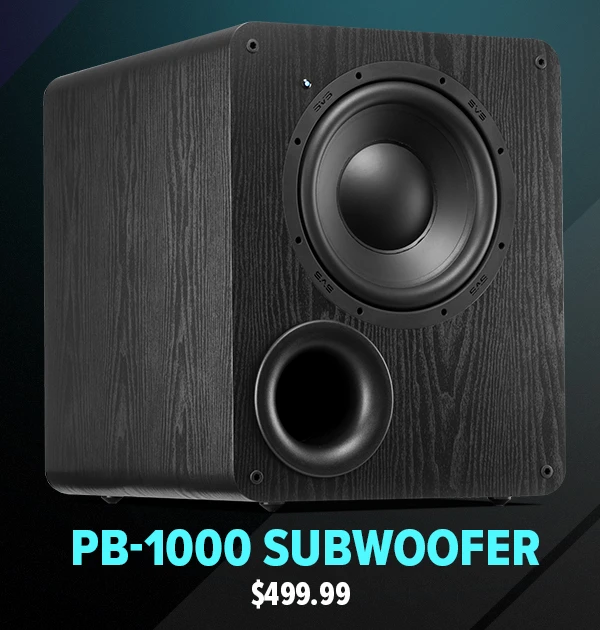 Massive output and low frequency extension to 19Hz and below at a fraction of what subwoofers with similar performance specifications sell for.
"Subterranean bass shook my room. Hit with such force that I could literally feel the impact in my chest—man I love bass! Highly Recommended!" -Sound & Vision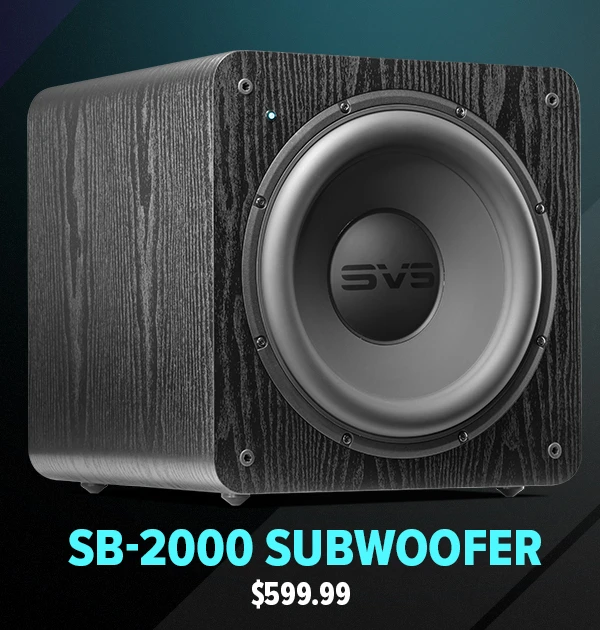 The most popular SVS subwoofer of all-time is musical, well-balanced powerhouse that digs below 20Hz and blends with any speakers. Powerful enough to energize a space with deep and effortless bass yet compact enough to fit into any décor.
"Ridiculously impressive -- very fast, very tight, and very deep, with enough output to fill my room. Difficult to believe such a small box was delivering such impressive bass." -Soundstage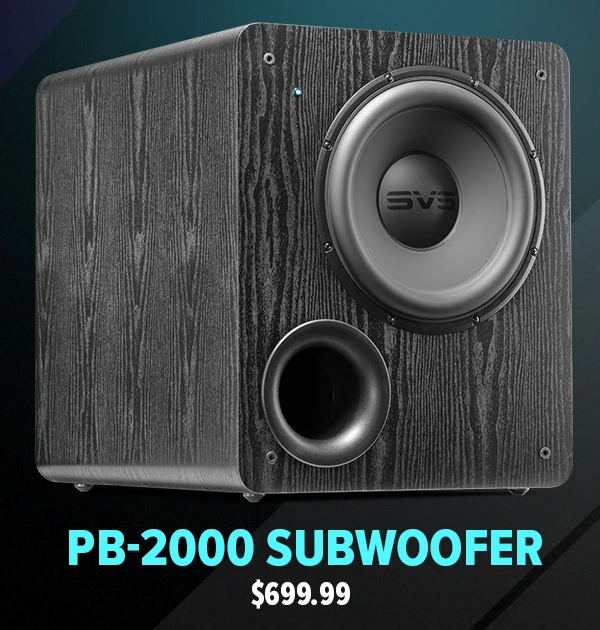 Demolishes all performance benchmarks while outclassing more expensive subwoofers in every way. The ported subwoofer delivers room-shaking, heart-pounding output down to 17Hz with accuracy and precision.
"Textbook definition of great home cinema bass; deep, clean and fast, and easily integrated with your speaker system. A peerless bass generator." -Home Cinema Choice
Sealed vs. Ported Subwoofers – Which is right for you?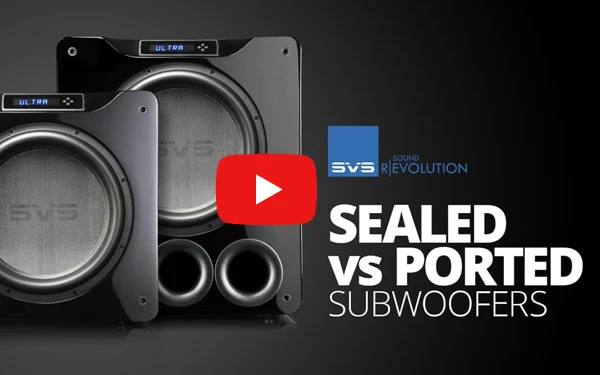 Not sure if a sealed or ported cabinet subwoofer is a better for you? Check out our SVS Sound Experts article and video on Sealed vs. Ported subwoofers for useful insights on the benefits and unique qualities of each.
Get the Best Performance Possible with SVS SoundPath Accessories!
Pristine Connection Between Subwoofer and Components
Pure copper conductors with 24K gold plated brass connectors and five-layer dielectric insulation system in the SVS SoundPath RCA Audio Interconnect Cable maintain pristine signal transfer between subwoofers and audio components so your system always sounds its best.
Reduce Cable Clutter and Expand Placement Options
The SVS SoundPath Wireless Audio Adapter adds wireless connectivity to your subwoofers, speakers, amplifiers and more. Transmits a pristine, full-range audio signal up to 65' at CD-quality (16-bit/48KHz) to reduce cable clutter and expand placement options 
Cleaner, Tighter Bass with No Room Rattle
The SVS SoundPath Subwoofer Isolation System works with nearly every subwoofer brand and model to improve bass performance while drastically reducing floor and wall vibrations, noise artifacts and complaints from neighbors or roommates.
Easy Monthly Payments on SVS Speakers and Subwoofers.
Shop without the noise.
Get our free newsletter of hand-picked sales you need to hear about from the web's best brands.