SVS Audiophile Happy Hour Back with Big Giveaways and Home Theater Tips!
Email sent: Aug 24, 2021 6:15pm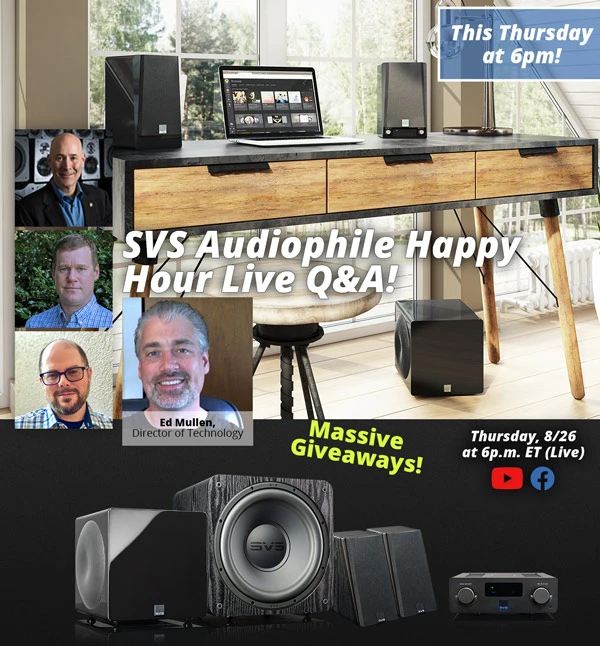 SVS Audiophile Happy Hour Returns This Thursday with Big Giveaways and "Lightning Round" Live Q&A!
Grab an ice-cold beverage as the SVS Audiophile Happy Hour returns this Thursday, August 26 at 6 p.m. ET, live on the SVS Facebook page and YouTube channel with massive giveaways, a live Q&A session, and useful home theater tips. Director of Technology, Ed Mullen, will join Gary, Larry, and Nick for the festivities and to help with the extended "Lightning Round" of your questions answered live. 

Giveaways for the evening include, an SVS SB-1000 Pro Subwoofer, Prime Elevation Speakers, Prime Wireless SoundBase, and a 3000 Micro subwoofer. Leave a comment during the live stream and you're eligible. Winners chosen at random and announced live on-air.

Be sure to set up notifications on Facebook or YouTube and be ready to tune into the SVS Audiophile Happy Hour this Thursday, August 26, at 6 p.m. ET so you don't miss the fun!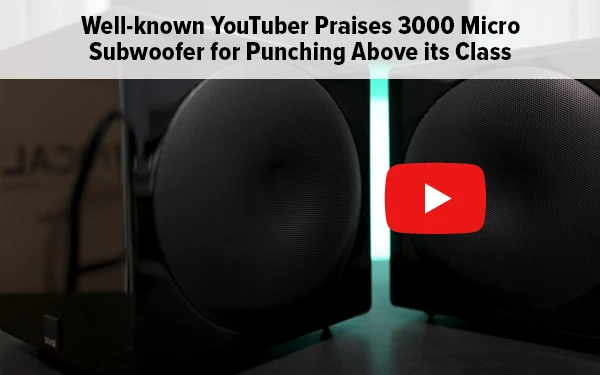 The popular "Sparechange Reviews" has published videos about the flagship SVS PB16-Ultra subwoofer and several other reference caliber models, so he wasn't sure what to expect after bringing in the much more compact 3000 Micro for review. Now, he knows.
"Did a wonderful job rumbling my room when watching movies. Also a great option for a 2-channel setup. Performs much bigger than its size and definitely doesn't disappoint. Well done, SVS!"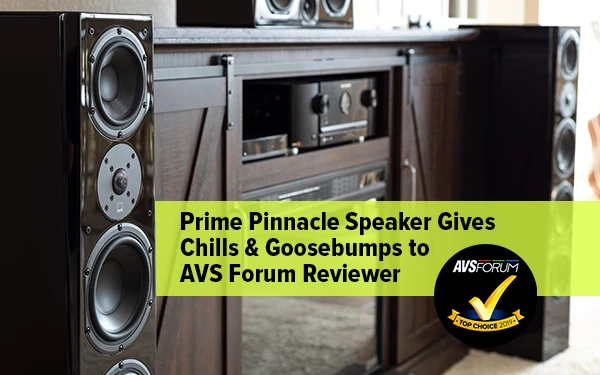 In a review where the SVS Prime Pinnacle was honored as an AVS Forum "Top Choice" by the trusted home theater site, the tower speaker caused a physical reaction during the review process and earned its place among the finest audio products in the world.
"Pristine, detailed sound with an enveloping soundstage that transcends the boundaries of the room and has palpable three-dimensionality. I got chills and goosebumps. No doubt Prime Pinnacle is one of the top speakers of the year."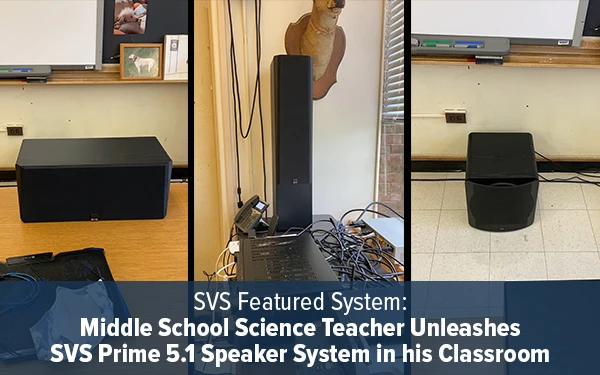 7th grade Middle School teacher Jeremy B. from our home state of Ohio believes music and immersive audio plays a role in helping students learn. After upgrading his classroom with an SVS Prime 5.1 speaker system, including an SB-3000 subwoofer, he discovered, "The students are more relaxed and engaged, and at the end of the day, their achievement is increased. And it just makes things more fun!"
Pristine piano gloss black finish of 3000 Micro subwoofers on display from @sparechangereviews, who proclaims, "They sound a lot bigger than you'd expect!"
Follow @SVS_Sound on Instagram and tag #soundrevolution for a chance to be featured in an upcoming newsletter.
Easy Monthly Payments on SVS Speakers and Subwoofers.
Other emails from SVS Home Audio Speakers & Subwoofers
Oct 6, 2021

SVS SB16-Ultra Compared to Muhammad Ali & The Art of Speaker & Subwoofer Placement.
Sep 29, 2021

SVS Audiophile Happy Hour Returns This Thursday with Huge Giveaways & Todd Anderson of AV Nirvana.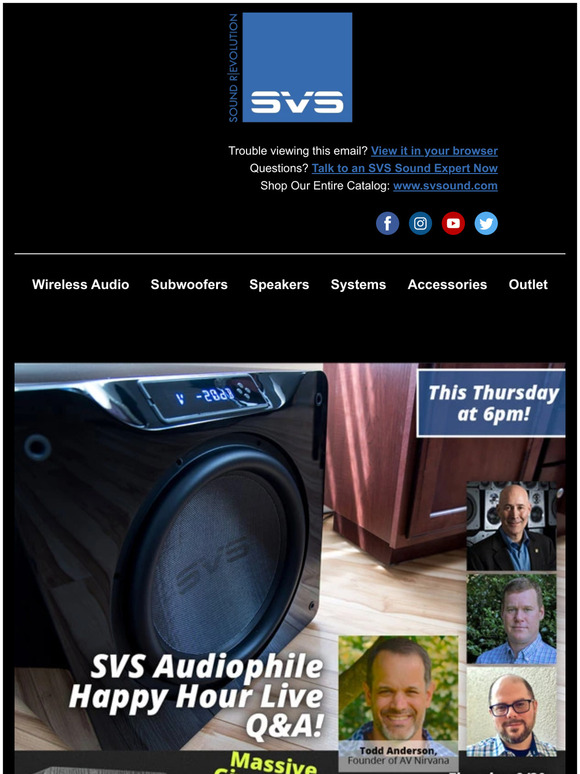 Sep 22, 2021

SVS Ultra Tower Speaker Soars in Review and Video on How to Reduce Subwoofer Room Rattle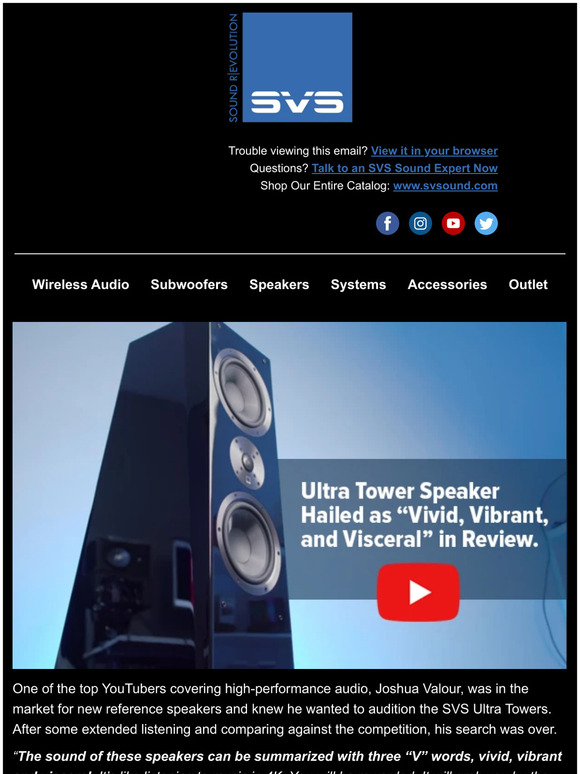 Sep 15, 2021

3000 Micro Touted as Shockingly Deep & Candid Interview with Gary and Nick from SVS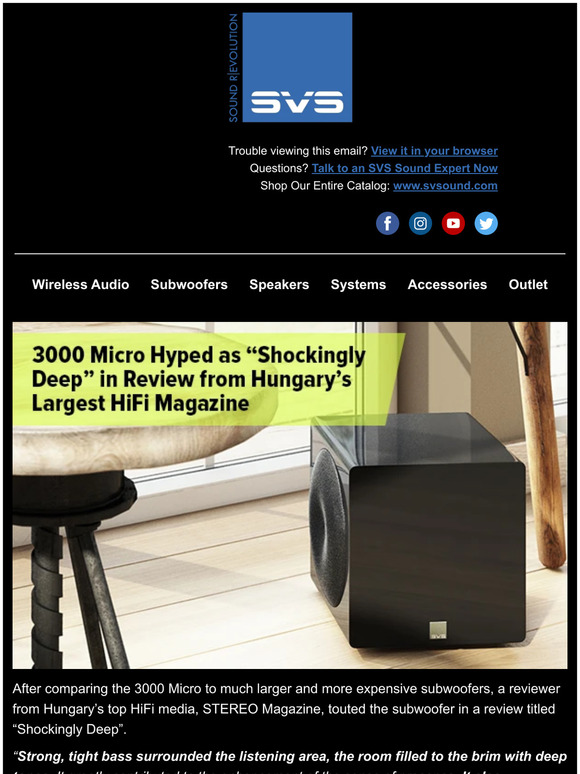 Sep 7, 2021

SVS Audiophile Happy Hour Back This Thursday with Massive Giveaways, Live Q&A and More.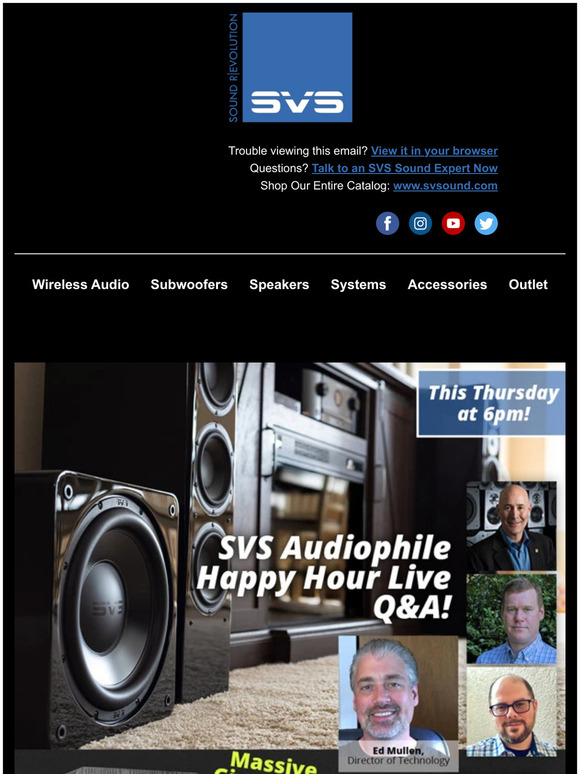 Aug 31, 2021

SVS Labor Day Outlet Store Blow-out Event Starts Now! Up to 40% off Speakers and Subwoofers.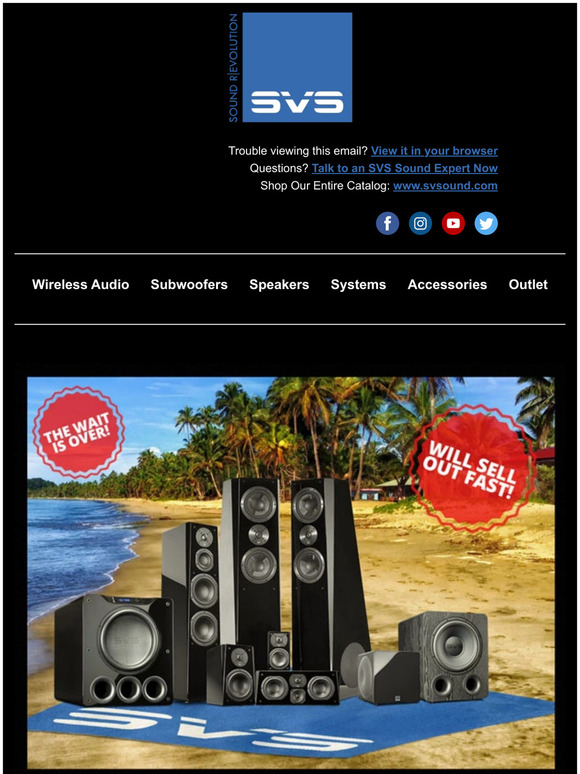 Shop without the noise.
Get our free newsletter of hand-picked sales you need to hear about from the web's best brands.