SVS Audiophile Happy Hour Returns This Thursday with Huge Giveaways & Todd Anderson of AV Nirvana.
Email sent: Sep 29, 2021 6:15pm
SVS Audiophile Happy Hour Returns with Generous Giveaways and Top 5 Movie LFE Demos with AV Nirvana Founder.
Get your Oktoberfest drinks ready for the SVS Audiophile Happy Hour, this Thursday, September 30 at 6 p.m. ET, live on the SVS Facebook page and YouTube channel with massive giveaways, a live Q&A session, and useful home theater tips. Our special guest will be Todd Anderson, founder of the popular AV Nirvana news and reviews site. Todd will be discussing his top 5 most brutal LFE movie tracks of all time, AV receiver technology from his recent reviews, and more.
Gary, Larry, and Nick will be joined by Ed Mullen for a "Lightning Round" of your questions answered live so come ready to learn! Giveaways for the evening include, Prime Bookshelf Speakers, an SB-1000 Pro Subwoofer, Prime Wireless Powered Speakers, and to wrap things up, a PB-1000 Pro subwoofer with SVS SoundPath Isolation System. Leave a comment during the live stream and you're eligible. Winners chosen at random and announced live on-air.
Be sure to set up notifications on Facebook or YouTube and be ready to tune into the SVS Audiophile Happy Hour this Thursday, September 30, at 6 p.m. ET so you don't miss the fun!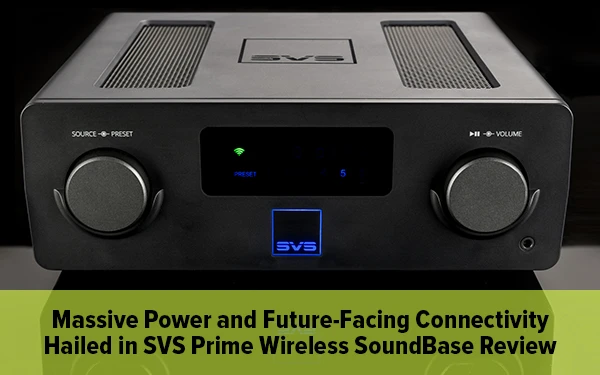 The longest-running home theater podcast, HT Guys, took on an SVS Prime Wireless SoundBase smart, connected amplifier to see how well it would perform with a variety of speakers in a desktop setting.     
"The SVS Prime Wireless SoundBase brings speakers into the connected era with enough power to drive anything from bookshelf to towers. Strong booming bass crystal clear audio and a lot of power. A great addition to any music lover's setup."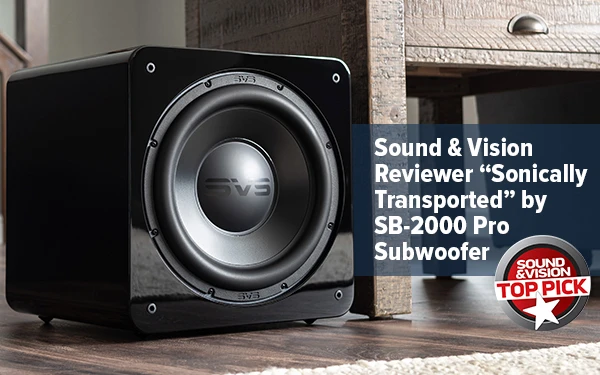 After reviewing the SVS SB-2000 Pro subwoofer in both home theater and 2-channel systems, a seasoned reviewer from the top home theater magazine in the U.S., Sound & Vision, awarded it a with a coveted Top Pick award, proclaiming:
"Just as proficient at pumping out huge explosions in action movies as it is playing in a two-channel audiophile setup. Tight, articulate bass that starts and stops on a dime, it expanded the size of the soundstage in a dramatic way that sonically transported me. Highly Recommended."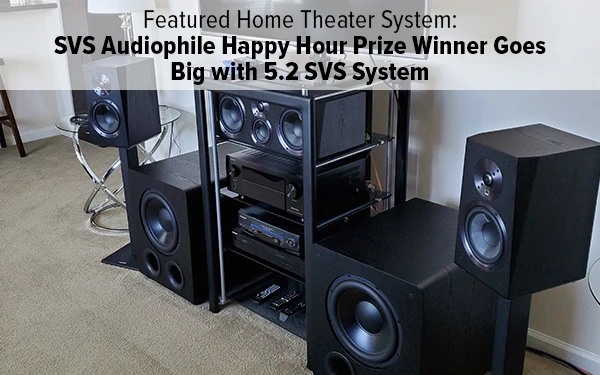 After winning a PB-2000 Pro subwoofer at random while tuning into the SVS Virtual Audiophile Happy Hour, Keith B. from our home state of Ohio was so impressed with the sound, he upgraded his entire home theater with a 5.2 system consisting of SVS Prime and Ultra Bookshelf speakers and a second PB-2000 Pro.
Now, he's in audio heaven, "…hearing deep bass lines that I didn't know existed," from music and movies he's heard dozens of times.
SVS Prime Satellite shows it's up to the challenge hitting hard with a dynamic demo track played by @audioguruji85 showcasing the compact speaker's driver excursion.

Follow @SVS_Sound on Instagram and tag #soundrevolution for a chance to be featured in an upcoming newsletter.
Easy Monthly Payments on SVS Speakers and Subwoofers.
Shop without the noise.
Get our free newsletter of hand-picked sales you need to hear about from the web's best brands.