SVS Presidents' Day Speaker and Subwoofer Outlet Store Blow-out Starts Now!
Email sent: Feb 9, 2021 9:05am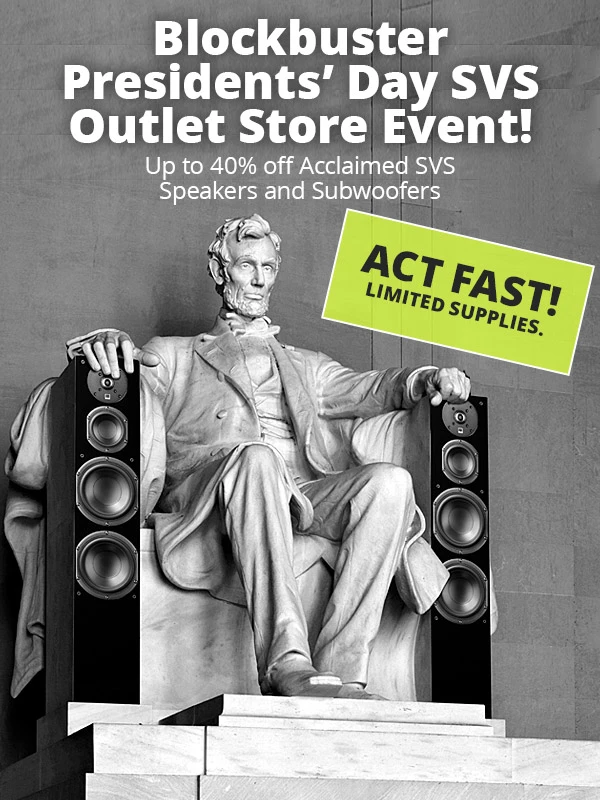 We're making it easier than ever to build the home theater or HiFi system of your dreams by slashing prices in the SVS Outlet Store by up to 40% during the Presidents' Day Outlet Store Blow-out Event, starting right now! Unleash deep, room-shaking bass from an SVS subwoofer or upgrade to SVS Prime or Ultra speakers for breathtaking clarity and stunning dynamic impact that will transform your entertainment experience!
 
Everything in the SVS Outlet Store carries a 5-year Unconditional Warranty, fast and free shipping and all the guarantees of the SVS Customer Bill of Rights, so you know you're getting high-performance speakers and subwoofers with world-class support. Move quickly though, SVS outlet deals always sell out fast!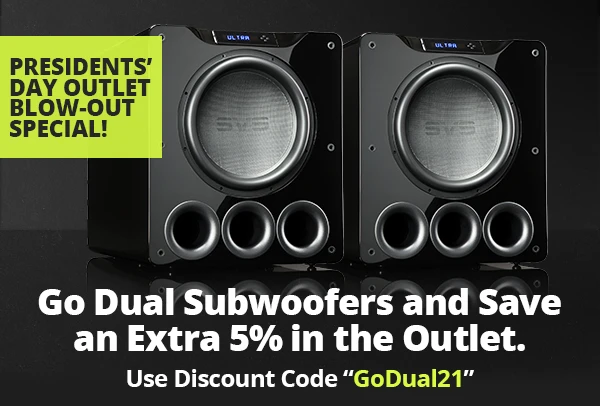 As a one-time deal, you can also receive an extra 5% off when you go dual with any SVS subwoofers in the Outlet Store. Just use the discount code "GoDual21" when checking out to unleash the ultimate bass experience at a groundbreaking value!
 
To learn more about the benefits of running multiple subwoofers, check out our blog post and video, Why Go Dual?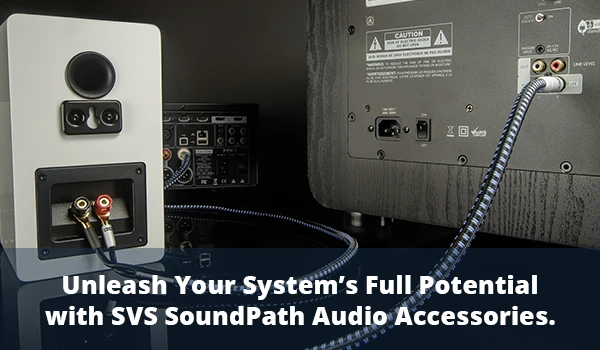 A home theater or HiFi system is only as good as its weakest link, so cables and accessories play an important role in ensuring your system sounds its best. Traditionally, you've had two choices; over-priced cables and accessories that make outlandish claims based on snake oil science; or poorly made options that compromise performance. Neither really favors the end user.

Enter SVS SoundPath. High-performance audio accessories at prices within reach of anyone who loves great sound. Whether you're looking for a cable to connect your subwoofer, a wireless audio adapter, premium speaker cables, or a solution to eliminate room rattle and avoid disturbing your neighbors, SVS has a 5-star solution.

Reduces subwoofer cable clutter without sacrificing performance. Also unlocks wireless connectivity for a stereo zone, powered surround sound speakers and amplifiers, while solving placement issues.
"If you're facing the prospect of running a cable across the room or just looking for a tad more freedom when it comes to placement, SoundPath is a great wireless subwoofer alternative!"
-AVNirvana

Works with nearly every subwoofer brand and model to improve bass performance while drastically reducing floor and wall vibrations, noise artifacts and complaints from neighbors or roommates.
"Cleaner sounding bass with increased definition and more punch with a significant decrease in bass bleed to the rest of the house. An absolute no-brainer upgrade."
-HomeTheaterHiFi

Hand-soldered with custom terminations by our craftsmen in Ohio to any length you desire with choice of 24K gold plated brass spades, 24K gold plated copper banana plugs, or a combination of both.
"Stylish and you can sense the quality when you hold them. SoundPath cables offer the same sonic benefits as speaker cables I've heard that cost $20,000."

Pure copper conductors with 24K gold plated brass connectors and five-layer dielectric insulation system maintain pristine signal between subwoofers and audio components so your system always sounds its best.
"In terms of build quality and price-to-performance ratio, SVS has hit a home run with the SoundPath Interconnects."
-HomeTheaterEquipment
Easy Monthly Payments on SVS Speakers and Subwoofers.

Other emails from SVS Home Audio Speakers & Subwoofers
Nov 23, 2021

Shop the SVS Black Friday Subwoofer Deal & Save Extra When You Go Dual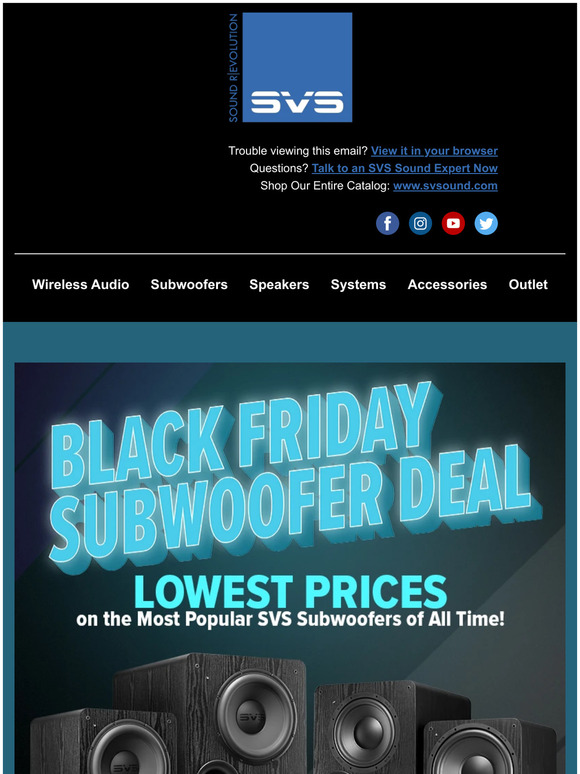 Nov 22, 2021

SVS Black Friday Subwoofer Deal! Lowest Prices on Highly Acclaimed 1000 & 2000 Series!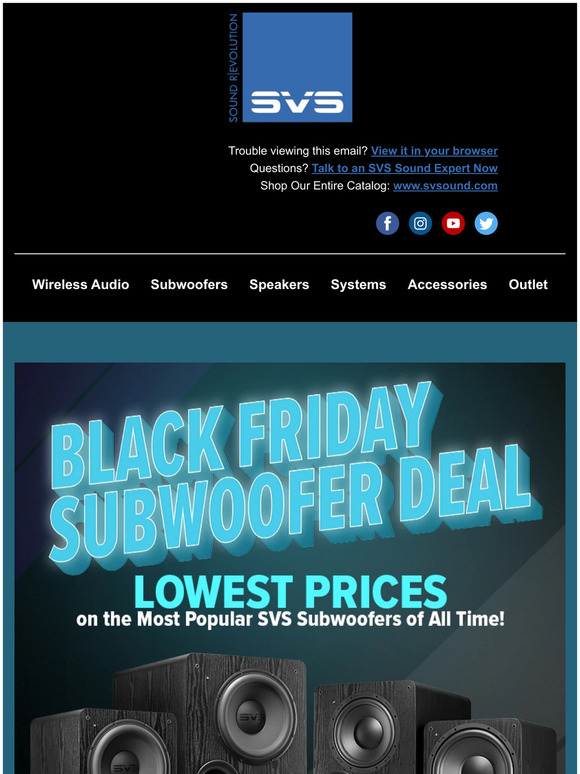 Nov 16, 2021

Huge Giveaways and Acclaimed Guitarist for SVS Audiophile Happy Hour, this Thursday!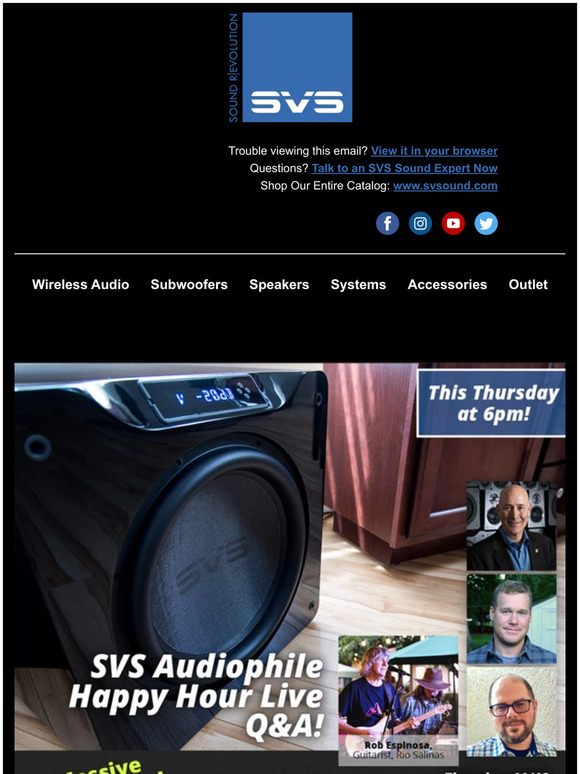 Nov 10, 2021

Double win for SVS in AVS Forum Best Bookshelf Speakers & Ultra Tower speakers make sweet music in bedroom featured system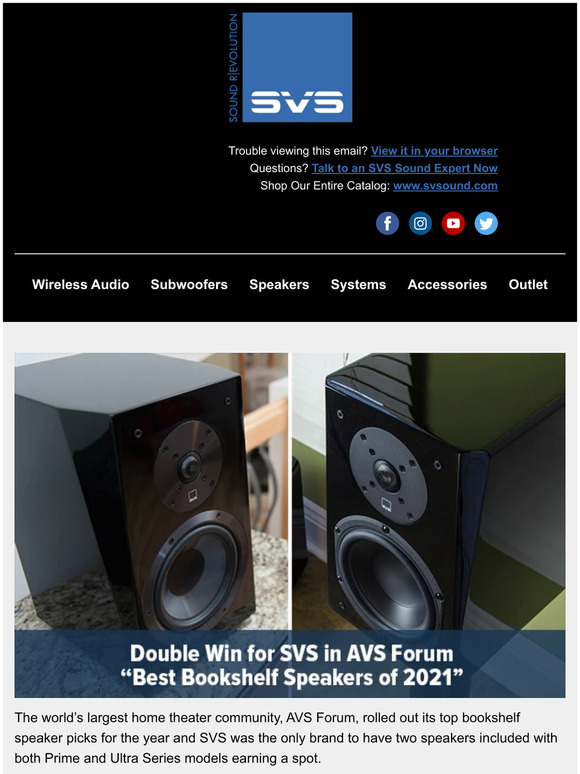 Nov 2, 2021

SVS 3000 Micro Ranked #1 Compact Subwoofer by Top AV Site & New Bass Music Playlist Available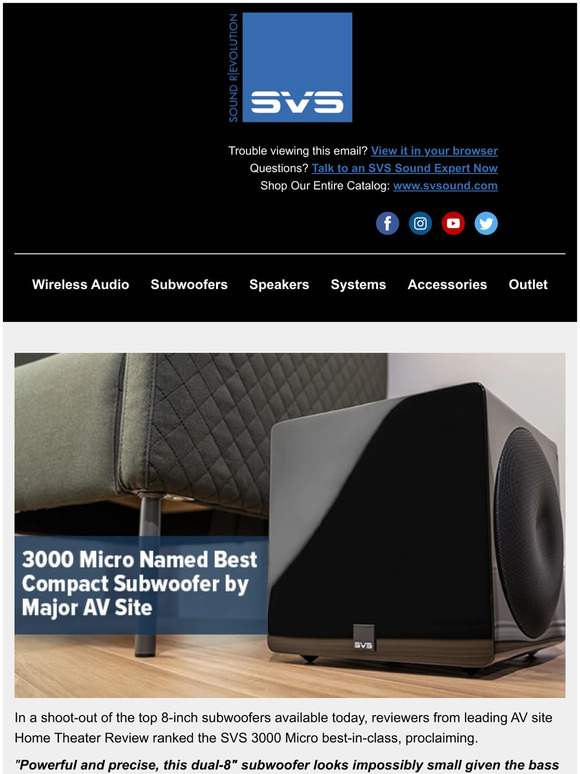 Shop without the noise.
Get our free newsletter of hand-picked sales you need to hear about from the web's best brands.