Lifeless Spanish Zombies
This email was sent
Many teachers hate teaching languages!
It's heartbreaking.
Especially when you see a new young teacher start their career. They are so excited about what they can do for their students. 
But they are forced to teach with an ancient curriculum. 
Did you know most school teaching methods were designed to teach Latin?
It's perfect for academic theory but terrible for speaking Spanish with living human beings. 
The poor teachers see their students turn into zombies. 
Their lifeless faces staring at a textbook definition of indirect object pronouns vs. direct object pronouns.
The teacher's enthusiasm for teaching quickly goes on life support.
The student's enthusiasm for languages is dead-on-arrival.  
Killed off by an ancient system that borders on masochistic.
Here is a comment from a teacher on Facebook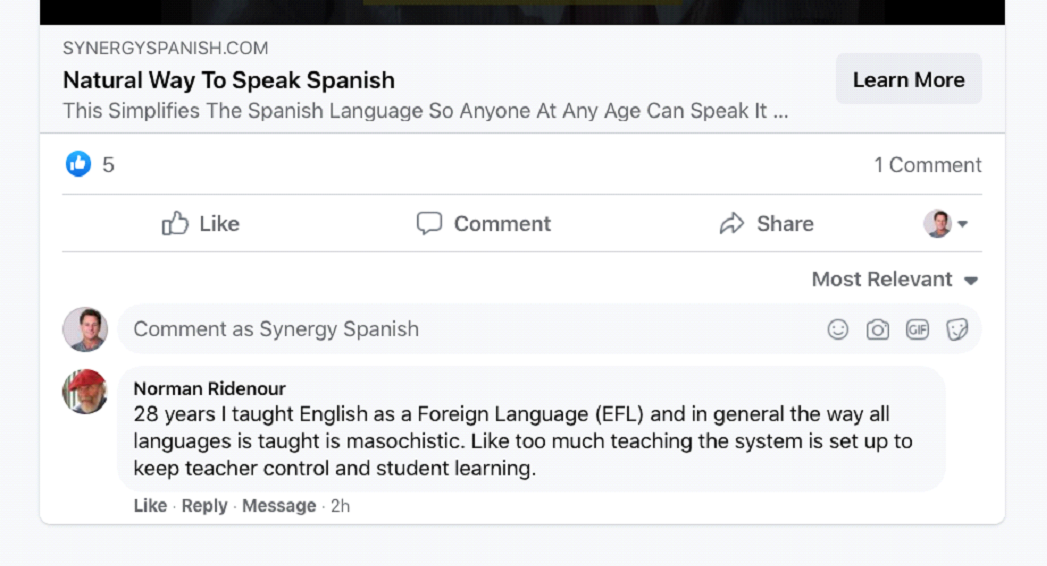 The teaching methods used in schools are from another time.
It goes way back to when teachers used to hit students and children were to be seen and not heard.
It's not the teacher's fault.
The bureaucratic system insists on old ways that suck the life out of teachers and students.
!Que lastima! What a shame!
It could be so much better.
It could be simple.
It could be fun.
Millions could enjoy everything that speaking this beautiful language brings to your life.
There are easy, natural and effective ways to pick up a second language for anyone at any age.
Instead of toil, each day is an adventure where you're excited to say more.  
Express yourself with Spanish you can speak in real life.
Make new friendships that last a lifetime.
I used to be a frustrated student…and then became an even more frustrated teacher.
Luckily, I stumbled upon easier ways to speak Spanish.
They changed my life.
They helped me enjoy years of adventure and friendships that I will always cherish.
I've watched this unique system help thousands of students finally speak this beautiful language.
There's no need to struggle ever again with methods that don't work.
There are simple, fun, and effective ways to speak Spanish at any age.
Click below to find a perfect fit for you to speak more Spanish faster…whether you're just getting started or you've enjoyed this beautiful language for years…
Saludos,
Marcus Santamaria
Spanish Communication Coach
Marcus Santamaria
PMB 680
482 W. San Ysidro Blvd.
San Ysidro, California 92173
United States
Recent emails from Synergy Spanish

See more