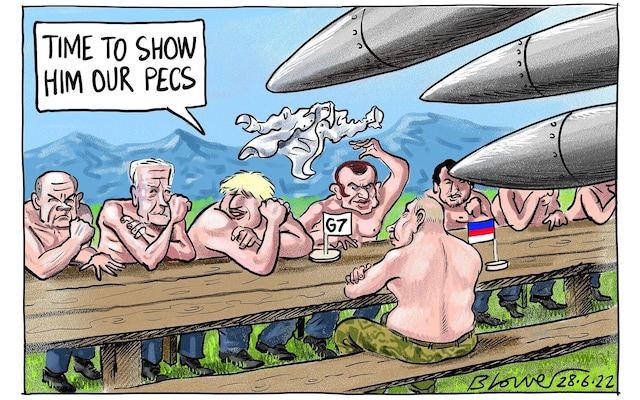 | | |
| --- | --- |
| | By Danny Boyle |
Good morning. A day after a Russian missile strike hit a crowded Ukrainian shopping centre, the head of the UK Army is today comparing the threat from Vladimir Putin to the rise of Nazi Germany.
British Army chief: Ukraine is our '1937 moment'
The head of the Army today says the UK must be ready for war with Russia. Four months on from Vladimir Putin's invasion of Ukraine, General Sir Patrick Sanders is set to compare the assault to the rise of Nazi Germany. He will say that Britain is facing its "1937 moment" and must be ready to "fight and win" to ward off the threat from Russia. In his first public speech as Chief of the General Staff, Sir Patrick will say the UK must be prepared to "act rapidly" to contain Russian expansionism. Nato last night pledged to massively increase its forces available on high alert to more than 300,000 troops, a more-than seven-fold increase. Sir Patrick's intervention is likely to put pressure on Mr Johnson to maintain the size of the Armed Forces after plans were announced to reduce troop numbers in a move to a more modern military. Defence editor Danielle Sheridan reports that, in a separate speech today, Ben Wallace, the Defence Secretary, is to call for increased investment.

It came as a missile strike on a crowded shopping centre in the central city of Kremenchuk killed at least 10 civilians and wounded dozens more. Volodymyr Zelensky, the Ukrainian president, said there were about 1,000 people inside the building, describing it as "one of the most daring terrorist attacks in European history". The leaders of the G7 last night branded the attack "abominable" as they vowed to hold Vladimir Putin accountable for the war crime. Follow the latest in our live blog.
Sturgeon sets course for fresh independence vote
Nicola Sturgeon will today unveil her route map to bypass the UK Government's refusal to allow another Scottish independence referendum. The First Minister will make a statement at the Scottish Parliament this afternoon outlining how she intends to give Scots a "choice on independence" in October next year, her preferred timetable. Boris Johnson has repeatedly made clear that he will refuse any formal request for a Section 30 order, the legislative device that was used to transfer the powers for the 2014 referendum. Scottish political editor Simon Johnson notes Ms Sturgeon's change in language. Alan Cochrane concludes that her party is beginning to crumble around her amid a welter of sleaze. And, as Ms Sturgeon put the final flourishes to her latest roadmap to independence, the Queen made an unexpected visit to Scotland yesterday that packed an ever-so-polite political punch.
Prince William tackles photographer over privacy
The Duke of Cambridge has spent years negotiating a world in which he can enjoy a weekend bicycle ride with his children in peace. That ambition has suffered a setback, after a video said by Kensington Palace to breach the Cambridges' privacy was viewed by tens of thousands of people despite attempts to block it from YouTube Footage shows the Duke confronting a photographer after he was filmed with his family near Sandringham, Norfolk. Royal editor Hannah Furness describes how he is seen remonstrating with a man videoing him.
Also in the news: Today's other headlines
Brexit | Theresa May has branded the Government's plans to rip up the Northern Ireland Protocol unlawful and warned that the EU will not negotiate with Boris Johnson because he was now a lame duck prime minister. In a scathing Commons speech, the ex-prime minister said it would "diminish the standing of the UK in the eyes of the world". For his sketch, Tim Stanley watched Mrs May "take a cutlass to her shipmates".
Around the world: Dozens found dead in truck
At least 46 people have been found dead in a truck that was believed to be carrying migrants from Mexico to Texas. Officials said the bodies were discovered in a sweltering 18-wheel truck in a remote area on the outskirts of San Antonio, where temperatures had reached 39.4C yesterday. Fire crews said the patients were exhausted and "hot to the touch", with no signs of water on board the vehicle. Images from the scene showed police vehicles and ambulances surrounding the truck.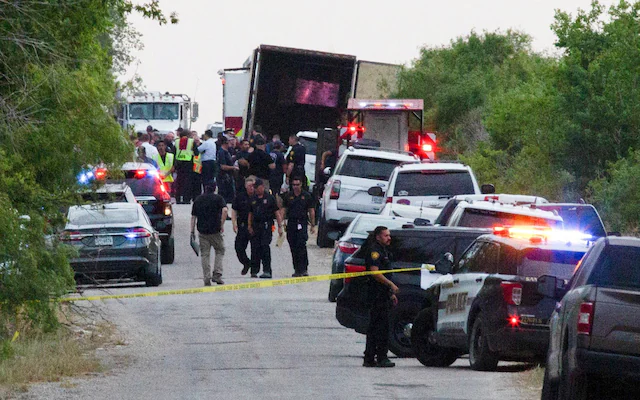 Emergency services surround the truck in San Antonio, Texas. Credit: Reuters
Today's PlusWord – and yesterday's solution
Try today's PlusWord, which our deputy puzzles editor Michael Baker solved in 1min 13sec. Can you beat him? Yesterday's solution: THROB.
Sport briefing: Raducanu eases past test
Emma Raducanu rediscovered her sparkle yesterday on Centre Court, in every sense. She wore the bling, and then – by overcoming Alison Van Uytvanck in straight sets – she delivered the sting. Against the most august backdrops in the game, chief sports writer Oliver Brown describes how the rising star elevated her performance. Also on the first day of Wimbledon, Andy Murray pulled off a rare underarm serve, which very nearly backfired. Follow all today's coverage here.
Business briefing: Bank faces mutiny over pay
Staff at the Bank of England are to demand a pay rise in the face of surging inflation, despite pleas for restraint on wages from the Bank's Governor, Andrew Bailey. Workers received just a 1.5pc increase this year, far below the 9.1pc rate of inflation reached in May. A row at the Bank over pay would prove deeply embarrassing for Mr Bailey after he urged UK workers not to demand large wage increases. Meanwhile, councils will be forced to ditch spending plans and draw up emergency cuts to public services after high inflation sparked a surge in costs.
| | |
| --- | --- |
| | Artichoke, broad bean and shallot salad | This recipe by Diana Henry is a delicate balance of vegetables and saffron-infused dressing. |
Travel tips: The uncrowded city with unbeatable food
With a fascinating history stretching back thousands of years, some of the world's most spectacular mosaics, and an appealing pedestrianised centre, Ravenna in Italy merits far more than a day trip. Sarah Lane explains what you should do on a visit to the city, which Dante Alighieri picked for his exile, along with a guide to its fantastic food and wine.
And finally... for this morning's downtime
The BBC's Macca mystery | Paul McCartney's Saturday night headlining set at Glastonbury was a triumph in all but one respect – the ludicrous wait to watch it at home. What happened to his set on iPlayer? Anita Singh examines what went wrong.
Are you enjoying Front Page? Please send me feedback and try our help page for any technical problems.
Other newsletters you might like...
| | |
| --- | --- |
| | Breaking News | Be informed - via email - about latest news as it breaks. Sign up |
| | Business Briefing | Top business news stories, comment and analysis. Sign up |
| | Matt newsletter | Inside look at what inspires his weekly cartoons. Sign up |
We have sent you this email because you have either asked us to or because we think it will interest you.
Unsubscribe  |  Update your preferences
For any other questions, please visit our help page here.
Any offers included in this email come with their own Terms and Conditions, which you can see by clicking on the offer link. We may withdraw offers without notice.
Telegraph Media Group Limited or its group companies - 111 Buckingham Palace Road, London SW1W 0DT. Registered in England under No 451593.