French threaten to cut off power
Email sent: May 5, 2021 2:57am
Plus: Sturgeon win on 'knife edge' & inside story of shock Gates' divorce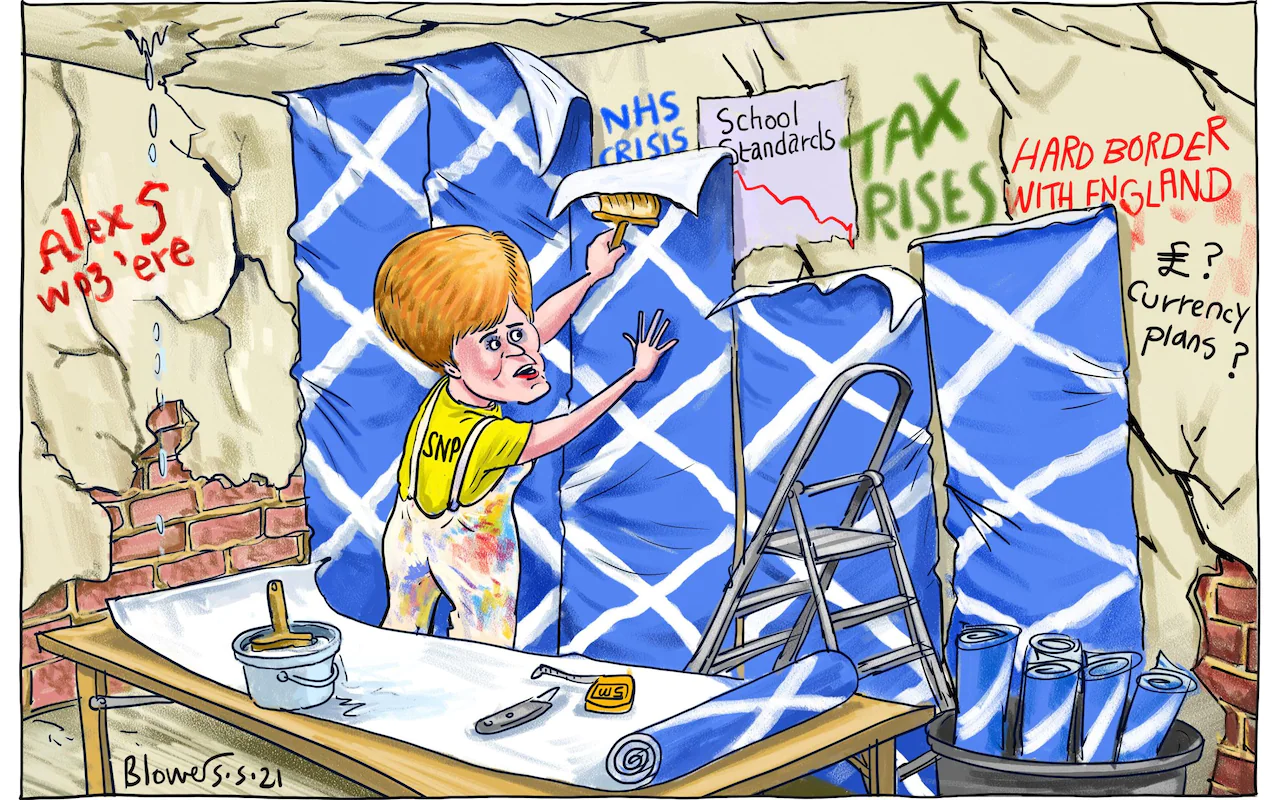 Good morning. Danny Boyle covers the eve of a bumper crop of elections, including in Holyrood - and the inside story of the Gates' split.
France threatens to cut off electricity supply to Jersey
The row over post-Brexit fishing rights between Paris and London has deepened. France threatened to cut off Jersey's electricity supply in "retaliation". French maritime minister Annick Girardin suggested they could shut down the underwater cables that supply the largest Channel island with about 95 per cent of its electricity. "We will do so if we have to," she said. Since the Brexit deal came into force, France has accused London of dragging its feet over issuing licences to small French vessels in the UK's six to 12 nautical mile zone. Europe Editor James Crisp explains why Jersey is now at the centre of the fisheries licensing row.
Sturgeon win on 'knife edge' - Scottish Tory leader
Nicola Sturgeon's target of winning an SNP majority in tomorrow's Holyrood election is on a "knife edge". That is the warning from the Scottish Tory leader, as he urged unionists not to split their votes. Douglas Ross told The Telegraph an SNP majority was a "very real threat" that Ms Sturgeon would use to push for another referendum, including a possible "wildcat" vote if the Prime Minister refuses her the legal powers. He warned this would be "devastating" for Scotland and urged Labour and Liberal Democrat supporters to tactically vote for his party. Scottish Political Editor Simon Johnson reports that his fears appeared to be borne out by two of three opinion polls, which showed Ms Sturgeon is on course for a majority of four or five seats. In the latest episode of the Chopper's Politics podcast, Alan Cochrane argues the SNP may need to work with Alex Salmond's Alba to keep a pro-independence majority.

Meanwhile, Labour leader Sir Keir Starmer will pound the pavements with three of his party's mayoral hopefuls on an England-wide tour on the eve of so-called "super Thursday". He pleaded for more time to turn his party's fortunes around ahead of an expected voter backlash in the Hartlepool by-election. Leaked Labour research said just 40pc of the party's previous voters in the town would turn out to support it again.
Inside story of Bill and Melinda Gates's shock divorce
Where did it go wrong for Bill and Melinda Gates? After 27 years of marriage, the couple are embarking on one of the most expensive divorce settlements in history. After they declared their relationship "irretrievably broken", property, artworks and land worth billions will have to be divided. Many had seen the couple as nailed-on till-death-do-us-part-ers. From lockdown blues to empty nest syndrome, Harry de Quetteville examines the pressures that even tech titans cannot escape.
At a glance: Coronavirus morning briefing
Also in the news: Today's other headlines
Trial and error | The "witch hunt" of soldiers who served in Northern Ireland must stop, campaigners and military leaders said after the first of a series of murder trials collapsed in six days. Campaigners labelled the prosecution a "farce", demanding the introduction of legislation to stop hundreds more soldiers being taken to court. Read The Telegraph's view.
Around the world: Taliban's deadly offensive
Taliban fighters swept to the edge of the capital of Afghanistan's Helmand province before being halted in heavy fighting just days after American troops withdrew from the area. Ben Farmer reports that thousands fled the fighting and dozens were killed in clashes on the city's edges. View more striking pictures of the day from around the world.
US soldiers handed over Camp Antonik to local troops at the weekend
Editor's choice: Features and arts
Business and money briefing

Tax fears eased | Rishi Sunak suggested wealthy families will be spared from a US-style tax raid as he hailed the strength of Britain's recovery. The Chancellor said he was "cautiously optimistic" about growth and that his Budget measures should return the battered public finances to a level footing, suggesting he has backed away from a capital gains tax increase.
Sport briefing
Manchester City 2 PSG 0 | Man City are into their first ever Champions League final - and neither Paris Saint-Germain nor an unseasonal hail-storm could stop them. It sets up the possibility of an all-English final. Read Jason Burt's match report from the Etihad and our player ratings. Mike McGrath writes that PSG proved that money cannot buy class.
Tonight's dinner
Greek courgette and herb pie | Diana Henry says this delicious vegetarian dish is one of the best pies she has ever made. View the recipe and try our Cookbook newsletter.
And finally... for this morning's downtime
Kim Jong-il painted like Christ | An extraordinary new exhibition in Bern pairs contemporary art from either side of the demilitarised zone - and the differences are fascinating. Alastair Smart examines the curious case of the North Korean art show.
Are you enjoying Front Page?
Thank you for being a reader. If you have any feedback, I would love to hear from you! If you have any problems, visit our help page.
Other newsletters you might like...
| | |
| --- | --- |
| | Breaking News | Be informed - via email - about latest news as it breaks. Sign up |
| | Business Briefing | Top business news stories, comment and analysis. Sign up |
| | Fantasy Fund Manager | Subscriber-exclusive game - with weekly advice and £1,000 prizes. Sign up |
We have sent you this email because you have either asked us to or because we think it will interest you.
Unsubscribe  |  Update your preferences
For any other questions, please visit our help page here.
Any offers included in this email come with their own Terms and Conditions, which you can see by clicking on the offer link. We may withdraw offers without notice.
Telegraph Media Group Limited or its group companies - 111 Buckingham Palace Road, London SW1W 0DT. Registered in England under No 451593.


Other emails from Telegraph Travel
Shop without the noise.
Get our free newsletter of hand-picked sales you need to hear about from the web's best brands.