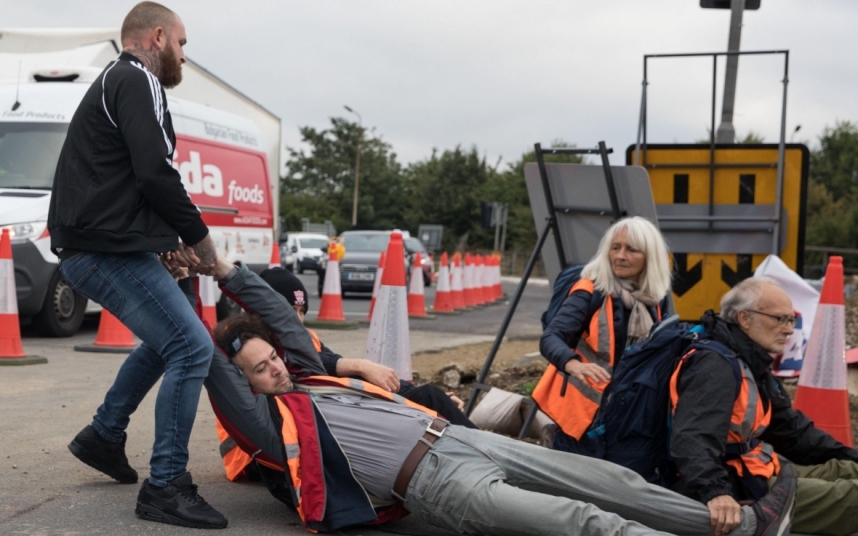 Good morning. Danny Boyle covers new video of police assisting the M25 climate activists - and expected changes to travel rules.
Patel urges police to get tough on climate protesters
Video has emerged of police facilitating motorway protests that caused major traffic disruption this week. Watch the footage that shows a Met Police officer apparently assisting climate change activists to walk in front of cars on the M25. Furious motorists tried to take the law into their own hands, above. Priti Patel condemned as "completely unacceptable" the chaos caused by the guerrilla tactics of Insulate Britain, a splinter group of Extinction Rebellion. With lingering questions over why police failed to remove activists from the road sooner, the Home Secretary told police to take "decisive action". Who are the activists? Meet some of them, including a cleric, an Army veteran and a Buddhist teacher.
Inventor Sir Clive Sinclair dies aged 81 - obituary
Sir Clive Sinclair, the inventor renowned for his pioneering pocket calculator and transforming home computing, has died aged 81. He had enormous success with the Sinclair Executive pocked-sized calculator and his ZX Spectrum home computer. But, as our obituary recalls, he is also remembered for the failure of his one-person C5 electric car.
| | |
| --- | --- |
| | Today's cartoon | View Matt's latest cartoon, which takes a sideways look at climate protests. |
Also in the news: Today's other headlines
Royals | The Duke of York has suffered an early setback in his US sex assault case after a judge refused to unseal a document that could invalidate the damages claim. Prince Andrew, 61, was said to be pinning his hopes on the settlement - signed by his long-time accuser Virginia Roberts Giuffre in 2009 - which allegedly prevents her from suing.
Around the world: Israelis spirit women to safety
Israeli aid workers and the United Arab Emirates have completed a daring rescue mission that saw dozens of sportswomen, female rights activists and a singer, all at risk of Taliban reprisals, spirited to safety in Abu Dhabi. It is the first joint humanitarian project between the two Middle Eastern countries. View more pictures of the day in our gallery.
The operation saw the UAE welcome 41 evacuees from Afghanistan
Sport briefing: World 12s aim to target Jones
The organisers of a proposed world 12-a-side tournament want to recruit England head coach Eddie Jones and have insisted they have the finances in place to make the project a reality. The World 12s concept is a £250 million equivalent to cricket's Indian Premier League. In football, Pep Guardiola has been told to stick to coaching after sparking a row with Manchester City fans over empty seats at the Etihad Stadium.
Business briefing: Battle to beat Christmas shortages
John Lewis has hired a fleet of ships to deliver Christmas stock on time after it cut half-year losses to £29m. The department store chain has teamed up with two other British retailers to increase its boat capacity amid fears a global supply chain crisis could derail sales at the climax of the retail year. It comes as the retailer aims to substantially increase the profits it makes from selling insurance and building rental homes.
Tonight's dinner
Cheesy potato cakes with brown-butter spring onions and crispy chilli | These little patties make for the best kind of "dinner brunch". View the recipe by Eleanor Steafel and try our Cookbook newsletter.
Your daily travel inspiration
Across the Channel and under the radar | Béziers is a charming town that boasts gastronomy, elegant buildings and a fascinating medieval quarter - yet it is still often overlooked. Sudi Pigott recommends the delightful destination you need to visit.
And finally... for this morning's downtime
'Why didn't doctors listen to women?' | A new study reveals that thousands of women experienced irregularities with their periods after having the coronavirus jab - yet the medical community has seemed disinterested. Caroline Criado-Perez investigates the link.
Are you enjoying Front Page?
Thank you for being a reader. If you have any feedback, I would love to hear from you! If you have any problems, visit our help page.
Other newsletters you might like...
| | |
| --- | --- |
| | Breaking News | Be informed - via email - about latest news as it breaks. Sign up |
| | Business Briefing | Top business news stories, comment and analysis. Sign up |
| | Matt newsletter | Inside look at what inspires his weekly cartoons. Sign up |
We have sent you this email because you have either asked us to or because we think it will interest you.
Unsubscribe  |  Update your preferences
For any other questions, please visit our help page here.
Any offers included in this email come with their own Terms and Conditions, which you can see by clicking on the offer link. We may withdraw offers without notice.
Telegraph Media Group Limited or its group companies - 111 Buckingham Palace Road, London SW1W 0DT. Registered in England under No 451593.