Die Disney-Pyjama-Party kann beginnen!
Email sent: Oct 14, 2021 6:42am
Hi, mach Dich bereit für die #tezenispyjamaparty mit unseren neuen Promo.

 ‌ ‌ ‌ ‌ ‌ ‌ ‌ ‌ ‌ ‌ ‌ ‌ ‌ ‌ ‌ ‌ ‌ ‌ ‌ ‌ ‌ ‌ ‌ ‌ ‌ ‌ ‌ ‌ ‌ ‌ ‌ ‌ ‌ ‌ ‌ ‌ ‌ ‌ ‌ ‌ ‌ ‌ ‌ ‌ ‌ ‌ ‌ ‌ ‌ ‌ ‌ ‌ ‌ ‌ ‌ ‌ ‌ ‌ ‌ ‌ ‌ ‌ ‌ ‌ ‌ ‌  ‌ ‌ ‌ ‌ ‌ ‌ ‌ ‌ ‌ ‌ ‌ ‌ ‌ ‌ ‌ ‌ ‌ ‌ ‌ ‌ ‌ ‌ ‌ ‌ ‌ ‌ ‌ ‌ ‌ ‌ ‌ ‌ ‌ ‌ ‌ ‌ ‌ ‌ ‌ ‌ ‌ ‌ ‌ ‌ ‌ ‌ ‌ ‌ ‌ ‌ ‌ ‌ ‌ ‌ ‌ ‌ ‌ ‌ ‌ ‌ ‌ ‌ ‌ ‌ ‌ ‌ ‌  ‌ ‌ ‌ ‌ ‌ ‌ ‌ ‌ ‌ ‌ ‌ ‌ ‌ ‌ ‌ ‌ ‌ ‌ ‌ ‌ ‌ ‌ ‌ ‌ ‌ ‌ ‌ ‌ ‌ ‌ ‌ ‌ ‌ ‌ ‌ ‌ ‌ ‌ ‌ ‌ ‌ ‌ ‌ ‌ ‌ ‌ ‌ ‌ ‌ ‌ ‌ ‌ ‌ ‌ ‌ ‌ ‌ ‌ ‌ ‌ ‌ ‌ ‌ ‌ ‌ ‌  ‌ ‌ ‌ ‌ ‌ ‌ ‌ ‌ ‌ ‌ ‌ ‌ ‌ ‌ ‌ ‌ ‌ ‌ ‌ ‌ ‌ ‌ ‌ ‌ ‌ ‌ ‌ ‌ ‌ ‌ ‌ ‌ ‌ ‌ ‌ ‌ ‌ ‌ ‌ ‌ ‌ ‌ ‌ ‌ ‌ ‌ ‌ ‌ ‌ ‌ ‌ ‌ ‌ ‌ ‌ ‌ ‌ ‌ ‌ ‌ ‌ ‌ ‌ ‌ ‌ ‌ ‌  ‌ ‌ ‌ ‌ ‌ ‌ ‌ ‌ ‌ ‌ ‌ ‌ ‌ ‌ 

Deine nächste Pyjama-Party ist inspiriert von... Disney!

Mache es noch bunter und nutze die -50% Rabatt auf den 2. Pyjama!

Alice im Wunderland, Bambi, die Aristocats und Winnie Puuh sind die neuen Protagonisten der Pyjama-Kollektion für die ganze Familie.
Die Aktion gilt bis zum 21.11.2021, 23:59 Uhr. Wenn Du zwei Schlafanzüge in die Einkaufstasche legest, ist der günstigste um 50% reduziert.
Tezenis Talent App
Fügen Sie Tezenis zu Ihrem Adressbuch hinzu, so dass Sie alle unsere E-Mails sicherlich erhalten.
Sie erhalten diese E-Mail, weil Sie den Newsletter der Marken der Gruppe Calzedonia (CALZEDONIA, INTIMISSIMI, TEZENIS, FALCONERI, SIGNORVINO) abonniert haben. Wenn Sie unseren Newsletter abbestellen möchten, klicken Sie bitte hier
Unsere Datenschutzbestimmungen findest Du hier.
Calzedonia Spa P.Iva 02​25​32​10​23​7
Via Monte Baldo, 20 - 37062 - Dossobuono di Villafranca (VR) - Italy

Other emails from Tezenis
Nov 25, 2021

BLACK SHOPPING DAYS bei Intimissimi: 20% Rabatt auf alles und 50% Rabatt auf ausgewhlte Artikel!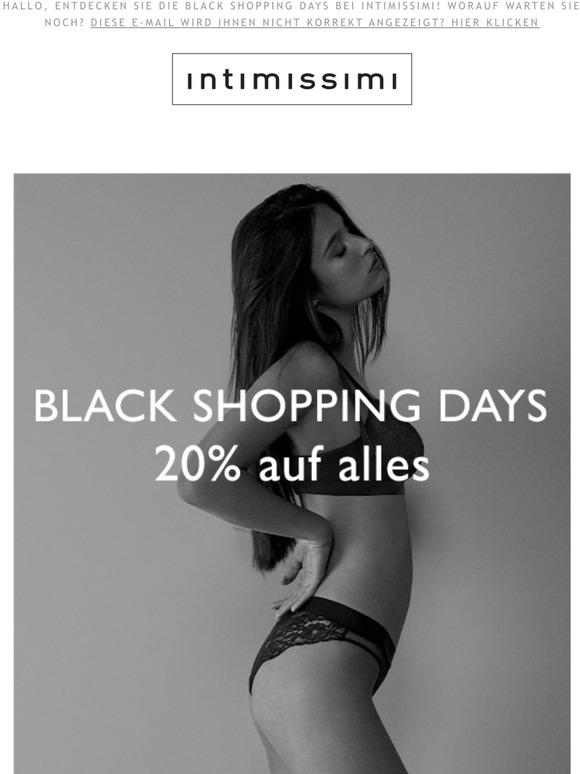 Shop without the noise.
Get our free newsletter of hand-picked sales you need to hear about from the web's best brands.