Stress eating?
Email sent: Jun 11, 2021 1:29pm

It's nice to finally see the weather starting to turn into full summer-mode!
The sun's shining & it seems like there's a lot to look forward to.
There's no doubt the past year has been stressful for just about everyone…
Many of us were drinking & eating your feelings during the nail-biting times…
And it's not just the munching at home…
Fast food chains are still busier than ever right now!
Old habits can be hard to break…
Now it's true you can soothe & numb some of the stress & anxiety by indulging in some high-calorie comfort foods…
Cookies, ice cream, pizza, mac & cheese, chocolate, chips, hamburgers, pasta…
But there's always a price to pay for stress eating…
The pounds start packing on!
And with warmer weather just about here it's time to shed this "winter coat."
The key to stopping stress eating is to lower your stress levels!
Once your stress goes down it's WAY easier to eat better when you're on "auto pilot mode."
Here's a new 2021 study finding women naturally ate fewer fast-food meals & fatty snacks once their stress levels were reduced: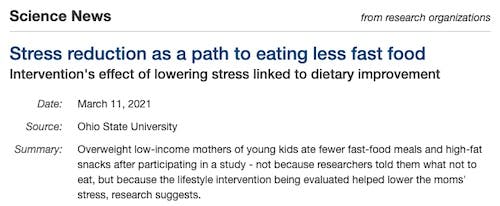 But I know lowering your stress is easier said than do right?
Stress doesn't only cause you to want to stress eat…
It also spikes up your cortisol levels!
Cortisol is known as the "stress hormone" & puts your body into a fight-or-flight mode…
You'll be kicking your body into survival mode & then you'll only want to eat more & more.
Then these higher cortisol levels also cause an increase in insulin…
This creates a "perfect storm" that promotes weight-gain & belly-fat increases…
Researchers have even called this stressed belly-fat "toxic fat" since it increases your likelihood of heart disease…
This is why I'm taking high-quality CBD oil every day…
There is a lot of early research that has found many promising benefits of CBD relieving anxiety…
And CBD is not from the mary jane but from the hemp plant which is like its non-high cousin…
Unfortunately, the recent popularity increase in CBD has also opened the floodgates for FAKE sketchy CBDs…
These sketchy CBDs can cause a lot more harm than good!
That's why I've only been taking TrustBo CBD gel capsules.
Each batch of their CBD is individually tested by a 3rd party for quality & purity…
You can even scan the QR code on your bottle to check the exact measurements by the testing lab…
This is a game-changer considering a recent study by the Journal of the American Medical Association found 69% of CBD products didn't meet their label claims…
One problem with CBD is it's very difficult for your body to absorb…
But with TrustBo's CBD, they even use "liposomes" to increase how much your body can absorb…
Then all you'll feel is the stress & anxiety melting away…
That's why taking CBD regularly if you feel stressed or experiencing anxiety is key.
Today you can save up to 51% off TrustBo CBD by using this special link below:
==> Get TrustBo CBD gel capsules (51% off)
Stay safe & take care of yourself!
Your coach,
Trainer Josh
By the way: You can see my full review of TrustBo CBD so if interested go here to check it out…

Other emails from The Flat Belly Formula
Shop without the noise.
Get our free newsletter of hand-picked sales you need to hear about from the web's best brands.