Escape from thyroid hell...
Email sent: Nov 27, 2020 10:32am



Dear -,

Over 50% of people with poor thyroid function have an auto-immune issue. What does that mean for you? It could mean you have a common, yet little-known thyroid problem that can completely destroy your thyroid function. So keep reading, even if you're already being treated for your thyroid... or even if your test results are coming up "normal!"

Sincerely,
The Easy Health Options® Staff
Dear -,

I was feeling so lousy — for so long.

I was having energy drain... weight gain... ice cold hands and feet... and countless sleepless nights.

And my hair was falling out in clumps! It was all over the bathroom... like half a dozen long haired dogs had moved in with us!

Plus... I struggled to stay mentally focused. My husband would talk to me and I'd just stare at him blankly. I can't tell you how many times he asked me, "Sweetie, are you listening?"

And my interest in sex vanished — and I don't even want to talk about that!

Even though I was in my early 40s — I felt decades older.

I was fed up. Had to get to the bottom of my problem — to save my sanity... my marriage... and my life.

I knew there was something wrong with my thyroid... it just made sense to me.

But my doctor kept saying my thyroid hormone was "normal."

He was the doctor — so I figured he must be right (boy was I wrong).

But the energy drain wouldn't go away. The palpitations made me think I was having a heart attack. The tremors were downright scary. And my moods were so erratic.

When I tried to explain to my doctor how lousy I felt — even while taking thyroid hormone medicines...

...he flat out told me it was all in my head and showed me again my "normal" results. Then he got out his pad and scribbled prescriptions for antidepressants and anxiety meds!

That really ticked me off! I was in Thyroid Hell...

If my hair wasn't already coming off in my brush — I would've pulled it out!

And my doctor was right, all my thyroid numbers were normal – except ONE!

He'd over looked it... and I was determined to get to the bottom of it, so I didn't have to spend one more day in Thyroid Hell.

I had to take matters into my own cold hands. Had to find out what was going on with my thyroid.

What I found was the answer to my prayers... and could be the answer to yours too!

It's time to escape from Thyroid Hell and take back your life, starting now...

Your friend,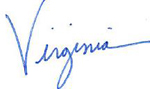 Virginia Tims-Lawson
Chief Research Officer
Peak Pure & Natural®

 

You subscribed to Easy Health Options® and are receiving this email at - because you indicated an interest in receiving special updates and offers from Easy Health Options®. We hope you'll find these updates interesting and informative. But if you'd rather not receive them, click here. You will be immediately removed from our database. Remember, your personal information will never be rented or sold and you may unsubscribe at any time.

PO Box 1105 Cullman, AL 35056

 
Other emails from The Lifesaver Heart Surgeons Won't Tell You About!
Jan 19, 2021

What you should know about a Thyroid Storm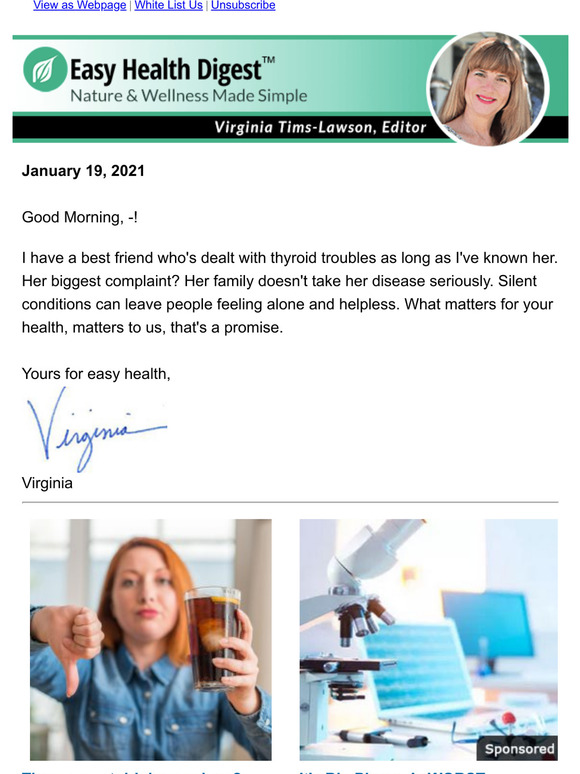 Jan 18, 2021

Ever feel lightheaded on the toilet?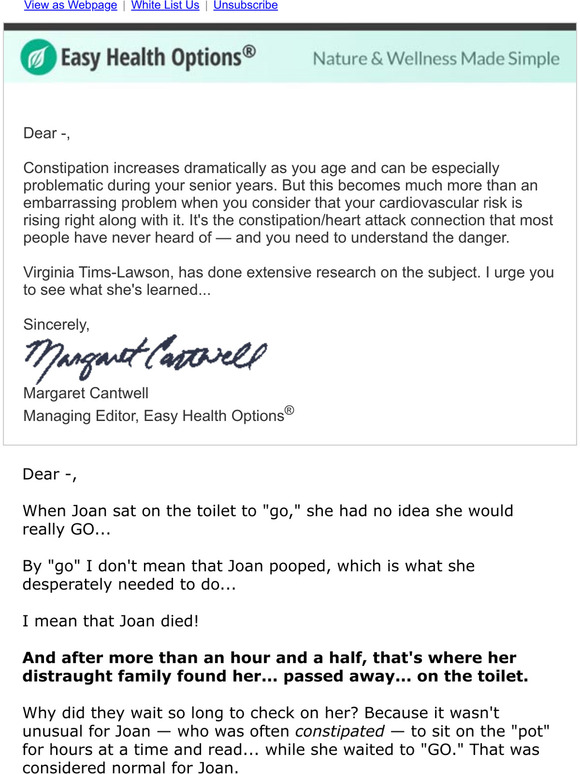 Jan 18, 2021

The drink that drives down your fat-triggering hormone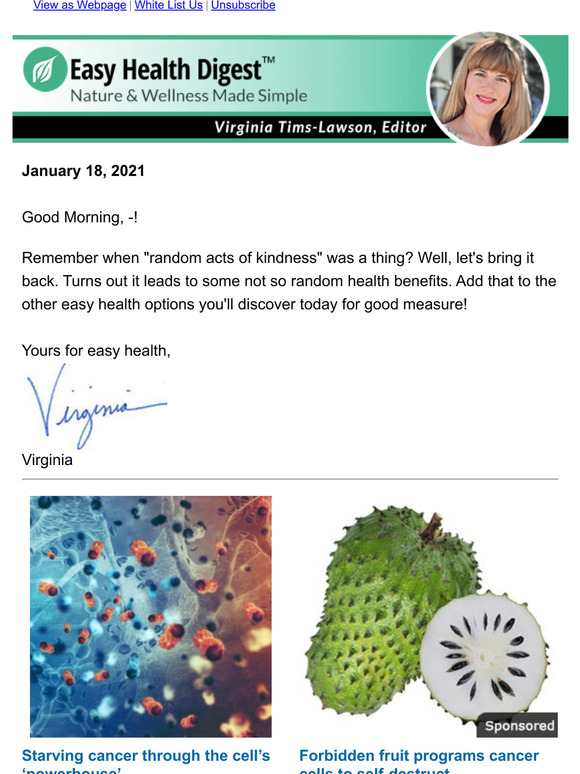 Jan 17, 2021

If Your Cat Vomits (Do This Every Day)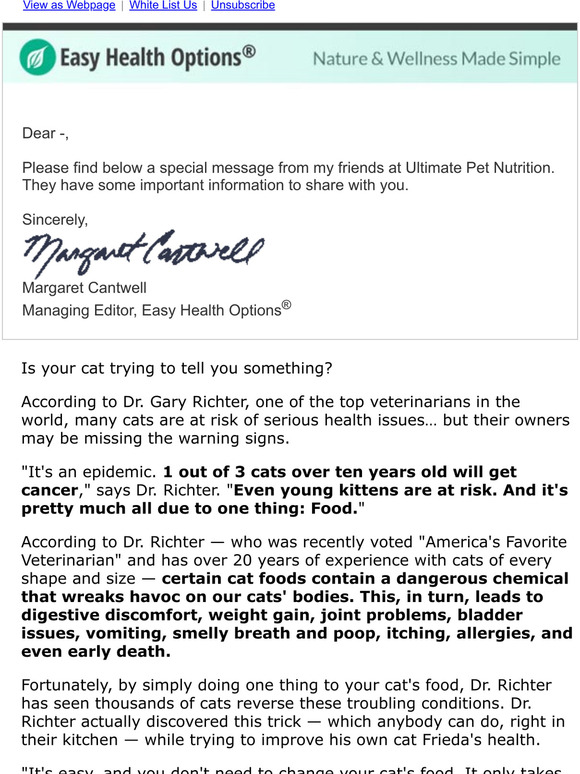 Jan 17, 2021

The common gut infection that leads to long-term tummy trouble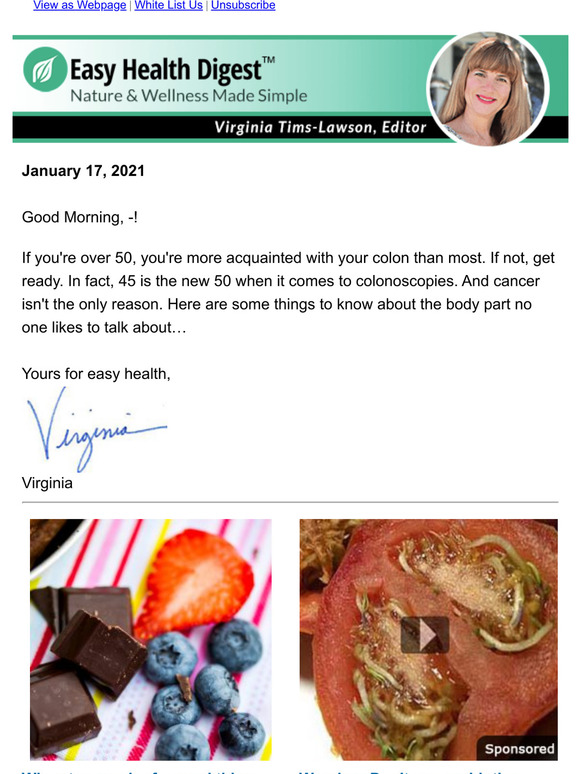 Shop without the noise.
Get our free newsletter of hand-picked sales you need to hear about from the web's best brands.