Happy Thanksgiving!
Email sent: Nov 26, 2020 10:30am


Dear -,

This Thanksgiving many of us are not able to enjoy the old-fashioned family gatherings we're used to. But we're hopeful things will be back to normal soon — and we still have the memories, right?

But the scary thing is, that may not always be the case...

A staggering 76 percent of Americans — starting as early as age 30 — suffer "senior moments" and brain fog. And considering that this generation will far outlive our parents, losing your faculties is a scary thought.

That's why I want to share a special gift with you today — and because we're grateful to have you as a member of the Easy Health Options® family.

Nature's Secrets for an Active, Healthy Brain — At Any Age is a book that contains what I call the best brain hacks research has found to help you keep your brain healthy and functioning at optimum levels — naturally, and for years to come — and I want you to have it.

We no longer have to accept memory problems as a normal part of aging. I've read the stories and know first-hand that it's possible to keep a sharp mind well into your 80s and 90s. The aging experts say most of us will live that long, maybe longer, so shouldn't you take as much care of your brain as you do your body?

In Nature's Secrets for an Active, Healthy Brain — At Any Age, you'll discover...

• The 14 brain-fueling superfoods that promote brain health and can help ward off Alzheimer's, Parkinson's and other degenerative brain diseases...

• Medications that can do more harm than good and their healthier alternatives...

• The simple thing you can do right now to be 63 percent less likely to develop dementia...

• 6 memory-killing foods you should stop eating...

• And more cutting-edge natural solutions to build a strong mind!



But the best part is, Nature's Secrets for an Active, Healthy Brain — At Any Age is one of two gifts I'd like to send you, today.

All you have to click here to tell us where to send them and cover the cost of shipping and handling (just $6.95*). I'll not only put your book in the mail right away, but I'll also send you an e-Book you can begin reading almost immediately.

Then you'll have a decision to make: Keep the copy you receive in the mail — or share it with a friend, just in time for the season of giving.

Click here to get Nature's Secrets for an Active, Healthy Brain — At Any Age!

Yours for healthy living



Margaret Cantwell
Managing Editor, Easy Health Options®

* All Canadian shipments will incur $25.95 shipping and handling. All other international shipments will incur $33.95 shipping and handling.
 

You subscribed to Easy Health Options® and are receiving this email at - because you indicated an interest in receiving special updates and offers from Easy Health Options®. We hope you'll find these updates interesting and informative. But if you'd rather not receive them, click here. You will be immediately removed from our database. Remember, your personal information will never be rented or sold and you may unsubscribe at any time.

PO Box 1105 Cullman, AL 35056

 
Other emails from The Lifesaver Heart Surgeons Won't Tell You About!
Jan 27, 2021

The connection between aging, mitochondria and COVID-19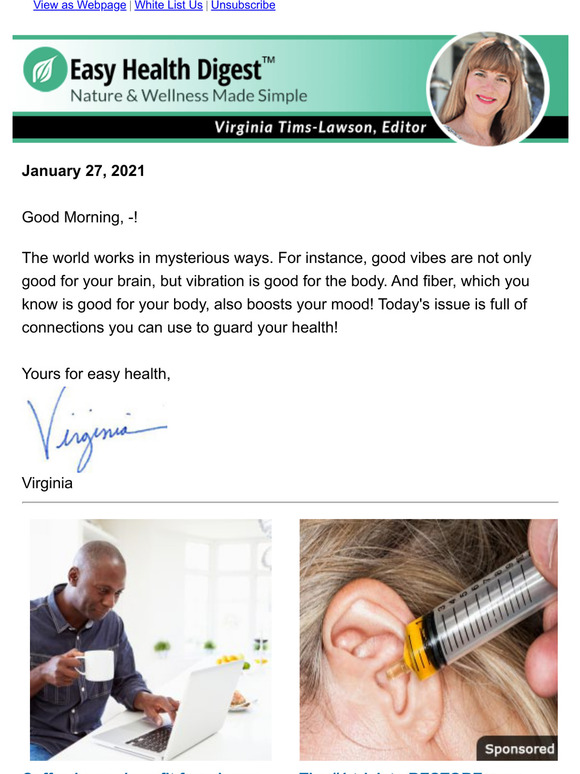 Jan 26, 2021

Golden Oil: 3,000-year-old remedy is the health secret of Egyptian Kings... European Queens... and Religious Prophets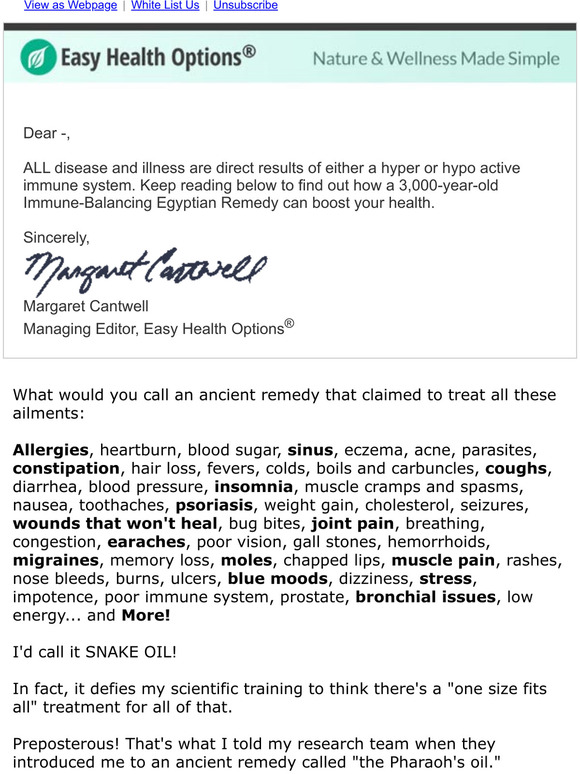 Jan 26, 2021

The Japanese secret to healthy circulation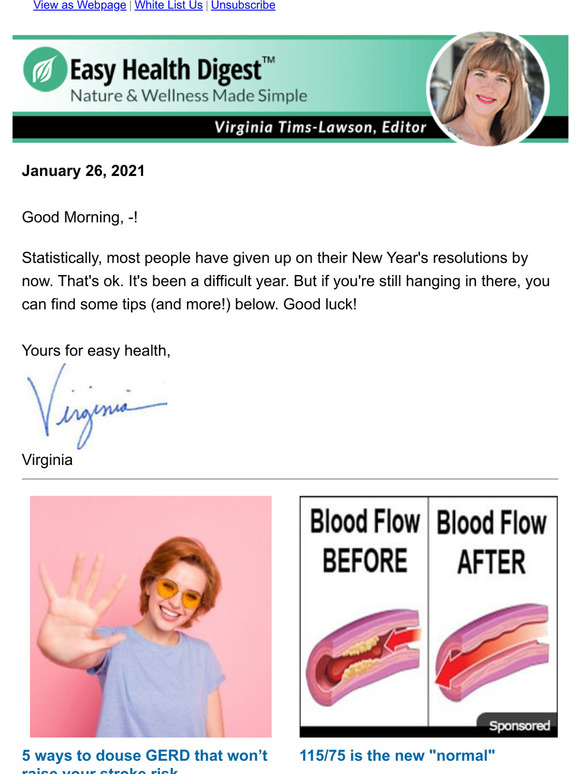 Jan 25, 2021

Vaccine Fervor [what you need to know]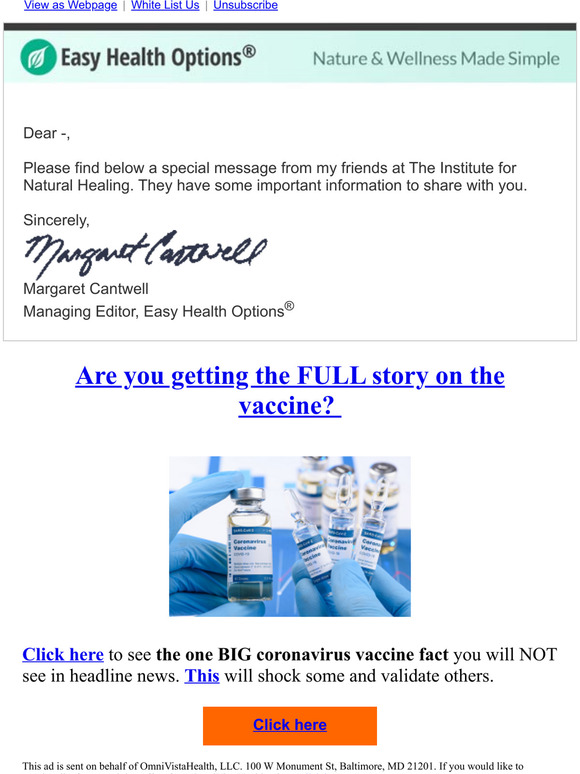 Jan 25, 2021

Extra cardioprotective effects of omega-3s discovered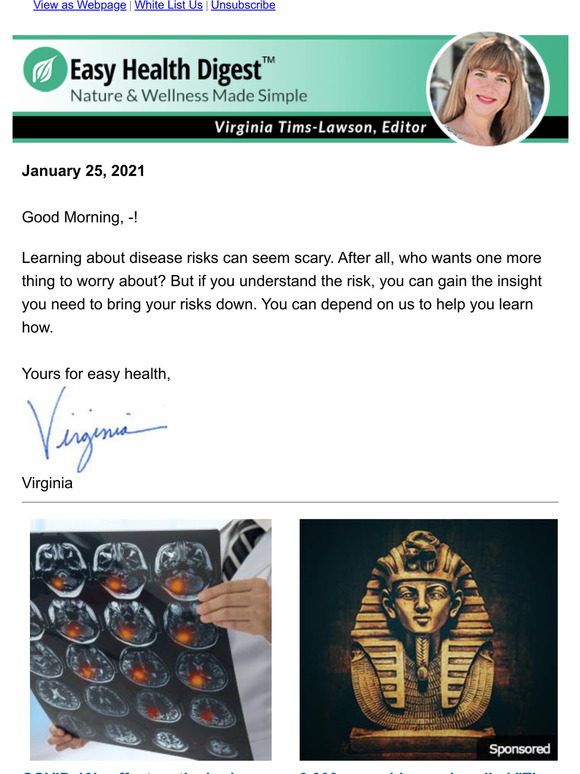 Jan 24, 2021

The Disease That Almost Everybody Gets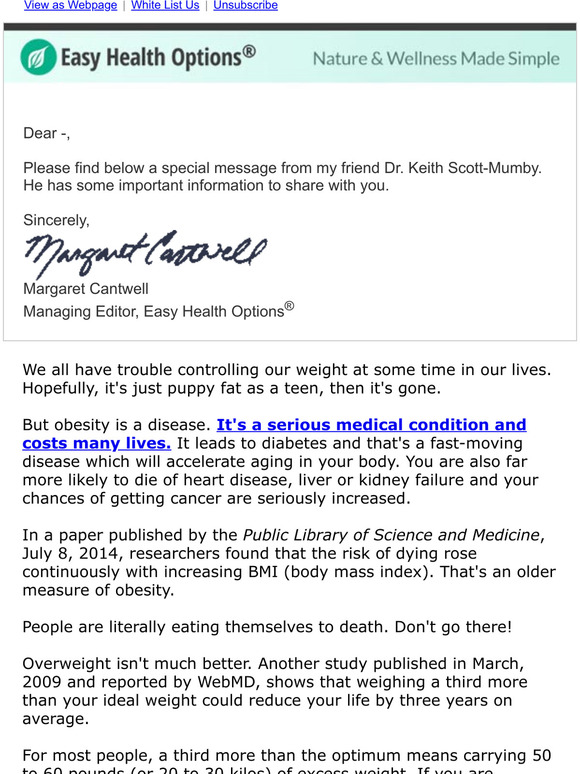 Shop without the noise.
Get our free newsletter of hand-picked sales you need to hear about from the web's best brands.